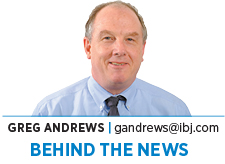 Don Marsh knew the grocery business inside and out, and for the decades he led Marsh Supermarkets Inc., visiting one of his stores was a pleasant experience.
What he didn't know how to do was pinch pennies, a fatal flaw in a hypercompetitive industry where combatants fight over nickels and dimes.
On the other hand, Florida-based Sun Capital Partners, which took over the family-run grocery chain in 2006, knew how to pinch pennies but showed little passion for the grocery business itself.
That's the harsh reality as we write the final obituary for Marsh Supermarkets, whose Chapter 11 bankruptcy case finally is winding down—leaving creditors with losses of $340 million.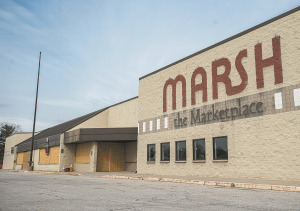 Indianapolis-based Marsh—which for decades was one of Indiana's highest-profile companies and at its peak operated more than 100 groceries—was shriveling and in a tailspin by the time it filed for bankruptcy in Delaware in May 2017. By that summer, the last Marsh stores closed or were sold.
Gregory Flasser, the trustee liquidating Marsh, this month asked the court to close the case, saying he had wrapped up the process of selling off assets and turning proceeds over to creditors.
Court filings show that secured, administrative and priority claims totaling $2.0 million were paid in full. But unsecured creditors, who were owed $343.2 million, received just $2.9 million, or less than a penny on the dollar.
The outcome doesn't surprise veteran Bose McKinney & Evans bankruptcy attorney Jim Carlberg, who noted that Marsh had been having financial trouble for a long time before it finally sought bankruptcy.
While retailers that file Chapter 11 have the opportunity to try to restructure and continue operations, he said they're often too far gone by the time they land in bankruptcy.
In such situations, he said, "It is very seldom there is a sizable payment to unsecured creditors."
What did raise Carlberg's eyebrows were the massive professional fees approved and paid in the case.
They totaled $7 million—including $1.9 million for Delaware-based Young Conaway Stargatt & Taylor (bankruptcy attorneys for Marsh), $1.7 million for New Jersey-based Clear Thinking Group (the employer of Marsh's chief restructuring officer) and $1.6 million to New York-based Peter J. Solomon Co. (which provided investment banking services and financial advice to Marsh).
Carlberg said the numbers are in a different realm than typically seen in Indianapolis bankruptcy court, which tends to handle smaller cases.
"They are just gigantic numbers—I don't know what else to say—but they always are these days," Carlberg said.
Don Marsh, 83, and Sun Capital did not respond to requests for comment about the bankruptcy wrap-up.
The two parties did plenty of finger-pointing at each other in the years after Sun acquired the business by paying $88 million in cash and assuming $237 million in debt.
Sun fired the first salvo, accusing Don Marsh in a 2009 lawsuit of outlandish expense-account abuses in the years before his 2006 departure from the company.
In a statement at the time, Don Marsh shot back: "It is clear the out-of-state, venture capitalist group is looking for someone to blame for their own poor business practices, which have severely impacted the company I once proudly led."
In a two-week trial in 2013, Sun's attorney quizzed Marsh about company-paid trips to innumerable destinations—from France, England and Ireland to New Orleans and Los Angeles—and about trips, gifts and payments to a string of mistresses.
If Sun's goal was to embarrass Marsh, it no doubt succeeded. But from a legal standpoint, the wrangling was something of a wash.
A jury in February 2013 found Don Marsh guilty of breach of contract and fraud and ordered him to pay $2.2 million.
But five months later, Judge Sarah Evans Barker dealt Sun a setback, ruling that Don Marsh was entitled to keep $2.2 million in severance the company contended he must repay.
Even before Don Marsh's dispute with Sun spilled into public view, it was widely known that he did not run a tight ship.
Though Marsh Supermarkets before its sale to Sun was publicly traded—and thus accountable to outside investors—the company employed nine people who were Marshes or married to Marshes and collectively paid them $3.4 million, according to a 2005 U.S. Securities and Exchange Commission filing.
Danny O'Malia, who became Marsh's chief customer service officer after selling his family's O'Malia Food Markets chain to Marsh in 2001, wouldn't discuss Don Marsh's spending but said the company made other mistakes in the final years before the sale.
For example, he said, Marsh made an ill-advised expansion into the Chicago market by opening a single store in Naperville, Illinois—leaving it with none of the cost efficiencies that come with operating multiple locations.
And in an effort to be pioneering, the chain in 2003 adopted a racetrack layout for new stores.
Rather than having long, tall aisles like traditional groceries, the new-format stores featured a courtyard in the center with a dozen "boutiques" around the perimeter, each selling a certain category of goods.
When the first racetrack store opened in Noblesville in 2003, Don Marsh declared, "This one, to me, raises the bar for the whole country."
But O'Malia said the layout confused shoppers, hurting sales.
"The newer stores, while beautiful, were unshoppable," O'Malia said. "You go where you can find stuff."
But O'Malia is no fan of Sun, which he believes bought the chain as a real estate play—generating millions of dollars by selling its grocery locations and then leasing them back.
Once it did so, O'Malia said, if the groceries themselves prospered, that would be just a bonus.
"In my opinion, Sun Capital made a killing selling the real estate of Marsh stores and didn't care very much about operating the stores," he said.
O'Malia also said Sun didn't put enough capital into store maintenance and upgrades while cutting back on staffing, eroding Marsh's competitive position.
When Marsh filed for bankruptcy, Chief Restructuring Officer Lee Diercks described a similar competitive decline but blamed it on a more than $100 million investment blitz in the region by Marsh's top two competitors, Kroger and Meijer.
"Over the last two fiscal years, [Marsh] invested more than $15 million in capital expenditures to keep pace with store refurbishments and remodels," Diercks wrote.
"While certain of these stores outperformed total chain results, they did not achieve the sales lift [Marsh was] anticipating."
Meanwhile, he said, several new stores opened by rivals caused Marsh to suffer double-digit same-store sales declines, causing the company to begin suffering a liquidity crunch.•
Please enable JavaScript to view this content.