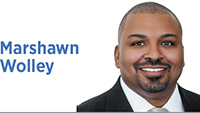 Is America a racist country? My good friend Abdul-Hakim Shabazz offered a nuanced no.
I'm far less concerned with this question than the issue of whether this country is anti-racist. After all, not being racist isn't the same as being anti-racist.
On the actual question raised by Shabazz, I'd point to American slavery, a legal compromise that established Black people as three-fifths of a person, the failure of Reconstruction, Jim Crow, the need for the civil rights movement, the need for a Black lives matter movement (as distinct from the organization), and the racial reckoning we just had last summer as irrefutable evidence that this country has a significant problem with race.
Progress on the problem of racism will involve anti-racists' engaging systemic racism imbedded in systems that Black people and people of color battle every day.
Distance from the problem is the problem.
When Black people are killed by the police for situations like sleeping in one's own apartment (Breonna Taylor), selling cigarettes (Eric Garner) or reaching for one's license to carry a gun (Philando Castile) or just being a child at play (Tamir Rice), there hasn't been justice. Qualified immunity is a tool imbedded in our American legal system that has allowed officers to get away with killing Black people for years—it's the system.
The U.S. Sentencing Commission studied racial sentencing disparities, and "the Commission found that Black male offenders continued to receive longer sentences in the most recent period studied than similarly situated white male offenders …" Mass incarceration and sentencing disparities experienced by Black males has been a problem for decades.
And while my good friend reviewed graduation rates, the Economic Policy Institute found that, in nearly every educational level, Black people have almost twice the unemployment rate as white people. But more shocking, in multiple instances, white people with lower educational attainment had lower unemployment rates than Black people with the next level higher of educational attainment—not in 1960, but in 2019.
My good friend then referenced Black wealth disparities without discussing the legacy of slavery, redlining, or the more recent subprime lending that Black families received even though they qualified for better interest rates. We actually agree that the ability to spend $1.4 trillion isn't power—especially if those dollars aren't supporting Black businesses.
But not to be a downer, the United States lags other nations in economic mobility, and the millennial generation is likely to be the first generation that is less prosperous than the previous generation.
Suffice it to say—my friend and I disagree on some points; nevertheless, there is some common ground.
There was policy movement on mass incarceration in the last administration, and improved graduation rates is a good thing. If we could improve Black net worth, I'd celebrate that progress.
But the reality is, we need more anti-racists doing more work on these and other areas.
If it were possible to have a census on racists, non-racists and anti-racists, both the non-racists and anti-racists would outnumber racists. But that isn't my point.
Having more non-racists distant from the challenges faced by people of color in society isn't exactly all that helpful when we consider the impact racists and racist systems have on Black people and other people of color in our country.
I'm more interested in the question of whether America is anti-racist. We're getting there, but we aren't done yet.•
__________
Wolley is President and CEO of Black Onyx Management, Inc. Send comments to ibjedit@ibj.com.

Click here for more Forefront columns.
Please enable JavaScript to view this content.