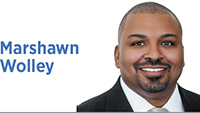 The Black community is really hoping things will be different this time, as it is becoming too expensive and painful to keep the status quo.
Black Indianapolis, by population, could be the third largest city in Indiana. But by any social or economic indicators, it is clear that too much of the Black community is struggling, even dying a social, spiritual and economic death.
COVID-19 has not only exacerbated that but clarified the need for direct engagement—and the corporate community has responded.
The Lilly Endowment's African American Quality of Life Initiative is a game changer, in part because it is direct. It isn't a people of color program, a minority program or a diversity program. It is a specific engagement meant to empower Black Indianapolis.
The Central Indiana Community Foundation led the charge by recognizing the need to unapologetically engage on systemic racism and specifically anti-Black racism. Even before this summer's racial reckoning, CICF proclaimed, "Systemic racism has led to the over-policing, under-protecting, harassment, brutalizing and death of innocent and unarmed Black Americans and other people of color nationwide and in central Indiana."
It mattered, too, that Indiana University Health CEO Dennis Murphy said, "We in health care have our own issues of injustice and inequity to address, as we know that African Americans and other minorities have long had issues accessing appropriate care, have higher rates of common chronic illnesses, and, more recently, have suffered disproportionate rates of infection and death from COVID-19."
Both the Indy Chamber and the Central Indiana Corporate Partnership have come together to develop the Business Equity for Indy Committee. And a local coalition of corporate and civic organizations have launched the Indy Racial Equity Pledge to hold their organizations accountable for driving measurable progress in advancing racial equity.
More recently, economists have quantified the impact of anti-Black racism and have come up with an economic impact in the U.S. of $16 trillion. This figure captures the financial activity Black people have been locked out of just over the last 20 years.
A Citigroup study found that simply providing fair and equitable lending to Black entrepreneurs might have resulted in $13 trillion. Better access to home loans would have created an additional 770,000 Black homeowners and pumped another $218 billion into the economy.
Just closing the wealth gap for Black people would have added $2.7 trillion in income to the economy and raised the GDP by 0.2% per year, compounding over a 20-year period.
The study looked at data over the last 20 years, a time during which there was an explosion of "minority" corporate diversity programs, corporate commitments to diversity, diversity awards, Black employee resource groups, affirmative action programs, supplier diversity programs, and disparity studies and government "efforts" to address them.
While folks might get an A for effort, the results of diversity and inclusion initiatives have been a failure benefitting almost everyone except Blacks.
You might also excuse Black people for being both skeptical and tired of entities making pledges to address "diversity or inclusion" because history or lived experiences says that very little will truly happen for Blacks in Indianapolis.
My sincere hope is this time will be different, in that participating corporations and civic organizations will honor their commitments to the Black community.•
__________
Wolley is a lecturer, columnist and diversity and inclusion consultant. Send comments to ibjedit@ibj.com.

Click here for more Forefront columns.
Please enable JavaScript to view this content.