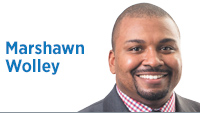 Throughout my civic and professional life, going back as far as my college days as president of the Black Student Union at Indiana University, I've been lucky to be part of teams with Black women. I nearly got impeached mostly because I hadn't learned the value of listening to Black women yet. They ultimately opted to keep me around, and we would work together to significantly improve diversity of faculty, students and staff at IU Bloomington. But I had to learn some very basic lessons, and Black women were my able teachers.
In my civic life, specifically with the Exchange at the Indianapolis Urban League, I've had the privilege of working with gifted Black women who helped build a nationally award-winning young professionals chapter. I got an education on the power of thank-you's from Adrianne Slash, a future National Urban League Young Professionals President of the Year. We would rely on marketing expert Tamara Cypress to fix our brand and develop a coherent marketing strategy that drove triple-digit membership growth. HR guru Kristen Lampkin remains our secret weapon as she quietly leads our nomination's committee efforts to uplift Black and other young professionals of color for civic honors. The Exchange's new president, Tierra Bush, is an amazing leader who we believe will take the organization to new heights.
While I will note that I was hired by Beth White as an intern, I worked for Sherlonda Anderson, a Black woman and former official in Mayor Peterson's administration, who taught a young and zealous intern about both city government and politics.
In my professional life, I've always been grateful to Deborah Oatts for creating an opportunity to learn about minority- and women-owned businesses and for facilitating my professional growth when I took on a job with the Super Bowl.
As CEO of a company now, I credit Deborah Simmons Wilson for suggesting that my ideas and the work I am capable of producing is of value—and that I should charge a price.
Denise Herd, president of Herd Strategies, provides key advice at times I don't have answers and might not even know the right questions to ask.
Tanya Mckinzie's commitment to the Black community is a constant inspiration and example.
And Cordelia Lewis-Burks has often taken the time to tell me when I am doing right and provide correction when she has deemed it necessary. Only my actual mother, Elaine Wolley, a U.S. Marine and now young retiree, has played a more central role in my development as a man.
I think it's also important to recognize quiet-but-emerging powerhouses in the Black community, like Stacia Murphy, Jax Porter, Ashley Gurvitz, Latoya Johnson and Ebony Chappel. (If you don't know who they are, you should look them up.)
Normally, I'd provide some statistic. (For example, according to the National Partnership for Women and Families, median wages for Black women is around $34,050, which represents a median wage gap of more than $19,000. This represents 64 cents of every dollar white-non-Hispanic men made in the same study.)
But I'd rather the reader pause and think about Black women in their lives.
I've named names mostly because I think Black women are too often invisible in certain spaces.
Let those listed be evidence of the amazing Black women who have inspired, educated and even protected a Black man who appreciates their lessons taught and their role in his life.•
__________
Wolley is President and CEO of Black Onyx Management, Inc. Send comments to ibjedit@ibj.com.

Click here for more Forefront columns.
Please enable JavaScript to view this content.