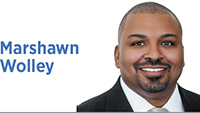 For the first time in Indiana history, a black man—Dr. Woody Myers—is a major party candidate for the highest office in state government.
And he seems made for this moment.
A former health commissioner during the 1980s, Dr. Myers built a national reputation helping the U.S. understand the science behind HIV and AIDS.
A businessman, he is now the Indiana Democratic Party's candidate for governor, and I, for one, would appreciate the change.
Dr. Myers is facing a popular governor who has been speaking to Hoosiers almost daily about the state's response to COVID-19. If folks know who Holcomb is, they basically seem to believe he hasn't made major errors.
But I can't really think of major changes or big wins in Indiana government the last few years; it has been kind of boring. For some, boring is good. But right now—given the social and economic challenges revealed by COVID-19 across Indiana—maybe it's time for actual change.
Dr. Myers faces an uphill battle, but I think Hoosiers will appreciate the option for change—maybe small businesses might even benefit from some progress Myers could bring. We can already see potential contrasts.
Gov. Holcomb's Economic Recovery Taskforce lacked diversity; it did not include minority, women, veteran and disabled business owners prominently at the table. Dr. Myers' would not have made that mistake with his proposed Small Business Recovery Taskforce.
Dr. Myers is proposing a state stimulus program to get much needed funds into businesses owned by minorities, a clear recognition of the challenges the federal government had with implementation of the first round of the Payroll Protection Program.
Dr. Myers' Buy Indiana First campaign encourages Hoosiers to buy from local homegrown businesses.
He also proposes small business navigators to assist with reviewing grants and loan programs. These small business navigators would ostensibly help everyone, but he notes the opportunity to assist businesses led by people of color, given their historic lack of positive relationships with financial institutions.
A 2019 National Community Reinvestment Coalition study found that black and Latinx business customers received less favorable treatment, ranging from being greeted or recognized by bank personnel to requests for additional paperwork to providing more information about loan products.
Dr. Myers' small business plan also makes suggestions around doubling the unemployment claim capacity to process claims and other temporary measures to address the current economic fallout from COVID-19.
Perhaps the strongest argument for a Dr. Myers governorship is the need for change. Across the state, major cities are engaged in peaceful protests, with participants calling for changes state Republicans have ignored. They have been tone deaf to the concerns of poor people, as well as black and Latinx concerns. Nearly, every year, black people have to fight ideas by some members of the Republican Caucus in the General Assembly.
Black people are tired.
Hate crimes shouldn't have taken so long. If people are killing people out of hatred for an entire community, why fight against that kind of social terrorism?
Why is the expungement bill not a true expungement? And why must people jump through so many hurdles to get it after serving their time?
Why aren't we talking about how to address the racial achievement gap in schools? Why doesn't the state meet its minority- and women-owned business goals?
Why don't Republicans even really try to talk to the black community?
Dr. Myers' run for governor is more than symbolic. His candidacy raises substantive questions that more than 21% of Hoosiers—people of color—are asking their governor right now.•
__________
Wolley is a lecturer, columnist and diversity and inclusion consultant. Send comments to ibjedit@ibj.com.

Click here for more Forefront columns.
Please enable JavaScript to view this content.