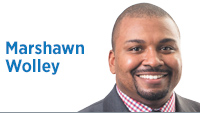 Over a year ago, I and others started talking about the Fraternal Order of Police contract and key objectives for the Indianapolis Metropolitan Police Department, including improved use-of-force standards, civilians on a general orders committee, and the prospect of civilians on a use-of-force board.
We do now have an updated use-of-force policy that clearly defines de-escalation requirements, creates a clear standard for use of deadly force, prohibits chokeholds, requires use of proportionate force, and, among other provisions, requires annual review of national best practices. But concerns remain—specifically the absence of a clear definition of "reasonable force."
The consensus is that a newly created use-of-force board will be led by majority civilians. A consensus is also growing that civilians must be involved in deliberating on general orders—or rules that govern the IMPD and officer actions.
Perhaps the most glaring issue that still remains unaddressed is the opacity of the city's contract negotiations with the FOP, which is the union that represents officers. As the direction of police reform has involved more civilian input, the lack of it in a contract that represents 22.6% of the city budget is a problem.
Indianapolis taxpayers should have input in the city's contract with the FOP as we are most certainly an interested party. We could also eliminate collective bargaining entirely, as [IBJ co-owner] Nate Feldman posited in his June 18 editorial in IBJ.
The victories we have won have already taken entirely too long and, even now, have yet to be fully implemented. We are impatient with the pace of reform. You might forgive us when you consider that Black Indianapolis constitutes 28% of the city but accounts for 52% of use-of-force cases by IMPD last year, or that, of the 124 police-action shootings since 2014, 65% involved an IMPD officer shooting a Black person.
Progress is fragile, elusive and agonizing in its distance, and many aspects of police reform remain yet unfinished. The battles are still far from over.
It is not too early to call for the ongoing support of the institutions—business and not-for-profit—that have spoken out so strongly on the need for meaningful change. Alongside the diverse voices of protest heard across the state calling for police reform and the diverse cross-section of Indianapolis that peacefully marched throughout downtown only some weeks ago, these groups must be prepared to stay engaged with their voices on police reform and in the struggle to find the appropriate police and community relationship.
Collective support must be part of a collective agenda.
Our hope is that the Legislature also will have a spirit of reform. If not, such collective support might truly be needed when the General Assembly reconvenes in January.
This body has an unfortunate history of preemption of non-conservative ideas.
Can the business and not-for-profit communities replicate the energy and collective will displayed when threatened with the challenge of Indiana's flawed Religious Freedom Restoration Act disaster? My sincere belief is that, yes, they can; and my sincere hope is that, this time, they won't have to.
I can only dream that the Indiana Legislature will heed the wisdom of the Indiana Black Legislative Caucus' criminal-justice-reform proposals, which also include police reform measures.
Candidly, I hope legislators recognize that police reform is necessary, and that work, generations late in coming and supported by a diversity of the populace, must be supported.•
__________
Wolley is a lecturer, columnist and diversity and inclusion consultant. Send comments to ibjedit@ibj.com.
Please enable JavaScript to view this content.