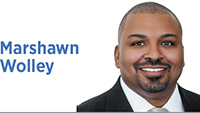 Last year wasn't the first time Indianapolis experienced a racial reckoning, but I remain optimistic it can be different this time.
This time period is not unlike other moments of civic focus on the Black community. Pledges were made in the 1980s on how many Black partners in law firms there needed to be, a financial institution was created in the 1990s to focus on Black business development, civic leaders made pledges in the 1970s and 1990s to address black health disparities.
Last year, there was a flurry of statements, pledges and initiatives coming out of the business community in response to a racial reckoning that has continued to unfold—maybe smolder up until now.
Immediately following the riots, business leaders listened and heard grassroots and grass-top leaders lay out the quantitative data and the qualitative reality of Black Indianapolis in its complexities.
The good news was that the boldest of corporate leaders opted to lead on dismantling anti-Black systemic racism—and not just diversity this time. The Indy Racial Equity Pledge was an effort to publicly state what corporations planned to do on anti-Black racism.
Area hospitals—including Indiana University Health, Community Health Network and Eskenazi Health—made a pledge to address racial disparities in health outcomes and more in the Black community. They discussed their efforts with the Black community in January and recently provided an update on their progress to leaders with the Greater Indianapolis NAACP and Indianapolis Recorder.
The Indy Chamber and Central Indiana Corporate Partnership are collaborating on the Business Equity Initiative, with Citizens Energy Group CEO Jeff Harrison providing leadership. The Indianapolis Urban League is also a partner in this effort. They've been learning about barriers for small black businesses to work with large corporations, among other challenges.
Major corporations also came together with Black-led advocacy organizations to form the Indiana Business and Community Partnership for Racial Equity. The coalition of some of the largest businesses in the state was very active this last legislative session but began their efforts locally by supporting the development of the general orders board.
A year in, there has been a lot of activity and learning, but to continue the progress, a few principles must be considered this time around.
Whatever is done for us, without us, is done to us. Each effort will need to continue to find ways to center Black voices. Black people need to be part of the deliberations and prioritization. The Black community is diverse and complex. This reality has to be considered in engagement strategies.
Break bad habits. This will look like working with Black creatives, Black media and Black businesses as prime contractors as opposed to just subcontractors. There is a social cost to the old ways of doing business.
Pledges and commitments will need to turn into funded budgets. Equity will require resources, likely disproportionate levels in some areas and instances, to address inequity that has compounded over time.
Finally, Black institutions matter. Black institutions, while available to everyone, have a connection, ability and credibility with the Black community that can't be replicated. Government, philanthropy and business must understand this reality. It matters who does the work.
We've been here before, but if we embrace the necessity for change and accountability, it can be different this time. Failing to do different is simply an unsustainable position for the city that locks in the cycles of the past.•
__________
Wolley is President and CEO of Black Onyx Management, Inc. Send comments to ibjedit@ibj.com.

Click here for more Forefront columns.
Please enable JavaScript to view this content.