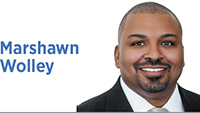 The auditor of the state of Indiana is probably the most important elected office no one is talking about, especially if you hate potholes.
I worked in city government under the Bart Peterson administration, and one of the things I learned about government finance is that the state giveth and the state taketh away, sometimes because officials just mess up.
People like to say the auditor is the chief financial officer of the state. I like to think of it as the state's accounting department, which for years wasn't run by a CPA.
The office is responsible for accounting for all state funds, paying bills and administering the state's deferred-compensation plan.
A little-known agency within the Auditor's Office, now referred to as the local government division, "oversees the collection and distribution of tax revenue money for counties, cities, towns, schools and other local units of government."
And like I said before, the state giveth and the state taketh away.
So, yes, hundreds of thousands of dollars—even millions—can move either way during a fiscal year because someone made a mistake.
While I don't know how often it happens, I do know Indianapolis was significantly impacted by a miscalculation.
According to The Indianapolis Star, for more than 12 years or at least three state auditor terms (we won't even address the number of state auditors we had within the 12-year time frame), Indianapolis did not receive tens of millions of dollars in road funding.
The loss of these dollars has a compound effect as maintenance not done just makes the roads even worse as each winter season goes by.
And while some might note that the mistake was eventually caught, I'm more concerned about what might not have been caught.
In 2011, state government "misplaced" $300 million—money paid by companies through e-filing that wasn't transferred to the state's general fund. A Politico report noted that then-Senate Appropriations Committee Chairman Luke Kenley, when putting the missing $300 million into context, observed that just $120 million represented the equivalent of two new race-track casinos.
Miscalculations that last for more than a decade and misplaced money come from an office that has been run by one party since 1994.
Including the incumbent, two CPAs are running for state auditor this year. ZeNai Brooks, an African American CPA and first lady of New Liberty Missionary Baptist Church, has created a lot of excitement around her candidacy and deserves a look.
She has been in accounting for over a decade and is currently a financial director at a major Indiana company. She has been able to mobilize young professionals who are concerned about what a surplus means for many of the underfunded priorities of state government, from public health to education to environmental protections.
Her campaign has also raised some interesting questions, like, why doesn't the Auditor's Office review compliance for state supplier diversity?
How is it possible that we have so many underfunded areas of state government, and the Auditor's Office says nothing about the economic reality these issues create for the health of Hoosiers and even the economic viability of the state? Basically, is the surplus real if we aren't actually paying for important public goods?
While accuracy, transparency and efficiency are the incumbent's objectives, this is also the bare minimum one should expect from government.
As a taxpayer, I want more.•
__________
Wolley is president and CEO of Black Onyx Management Inc. Send comments to ibjedit@ibj.com.

Click here for more Forefront columns.
Please enable JavaScript to view this content.