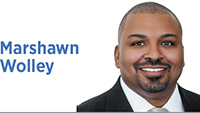 Allies are fine, but the Black community needs more accomplices who believe Black businesses matter.
The important distinction between an ally and an accomplice is that allies make statements—accomplices take actions toward justice in an unjust world.
According to a University of California-Santa Cruz study, we lost 41% of Black businesses nationally due to COVID-19, as well as 32% of Latino-owned businesses, 36% of immigrant-owned businesses, and 26% of women-owned businesses. That compares to an overall decline in businesses of 22%.
The study also notes that Black businesses were particularly vulnerable to COVID-19 due to industries impacted by the virus.
But didn't we have a program that was supposed to help with that?
Just as we already knew COVID-19 was going to hit Black people harder because of underlying health conditions, the Black community knew the original setup of the Payroll Protection Program, which required businesses to deal directly with banks, was going to spell disaster for the Black community.
Nationally, only 12% of Black businesses received the loan amount they sought, according to the Congressional Black Caucus.
We also know that, in the aggregate, congressional districts with higher Black populations received less PPP funding than congressional districts with lower Black populations. And while some might look at the last fact and say that's a function of the concentration of Black people and Black businesses in a community, I think we have a larger problem.
We know the SBA data is woefully incomplete. Some banks—probably some that released Black Lives Matter statements in the aftermath of George Floyd's death—didn't bother to include PPP race data.
They were seduced by the Trump administration's relaxation of affirmative action policies, and we saw what happens when the policy isn't enforced. And SBA officials were clear to note that they reported what they received.
Certainly, by now, we understand the cost of being "colorblind"—the term used to advocate for relaxing affirmative action requirements—as quite simply an evasion of reality. Some banks included data and others didn't.
Candidly and sadly, segments of the Black community might view the exclusion of race data by some banks as aimed at hiding uneven lending practices to various segments of the community. Unfortunately, I can't prove anything with the local data—I just know what happened to Black businesses nationally.
According to the Indianapolis data from the SBA, 97 Black-owned firms received loans under $150,000. The SBA data shows that loans to Black businesses ranged from as low as $522 to $141,237.
In the Latino community, only 60 firms received loans, from $1,250 up to $148,600.
In addition, 28 Black businesses received between $150,000 and $1 million. Seven got over $1 million in PPP loans. The SBA showed that 873 white businesses received PPP loans up to $150,000, while 406 received loans topping $150,000, and 37 received loans between $1 million and $10 million.
But the real problem is that banks didn't disclose race for 2,039 loans topping $150,000 and 8,512 loans below $150,000. It's possible that some local banks did lend to Black businesses at greater frequency but somehow chose not to write down key information.
The Black community does not need banks—or other businesses—making Black Lives Matter statements simply as "virtue signaling."
Accomplices would've made it known whom they were lending to, because Black businesses matter.•
__________
Wolley is a lecturer, columnist and diversity and inclusion consultant. Send comments to ibjedit@ibj.com.

Click here for more Forefront columns.
Please enable JavaScript to view this content.