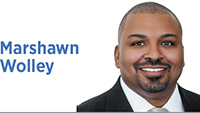 COVID-19 threatens to exacerbate the struggle for economic survival of the black and Latino communities in Indianapolis.
The late Bill Crawford used to say, referencing Visit Indy and our local hospitality industry, "When they get a cold, we get pneumonia." He understood that the more than 80,000 full-time-equivalent jobs supported by tourism throughout the region included a lot of black and Latino workers.
With the shuttering of restaurants, hotels and other downtown amenities, everyone is experiencing the economic downturn—but large segments of the black and Latino communities were already struggling, even in a healthy economy.
The latest available data from SAVI—a program of The Polis Center at IUPUI—shows black unemployment (14%) in Marion County is more than two times white unemployment (6%), with the Latino unemployment rate at 5%.
While we have a significant white urban poverty problem, the black poverty rate (28%) was approximately double and the Latino poverty rate (34%) was nearly three times the white poverty rate of 13% in Indianapolis in 2017.
Available data from the Federal Reserve Bank of Chicago found a gap of approximately $32,000 between black and white median income of about $71,700 in Marion County. The gap between Latino and white workers was about $38,000.
We know the black Indianapolis homeownership rate of 33.3% was one of the lowest among comparable cities. The Latino homeownership rate was only 35%, while the white homeownership rate was 65%.
The Center for Research and Inclusion on Social Policy found that areas with more black and Latino renters are rent-burdened, which means they are paying more than 30% of their income on housing in Marion County.
No wonder Indianapolis has the second-highest eviction rate in the country, according to a 2019 Princeton University study.
From unemployment rates to poverty rates to large income disparities and homeownership, too much of black and Latino Indianapolis has already been doing poorly in a "healthy" economy.
Even as all sectors of the economy begin the painful process of adjusting to the COVID-19 crisis, we are seeing institutionalized racial disparities play out.
The U.S. Bureau of Labor Statistics just released a study that found 28.8% of U.S. workers surveyed in 2017-2018 could telework, or work from home.
The study found that, while 29.9% of white workers could work from home, only 19.9% of black workers and 16.6% of Latino workers could.
Leisure and hospitality industries had the lowest percentage of workers who could work from home.
The Economic Policy Institute observed that only 9.2% of workers in the lowest 25th quartile of income earners can telework.
So even as organizations adjust to a public health crisis that does not discriminate, there are disparities in not only who is working but how they can work.
We know the economy is sick now—but it's been unhealthy for large segments of the community even in good times.
According to a study commissioned by the Indy Chamber, we know that a child born in the bottom 20% of the income distribution has only a 4.8% chance of reaching the top 20% of the income distribution in Indianapolis.
A sober reality is that large segments of the black and Latino communities have been silently living in a crisis well before this economic downturn.
As we take unprecedented steps to respond to a public health crisis together, we will need to consider how we can create a local economy that fully responds to the racialized economic crisis in this city and move toward a more opportunity-oriented and inclusive economy.
Quite simply, anyone should be able to make it here.•

Click here for more Forefront columns.
Please enable JavaScript to view this content.