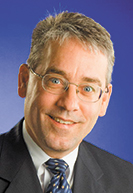 Age: 62
Hometown: Churubusco
Residence: Carmel
Family: wife, Jody; two sons and two daughters
Education: bachelor's in accounting and law degree from Indiana University
Political experience: none
Career: retired partner from private-equity investing firm Centerfield Capital Partners
Why he's running: I am very concerned about the fiscal and environmental issues we are leaving future generations.
Top priority: reducing unsustainable annual deficits
What he's streaming: "The Last Dance" on ESPN
Q&A
What do you think needs to be done to improve access to and the affordability of health care?
First, we need to address [the] cronyism rampant in our health care system, which doesn't allow our government the ability to negotiate drug prices. As a result, the U.S. pays significantly higher costs for our drugs than any other country. Additionally, our health care system uses large markups with inconsistent discounting, resulting in some patients paying 20 times the amount Medicare pays for the same procedures.
What should be done to address the massive amount of student debt in this country and make college more affordable?
While student debt and college affordability are huge problems, the federal debt is already at unsustainable levels that will negatively impact future generations for years to come. Therefore, the student debt should not be paid or forgiven by the federal government. However, I would support amending the bankruptcy laws which are very favorable to corporations and special-interest groups and make them more favorable to consumers, including allowing student debt to be discharged in bankruptcy like most other debt.
What is your position on trade and tariffs?
I believe in free trade as long as it is fair and protects not only the corporations but also the employees and the environment. I also believe in tariffs, if they are used wisely in a manner consistent with our treaties and agreements.
What should be done to address climate change?
We should discontinue annual subsidies to the fossil fuel industry and invest the proceeds in research so the United States can be a leader in clean-energy technologies. I also favor the revenue-neutral proposals outlined in "The Conservative Case for Carbon Dividends" or the similar proposal from the Citizens' Climate Lobby, which would put a fee on carbon and distribute the fees pro rata to all households.
Please enable JavaScript to view this content.