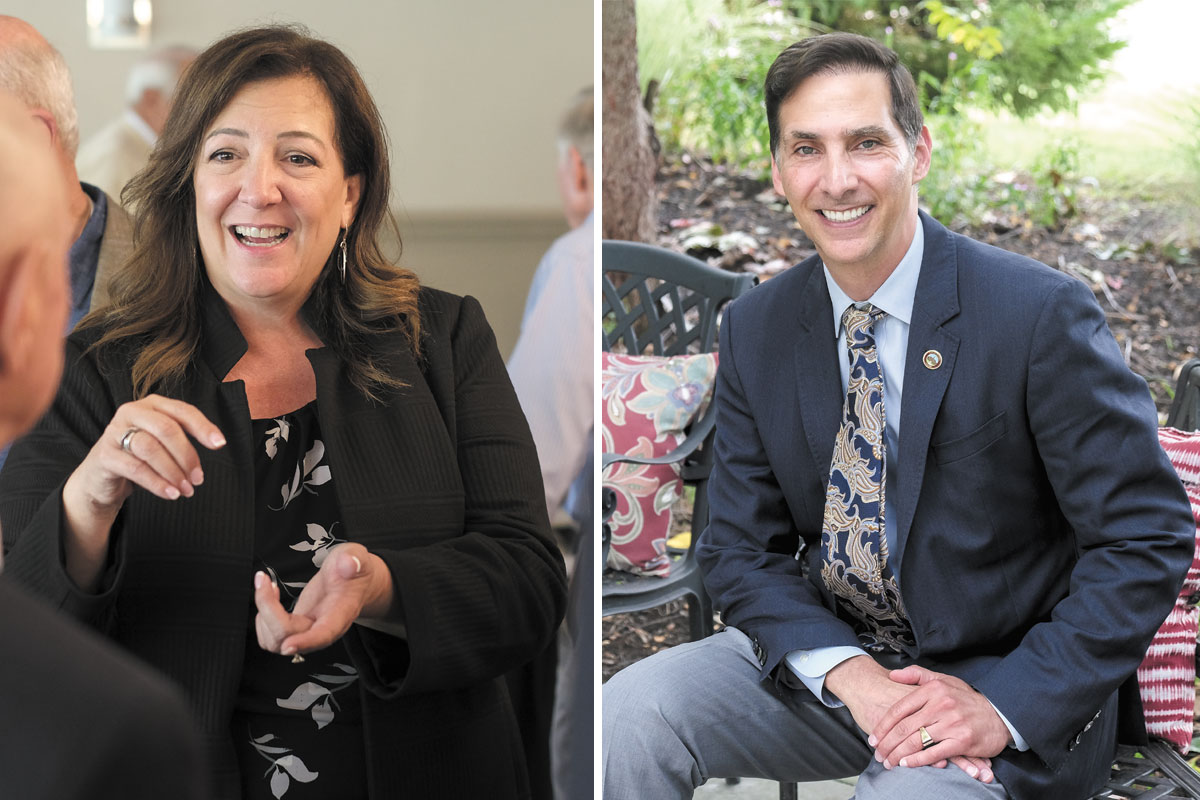 Carmel's mayoral race is headed into the home stretch as voters prepare to determine on Nov. 7 who should succeed longtime Mayor Jim Brainard.
Republican Sue Finkam and Democrat Miles Nelson are running to replace Brainard, a Republican who has served since 1996. Write-in candidate Darin Johnson is also running, but his name will not appear on election ballots.
In-person early voting begins Oct. 11 in Indiana.
The winner in the general election will take office Jan. 1.
Over the course of 27 years, Brainard has transformed Carmel from a sleepy suburb of 30,000 people into a regional powerhouse with more than 100,000 residents, more than 150 corporate headquarters, 148 roundabouts (and counting), and high-profile areas such as the Arts & Design District, City Center and Midtown.
With Carmel largely built out, the next mayor will steward the city through a new phase and will be charged with maintaining infrastructure, managing the city's debt, increasing its housing supply and preserving its identity as a desirable place for people to live and do business.
And the next mayor will be dealing with a largely green City Council. Only four current members—Teresa Ayers (North Central District), Adam Aasen (Southeast District), Tony Green (South Central District) and Jeff Worrell (at-large)—are seeking reelection.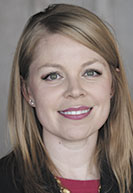 Laura Merrifield Wilson, a political science professor at the University of Indianapolis, said this election is more than just a choice between candidates. Voters will be deciding in what direction they want their city to go after nearly three decades of the same man at the helm.
She said she can't think of another local mayoral race that felt so much like an end of one era and a transition into a new chapter.
"This feels like the kind of election that we'll look back on and say, 'Well, you remember in 2023,'" Wilson said. "It feels like it could be a very pivotal election for the city."
The candidates
Voters, however, might find more similarities between the two candidates than they'd think. Neither candidate has campaigned on taking the city in a different direction than Brainard.
In interviews with IBJ, both Finkam and Nelson expressed their desires to build upon the city Carmel has grown into throughout his tenure.
Finkam, a Carmel resident for 16 years, grew up in a small northern Michigan town. She defeated Republicans Kevin "Woody" Rider and Fred Glynn in the primary election in May. She is serving her third term on the Carmel City Council, where she represents the city's Northeast District. She was council president from 2017 to 2021.
IBJ.COM EXTRA
Momentum?
Democrats see opportunity in Carmel.
Finkam has worked 30 years in marketing and human resources administration. She is the principal of Carmel-based marketing and public relations firm FireStarter LLC.
"I believe that my skills and experience match up really nicely with where [Brainard] has left off," Finkam said. "He's given us tremendous momentum from which we can jump in the future."
Jim Roehrdanz, a resident of The Overlook at Legacy in Finkam's Northeast District, said he likes Finkam's ideas and campaign platform. He believes she has represented her district well.
"I think her energy and her experience in city government provide really good insight for her as to what's needed to carry the city into the future. And I think that's a tremendous asset," Roehrdanz said. "The length of time she's been a city councilor and the projects she's worked on certainly give her the assets necessary to serve in the role as mayor."
Nelson, a 20-year Carmel resident who grew up in Indianapolis, is president of Carmel-based executive search firm AOI. He is serving his first term on the Carmel City Council after being elected in 2019 to represent the West District.
He is the first Democrat to ever serve on the council and the first from his party to run for mayor since 2007. He referred to Brainard as a mentor who helped guide him during his early days on the City Council. "We've built a community with an incredibly high-level quality of life," Nelson said.
"Mayor Brainard has built a welcoming community, a community that also pairs economic development with taking care of the environment, as well."
Nelson's campaign, however, has attracted the attention of residents who are intrigued at the possibility of having a Democrat as mayor. John St. Angelo, a resident of the Lexington Farms neighborhood on Carmel's east side, said he's glad to see a general election with choices for mayor and City Council. (Eight of nine City Council seats have a Democrat running.)
"I am interested in someone who will follow up on what Brainard has built for Carmel through the years but also one who's open to new ideas, especially socially liberal ideas," said St. Angelo, who is especially interested in affordable housing and healthy public schools. "Miles is keeping his eyes open for all those issues."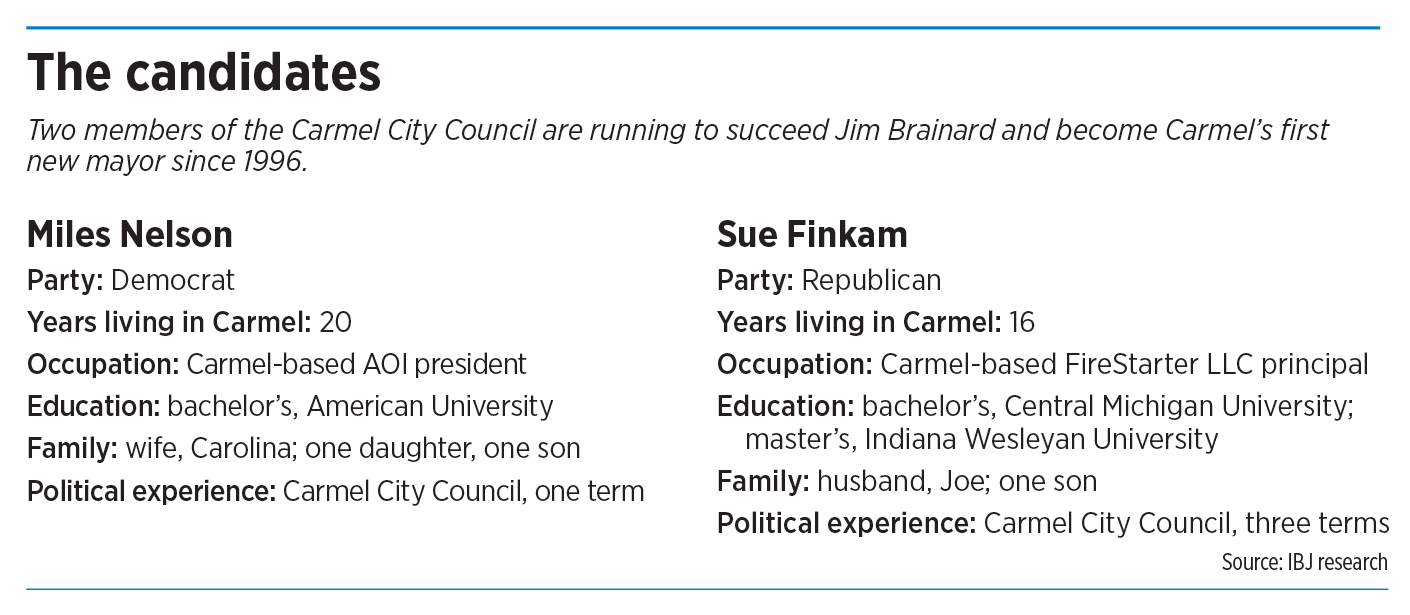 Public safety and housing
Finkam said she's found that overall Carmel residents are happy with the direction the city is going. If elected, she does not intend to make any drastic changes to what's in place today. She'll largely focus on keeping to the basics: paving and plowing streets, maintaining parks, supporting arts programs and keeping residents safe.
"I think where I diverge is really modernizing a lot of what we're doing at City Hall with data technology and changing the way we deal with our amazing staff," she said.
Crime prevention, development and community engagement are three major issues Finkam said she'll focus on. Additionally, she cares about building upon Carmel's high quality-of-life rankings, which would entail continuing to prioritize dining options and the arts.
She would also look to invest in technology, including artificial intelligence, to help the city use data for economic development, workforce recruitment and job relocation. Finkam would study how Carmel incentivizes tax-increment financing, which the city has heavily relied upon in its 21st century building boom and has been a point of contention for some Brainard detractors.
"I want to be Carmel's next mayor because I think we have a tremendous future in front of us, and I believe that my experience and knowledge and training and background really match up nicely with Mayor Brainard in that he's been such a tremendous visionary and has really put us on the map for our transportation network," she said.
While a survey released this year by Safewise called Carmel Indiana's safest city, Finkam said the community must continue to focus on public safety.
"If we even blink on that and funding our police and other training and equipment and personnel and people don't feel safe in the parks and paths and sidewalks that we've built, we're going to undermine our brand," she said. "And we just can't have it happen."
She said residents are concerned about the number of apartments that have been built in the city. The city needs more affordable options for Carmel's teachers, seniors, first responders and restaurant and retail workers, she said.
"I know we were losing a lot of residents that are 20-40-year residents here who have invested in this community with their tax dollars and have to leave because they can't find something to downsize into," Finkham said. "So that would be a prime importance to me, as well as evaluating the need for workforce housing."
If elected, Finkam plans to initiate a housing study to evaluate demand and need in the community. The lack of housing currently on the market in Carmel threatens to create workforce stagnation, she said.
"Our assessed values are higher, which makes our property owners happier because their property is going up in value, and we proved our community is desirable and attractive," she said. "But on the flip side, it's hard for young professionals to move here and thrive. It's harder for our seniors to downsize and get something that's more affordable on a fixed income."
Finkam said Carmel's leaders should be more engaged with residents than they are now. One of her first objectives in office would be to conduct a citywide survey and create a community-driven city strategy.
"The ultimate role of a mayor is to be a great steward of the resources that they're blessed with from the community," Finkam said.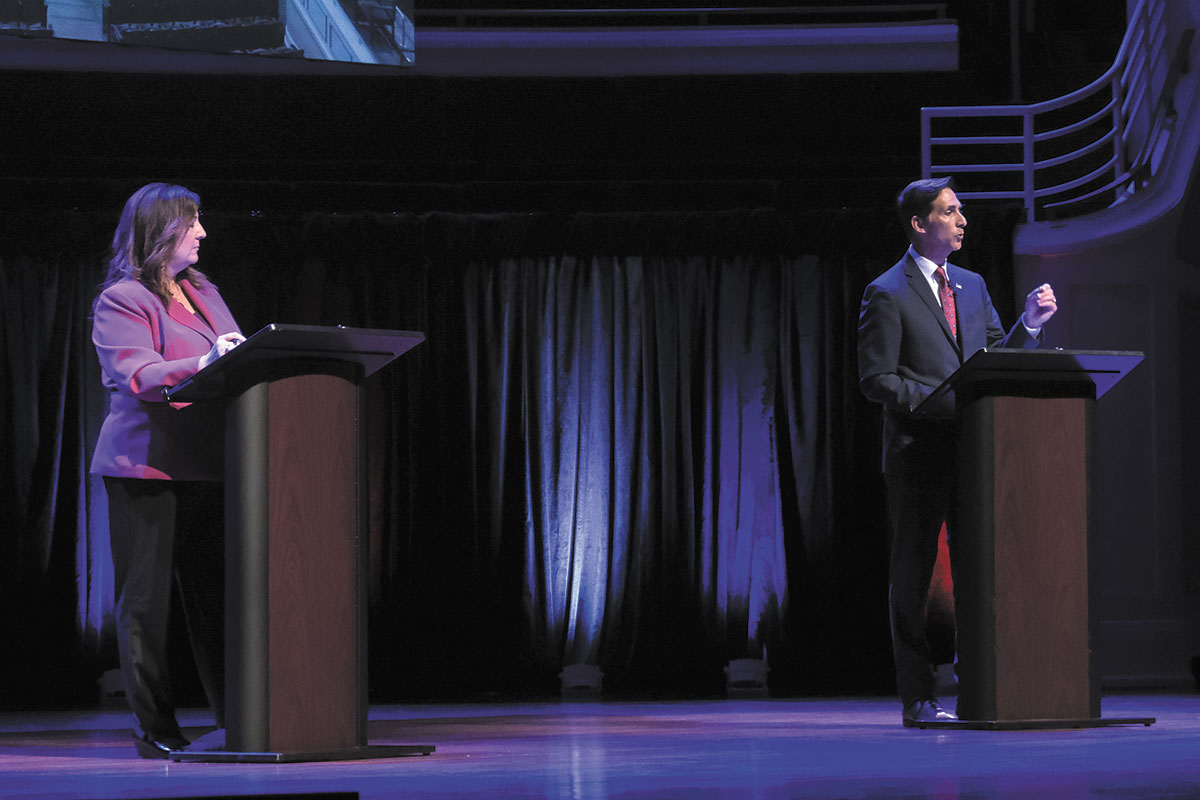 Infrastructure, schools and business
Nelson said he wants to be mayor because he wants to help keep Carmel moving forward.
"When you think about Midwestern suburbs, you think of suburban sprawl—neighborhood after neighborhood—and what the mayor has done and what we've all done together is we built a community with a real sense of identity," he said.
Nelson plans to focus on five areas if elected mayor: maintaining the city's infrastructure; taking care of the city's assets, such as its parks, public art, neighborhoods and high-profile buildings like the Palladium and Hotel Carmichael; providing for the city's first responders; elevating Carmel Clay Schools; and attracting businesses large and small.
"I want to make sure that this city remains a beacon of light to other cities around the county and, frankly, around the world," Nelson said.
He would look to create a regional economic partnership with cities in Hamilton, Boone and Marion counties—something other central Indiana mayors have been working toward.
He said Carmel and the region are losing business opportunities and talent to cities around the country, such as Austin, Texas; Charlotte, North Carolina; Chicago; Denver; Nashville, Tennessee; and Raleigh, North Carolina.
"I think for too long, maybe, Carmel—and it was probably an ideal approach—was to go it alone and do things our way. But the world is much more competitive now," Nelson said. "In order for Carmel, a city of 100,000 people, to compete with these large cities, we need to have the strategic partnerships with our sister cities."
Like Finkam, he's also worried about Carmel's housing supply. The city lacks housing options for people at middle incomes. Some Carmel teachers, he said, drive from areas as far away as Greenwood because they cannot afford to live in the city where they work.
"We are not unique to this challenge. This is a nationwide challenge," he said. "We need to have more of a supply because there's an amazing demand for it."
Nelson also said he would work to protect Carmel Clay Schools from outside groups, such as Moms for Liberty, a national organization that critics say has advocated book bans and eliminating programs on sex education, LGBTQ issues and lessons on racism and discrimination.
"I will be defending our school district. We've recently been under attack by Moms for Liberty," he said. "We're humming right now, our economy here in Carmel. We survived the pandemic. Everybody's homes have elevated in value. But these things will drop like a lead weight in water if you start messing with our school district."
Also like Finkam, Nelson would look to improve communication with residents and cited ideas such as a mobile city hall that would bring department heads to neighborhoods and homeowner association meetings.
He praised Noblesville's weekly YouTube broadcast called "Friday Five" in which Noblesville Mayor Chris Jensen gives viewers five things they should know going into the weekend. Nelson said he would look to do something similar.
"Being transparent, communicating, having open lines of communication, it brings down the distrust in local government," Nelson said.
Nelson said his leadership style is to treat people with respect, listen, hold people accountable and give people responsibility.
"I trust myself. I make decisions based on data. I talk to experts. I don't pretend to know all the answers. I do a lot of research before making decisions," he said. "But I make decisions. I don't need to survey or do a poll before making a hard decision. Quite frankly, that's what a leader needs to do."
Belt-tightening?
Both Finkam and Nelson described Carmel's oft-discussed $1.5 billion debt—the result of years of development projects—as manageable.
For years, Brainard has fought off challengers in elections who have expressed doubt about the city's ability to repay the debt.
But Finkam and Nelson say they're confident the city is in a good financial position, but they'll be conscious about spending, especially in light of a law that has diverted some of the city's income tax over the past few years.
Finkam said she would institute "zero-based budgeting" to identify any opportunity to reduce spending. That means the city and its agencies would start building their budgets from scratch each year, rather than starting with the previous year's spending plan.
"If we reduce our spending, we have more opportunities for paying down debt," she said. "I think we have to be good stewards of the dollars that we have. We have to make sure we're looking for every dollar to have a name."
Both candidates are concerned about the potential effects of the state law that diverts millions of dollars in local income tax funds to Fishers.
House Bill 1113, passed by the Indiana Legislature in 2020, limited Carmel to a 2.5% increase in annual income tax growth for three years and diverted excess funds to Fishers.
The legislation's goal was to account for a quirk in the way income taxes are distributed so the revenue more accurately reflects the cities' increasingly similar populations and median household incomes.
The law was set to expire at the end of this year. However, legislators this year passed HEA 1454, which extended the law through 2026.
The city filed suit earlier this summer against three state financial agencies to put a stop to the law.
"We had every right to be upset. It was kind of like the rug was pulled from underneath us, and it's been extended by the governor," Nelson said. "So what we're already telling [people] like our parks district is, listen, we don't know what's going to happen, so we need to tighten our belts."•
Please enable JavaScript to view this content.