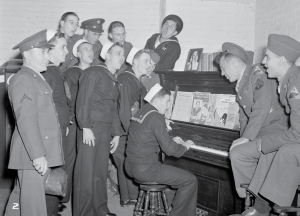 Soldiers during World War II traveled often by train, which brought them through Union Station in Indianapolis. Both the USO and the Travelers Aid Society set up shop at the train station to help the troops with food, lodging and entertainment. In this photo, taken on Oct. 23, 1942, soldiers are playing the piano and singing in the station's Service Men's Center. The USO continues to aid traveling soldiers and has a center at the Indianapolis International Airport, near the baggage claim area, where service members, retirees and their families can get snacks, use a computer and lounge.
Sources: Indiana Historical Society, USO
Credit: The photo is courtesy of the Indiana Historical Society and is part of the W.H. Bass Photo Co. collection. More images are available at images.indianahistory.org.
Please enable JavaScript to view this content.