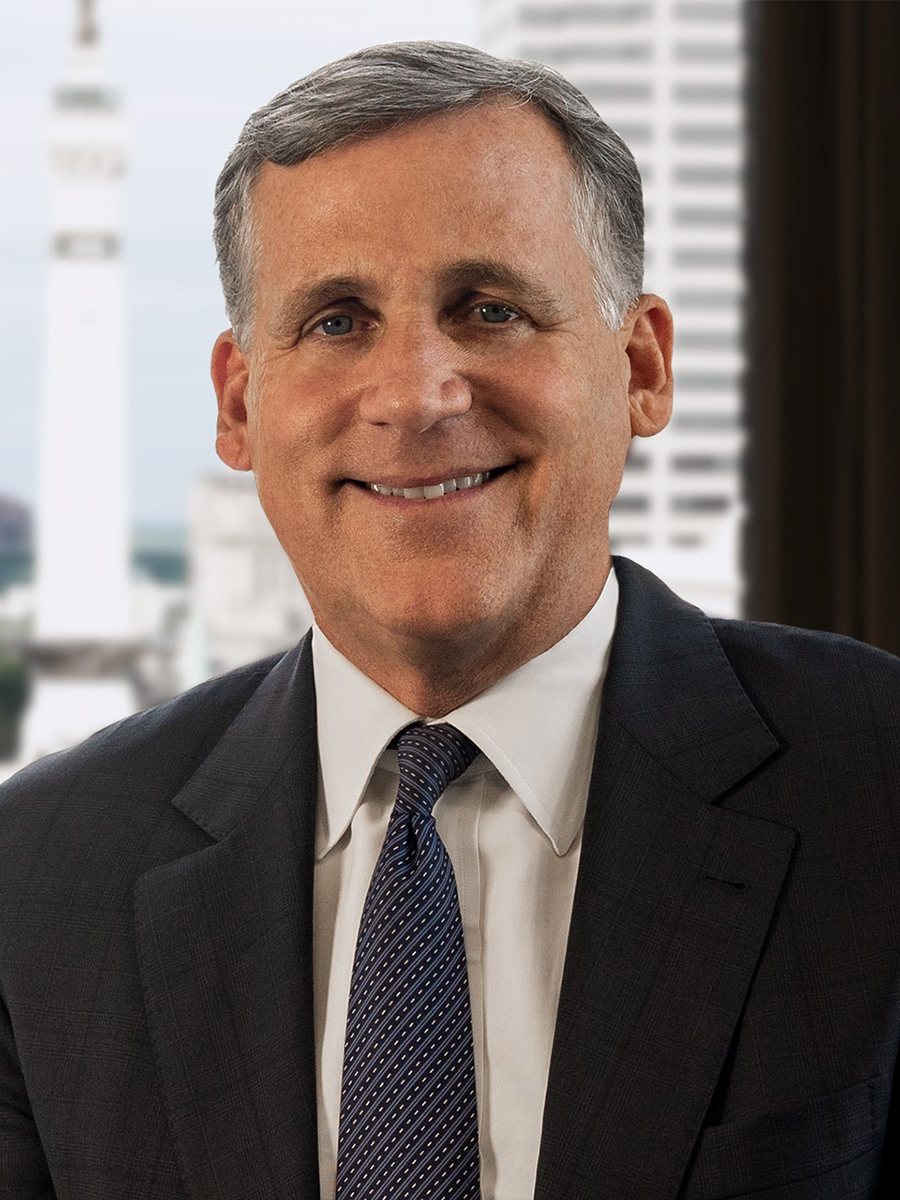 Tom McGowan—a member of IBJ Media's inaugural Indiana 250, released this week—is at the forefront of major shifts for local real estate firm Kite Realty Group Trust, which has significant projects on tap in central Indiana.
The company last year closed on its massive acquisition of Chicago-area firm Retail Properties of America, an all-stock deal worth $2.8 billion, and it's taking additional steps to further its growth in major metropolitan areas, including Indianapolis.
The move, which closed last October, made Kite the fifth-largest shopping center real estate investment trust in the nation and—according to IBJ research—the ninth-largest general REIT by total value. The merged company, with about 185 shopping centers, retained the Kite name, its headquarters in Indianapolis and its leadership, with Kite Chairman and CEO John Kite continuing in those roles and McGowan continuing as president and chief operating officer.
McGowan spoke with IBJ about lessons learned from the merger with Retail Properties, as well as the company's efforts to redevelop Pan Am Plaza, a new Carmel headquarters for Republic Airways and several major central Indiana shopping centers.
Where does Kite stand in terms of consolidating its portfolio following the acquisition of Retail Properties of America last year?
We closed on the merger in October 2021, so we're a little less than a year in. But at this point, it's fair to say we're 100% through our integration processes and we're very fortunate to have combined the best of both organizations—both our talent and best practices.
What drove the decision to ultimately move forward on the Retail Properties acquisition?
First and foremost, this was a real estate transaction. It hinged on our belief that the Retail Properties portfolio served as a tremendous opportunity to mine earnings and value out of the merger. So far, we've been very successful. The merger has played out beyond our expectations, and we're performing very well. Our leasing volume has been hitting on all cylinders—last quarter, we leased 1.1 million square feet of space, a record for the company.
The key was strong real estate and strong assets, so merging with Retail Properties gave us a larger platform and established a more resilient, stronger balance sheet that will allow us to flourish for many years to come.
What opportunities does this integration create for Kite, which had already been a competitor in the shopping center real estate investment trusts landscape?
The merger has put Kite in a completely different light, in terms of how we're viewed within the marketplace and by our various customers. It was a $7.5 billion merger, but our earnings in the first quarter put the company at about an $8.2 billion total enterprise value.
We now have 29 million square feet encompassing properties across 24 states. With that, we've significantly enhanced our balance sheet and have secured an investment-grade rating with $1 billion of liquidity.
Kite is now a top-five publicly traded shopping center REIT, which is very important. Scale in our industry is extremely helpful as we work with our customers and as we pursue opportunities around the country.
What can you say about the concentration of your portfolio now, compared to where it was before?
So, the portfolio is quite a bit different from where it was pre-merger. About 67% of our annualized base rent is now coming from the Sunbelt area. We've also picked up a couple of key gateway markets and we're very active there now. We've expanded in Seattle, and in New York we have a much larger presence, as well as in Washington, D.C.
Additionally, we now have 37% of our annual base rent coming from two states: Texas and Florida. The great thing about that is, those are two of the more successful and high-growth markets in the country.
Retail Properties opened a lot of doors for Kite to get its foot into new markets. But are there any markets you're exiting as part of any portfolio consolidation efforts?
From a portfolio standpoint, we were fortunate that we came together very nicely—both in terms of the quality of real estate, as well as the various locations. We will continue to evolve the portfolio as we have throughout our public-company history and continue to focus on key markets.
But there's always room to continue to mine the portfolio, and we're doing that as we speak. That will always be a work in [progress] for Kite, where we study the markets we are in, where we are getting the most growth, where trends are working both positively and negatively. So, that is an ongoing process as we implement dispositions and acquisitions. But our primary goal is to grow earnings and shareholder value. This is a subset of that ultimate goal.
Retail Properties had a big presence in Chicago pre-merger, and of course, that's a significant area for burgeoning real estate firms. With that in mind, are you still committed to keeping operations in Indianapolis?
As part of the merger, Indianapolis absolutely remains our headquarters location. We own the 310,000-square-foot 30 South Meridian St. building, and that's where we're staying. We have offices all over, though. We maintained our presence in Oak Brook, Illinois, which was [Retail Properties'] headquarters location. Our locations and the size of each regional office will continue to evolve. But Indianapolis very much remains our headquarters location.
Speaking of Indianapolis, you were recently recognized for your efforts in chairing the downtown recovery efforts for Downtown Indy Inc. coming out of the pandemic, right?
As you know, we went through a lot of difficult times as a city through COVID and the civil unrest [in 2020]. We really worked to tackle key issues within downtown Indianapolis—public safety was a key component, as was the homelessness situation. But we want to continue to evolve downtown and focus on the inclusion of Black-owned businesses here.
Everybody on that committee worked extremely hard during very, very difficult times. So, I was fortunate to work with a lot of great people and Downtown Indy on that effort. It was a tremendous honor to be recognized by all of them for that effort.
Only a small portion of Kite's revenue comes from central Indiana, but you have a lot of irons in the fire here. Between Glendale and a few projects in Hamilton County, the firm is continuing to invest in the Indianapolis region. Could you remind readers of the projects you have going on here, and the importance of Indianapolis to your work?
Without question, Indianapolis being our headquarters city means we will continue to invest in our properties in Indianapolis.
Our building is leased at a very high rate right now, well above what market conditions would dictate. And Glendale Town Center has been a big success for us; I think the community is very pleased with the way that redevelopment was completed.
We also have a $64 million redevelopment underway at 116th Street and Rangeline Road that's in a joint venture with [locally based] Buckingham Cos., which is now under construction. When it's completed in 2023, it'll include 285 apartments and about 24,000 square feet of retail—buoyed by a public-private partnership with the city of Carmel.
We also have our massive project at Hamilton Crossing, which is under construction. It's a $200 million corporate campus for Republic Airlines, and it's pretty amazing. Republic will be the largest employer in Carmel because of the project, which will include a 110,000-square-foot training facility. As well as office space and a-more-than-270-room hotel.
And recently, we acquired Nora Plaza on the north side of Indianapolis, so we are in the process of making improvements to that property right now. We've done some work on the parking lots and sidewalks, but we're really focused on further upgrading the overall quality of the shopper experience.
Regarding Glendale, there have been rumblings about the possible redevelopment of the Landmarks Theatre there into additional apartments. What can you say about that?
What I can tell you is, we are studying various redevelopment plans for that parcel, in concert with the fact that the first phase of the apartments was extremely successful.
How have the pandemic and your merger with Retail Properties influenced Kite's philosophy about its own growth—specifically as it relates to tenant relations and the types of users you pursue?
Well, let me start off by talking about the pandemic. One thing that came out of the pandemic is, first and foremost, that Kite was able to receive 97% of our base rents during the pandemic—we lead the public company shopping center industry with that percentage, showing the resiliency of our income stream.
Another important component that occurred post-COVID was the fact that there has been a bit of a resurgence in the open-air format, where we focus our efforts. We're starting to see more and more people shift back to brick-and-mortar retail. They're once again understanding the true strength of those stores, in that they serve as a multi-channel facility to buy in store or pick up online orders. It's a distribution point.
Just to put it in perspective, we had 117 million visits to our shopping centers in 2021, so we are generating tremendous commerce and tremendous activity. It's interesting how a post-pandemic world has created new energy for our industry.
You and the team are also involved in the redevelopment of Pan Am Plaza in downtown Indianapolis. The project includes an expansion of the Indiana Convention Center and at least one—and potentially two—new hotels. What can you say about where things stand with the project?
Where we are right now is the project team—which includes Kite, AECOM Hunt and Ratio Architects—is moving forward with the design and construction pricing side of things.
We're at a point now that the team is very much focused on getting the project started. … We continue to work very closely with the city of Indianapolis and the Capital Improvement Board of Marion County to push this project forward. We're committed to moving forward as a team to put all of these pieces together by the end of the year.
As part of this issue of IBJ, you're tabbed as one of the state's most influential people. In your mind, what gives someone influence and power in Indianapolis and the state as a whole?
I think there are two ways to answer that question. There's the business side of things, and then there's the work outside mainline business that relates to community.
I always start with community first, and in some ways it's no different from business. It does take passion; it takes willingness to work with a lot of different people with a desire to make a difference. It takes a lot of collaboration, communication and teamwork to make all big things happen.
On the business side, being involved with a great organization—in my case, Kite Realty Group Trust—lends the ability to make an impact in a community through new projects, growth and employment of great people. It really becomes a function of having an opportunity to work for a great company and having the platform to make a difference from a business perspective.
I'm very fortunate, over all these years, to work with not only a great executive team but [also] all the people that make up our company. And I think in any work I do on the community side, that would also hold true with groups like Downtown Indy and the many people that I've been able to work with at the city. We all share the same passion.•
Correction: The version of this story that ran in IBJ's print issue used the incorrect name for the company Kite acquired. It is Retail Properties of America.
Please enable JavaScript to view this content.