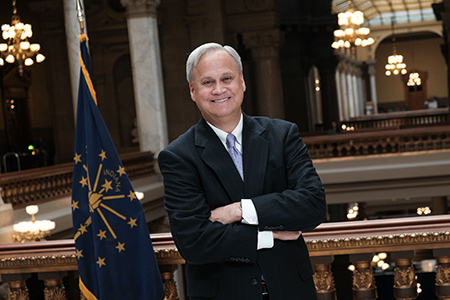 Sen. Jim Merritt says his run last year for Indianapolis mayor has made him a better senator—one who's more in touch with his constituents and who has seen the city's poverty and crime problems firsthand.
The Republican spent 10 months on the campaign trail, learning more than he ever knew about a community he's called home for 60 years and has represented at the Statehouse for 30.
Merritt, who represents District 31—which encompasses Lawrence Township, a small portion of Washington Township and Fall Creek Township in Hamilton County—lost the November election to Democrat incumbent Joe Hogsett after garnering only 30% of the vote.
He returned to the Statehouse last month prepared to file or co-author several bills inspired by his run for mayor. They address food deserts, landlord-tenant relations and eligibility for Temporary Assistance for Needy Families (TANF), a state/federal cash welfare program.
"I was thoroughly educated on every nook and cranny of Marion County," Merritt said of his campaign. "I really, really picked up a lot of information and learned some valuable points that I took from the mayor's run to the Indiana state Senate. I'm trying to do a percentage of what I wanted to do as mayor as a state senator."
None of the bills he's worked on this year, however, directly address funding to improve Indianapolis roads or reduce crime, the largest talking points of his mayoral campaign.
Senators are limited to filing 10 bills each session, which Merritt told IBJ restricts the impact he can have in one year. Plus, 2020 is not a budget year (the General Assembly passes a two-year budget in odd-numbered years) so the House and Senate are unlikely to consider significant legislation addressing crime or road funding.
Merritt said he plans to author legislation next year that deals with those challenges. He's also authored a resolution that encourages legislators to create a committee to study a 2015 law that required county jails to house low-level felons, rather than sending them to state prisons. The change led to an influx of inmates being sentenced to county jails, sometimes creating severe overcrowding. Merritt said he wants to know how the bill has affected Marion County and other places like it.
In past sessions, many bills Merritt filed dealt with addiction, the opioid crisis and drug sentencing. This year, a common theme among his bills seems to be helping residents climb out of poverty.
It became clear to him during his mayoral run, Merritt said, how many Indianapolis residents live in poverty and poor housing conditions, with challenges ranging from homelessness to a lack of access to healthy food. Poverty affects one in five Indianapolis residents, according to the U.S. Census Bureau.
The "incredible poverty problem" can be far-reaching, he said, and is a contributing factor to high crime rates. These bills "revolve around poverty and what I can do as state senator since I'm not mayor."
Food insecurity
During his run for mayor, Merritt stood near a gas station at West 30th Street and Dr. Martin Luther King Jr. Boulevard one Sunday night and witnessed person after person stopping for groceries. But with no fresh meat or produce for sale, shoppers' options were limited.
Still, for many, the station was the closest thing to a grocery store they had access to, Merritt said.
And they are not alone. The federal government reports about 175,000 people in Indianapolis—or 20% of the population—face food insecurity, meaning they have limited or uncertain access to adequate food.
During the campaign, Merritt proposed providing tax incentives or subsidies to local food markets in areas with food insecurity as well as the creation of a food tax-increment-financing district.
In the Senate this year, he introduced legislation that aims to ensure all residents have access to healthy food. Senate Bill 356 passed and has moved to the House.
It would establish the Healthy Food Financing Fund and Healthy Food Financing Program, which would be administered by the Indiana Housing and Community Development Authority to provide loans or grants for projects that increase the availability of fresh and nutritious food in underserved communities.
The bill does not allocate any money to the fund, Merritt acknowledged. Should the bill be approved by the House and signed by Gov. Eric Holcomb, the IHCDA could begin applying for grants and federal funding, he said.
The legislation might, for example, motivate a community to launch a Meals on Wheels program or a grocery store to open in a food desert, he said.
"There are so many different ways to take up the mantle and destroy hunger and food deserts," he said. "There are a lot of people who can buy food but don't have the opportunity to buy fresh produce and meat. … We just have to figure out different ways to get those products to the citizens that want to purchase fresh food."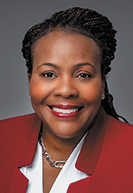 Merritt's bill uses language Rep. Robin Shackleford, a Democrat who represents House District 98, has previously introduced.
Shackleford told IBJ she's been "doing the food-desert fight for about five years" but hasn't been able to get the bill through. She gave Merritt permission to use her bill's language to see how far he might be able to advance the cause.
The bill passed the Senate in late January, and Shackleford has agreed to carry it in the House. So far, she hasn't heard whether it will be considered in a House committee, but she's agreed to work with Merritt to persuade lawmakers in the House to give the bill a chance.
Lawmakers who represent urban parts of the state are usually supportive of the bill, but winning over rural lawmakers has been a battle, Shackleford said.
She said she was happy to see Merritt file the legislation after he highlighted food insecurity in his mayoral campaign.
"I'm glad to see that he's following up," she said. "That was a positive. … It's a lot to get educated on, so I was happy he took my language to see what he could do to try to move it."

Renters' protections
Another bill inspired by Merritt's run for mayor is one that deals with landlord and tenant relations.
SB 359 did not receive a hearing in the first part of the session, which means it is dead for the year. The bill would have bolstered tenant rights, in part by requiring that notices to terminate a lease following past-due rent be in writing and specify the amount of rent and any late fees owed. It would also have required landlords to provide tenants a 10-day written notice and opportunity to address an alleged violation before eviction and a 60-day written notice before landlords modify a rental agreement or increase rent.
Merritt said that, in examining the city's homeless problem and proposing solutions during his campaign, he discovered tenants were vulnerable to being kicked out of their homes without proper notice or cause.
"When you get deeper into the landlord/tenant relationship," he said, "I found that the landlord has the power in that dichotomy and there needs to be some changes that would allow the tenant to have more of a say in the relationship."
Merritt said he'll continue to work on tenant-related bills in future years, especially since this one never got off the ground.
It came as Mayor Joe Hogsett's administration proposed changes of its own that would strengthen tenant rights, including a requirement that landlords provide tenants a paper copy of their rights. Landlords could be fined for failing to comply.
The Hogsett proposal also punishes landlords who evict tenants in retaliation when they report poor living conditions. His administration has said no state law protects tenants in those situations.
Merritt said he generally supports Hogsett's proposal.
"There are a lot of points that need to be discussed," he said. "I'm going to continue to work on this issue."
Helping the needy
Because of the bill-filing limitation, Merritt has also been working with other lawmakers to advance causes he believes are important to Marion County.
Included is legislation that would encourage township trustees to provide poor relief to homeless people and a bill that increases the income limits for TANF eligibility.
SB 67, authored by Sen. Jack Sandlin, R-Indianapolis, and co-authored by Merritt and others, would allow a township trustee to provide township assistance to a homeless person whose permanent address is not in the township or is unknown. The bill also requires township trustees to collaborate and prepare a list of public and known private resources available to the homeless population and to publish it on the county's website no later than March 1 each year.
The bill passed and has moved to the House, where it has not yet been assigned to a committee.
"I'm really pleased Sen. Sandlin worked hard on this issue," Merritt said. "We believe if we're going to have township government, we can work diligently to utilize them. … This really kind of ignites the township government to work with the homeless."
In Marion County, where as many as 1,600 people experienced homelessness last year, the bill might result in more people getting help, Merritt said.
Another bill Merritt co-authored would have increased the income limits for TANF eligibility from about 16% of the federal poverty level to 35% and later 50%.
SB 111, authored by Sen. Jon Ford, R-Terre Haute, had bipartisan support but did not advance out of committee.
Jessica Fraser, director of the Indiana Institute for Working Families, said the institute and lawmakers have been working on the bill for a while and appreciate Merritt's support.
She said only three other states require people to be poorer than in Indiana to receive TANF benefits. The current monthly income limits ($288 a month for a family of three) haven't been adjusted since the 1980s.
Fewer than 5,500 families across the state are using TANF benefits, but many more might benefit from them if they qualified, she said. The bill would allow more people to qualify for the cash assistance and other benefits, including child care assistance and job training.
About a fifth of families receiving TANF live in Marion County, Fraser said, so the bill could have a big impact here.
She said the institute and lawmakers will continue to push for the change in future sessions, and Merritt said he would support it.
"It's common sense," she said. "It shouldn't go on this way for much longer." •
Please enable JavaScript to view this content.