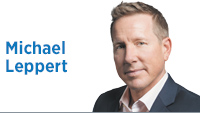 It is that time of year again. Young people are graduating from a variety of schools and making big, life-defining career decisions—just like every May in America.
OK, maybe it's not just young people making the kind of choices that are setting a new course in their lives. This last year has forced some reevaluation that might not have otherwise occurred for many of us.
If there is one thing that will assist with our toughest decisions, it is a healthy perspective. My best career advice to anyone who is starting out or making a change is to spend some time focusing internally and establishing a clear vision of your own perspective.
It's how I have always done things in my career. Well, not exactly.
My first, and only, job opportunity immediately after college back in 1989 was a bigger life event than I knew at the time. Timing was a real challenge for the 22-year-old version of me. I survived the interview process and landed a job offer I really wanted. I had just finished school in August. The job started on Oct. 30. Those two months were the longest unemployment stretch of my life since I was a paper delivery boy at 13. Woohoo for me!
The problem was that this job was not the kind that had a flexible schedule. I already had tickets to see The Rolling Stones on their Steel Wheels Tour at the Hoosier Dome Dec. 7. I couldn't afford those tickets when I bought them (I erroneously thought there wouldn't be another shot for me to see one of the greatest bands in rock 'n' roll history), and if I had to work that night, I'm not sure I would have taken that job. I even asked if I could have that night off in advance and was told my schedule couldn't be adjusted during my probationary period, which was six months. If the schedule dictated that I worked that night, I would have a tough choice to make.
Wouldn't you know it? The schedule fell my way! I took the job, saw the show (which was excellent, by the way), and my life in public service was off and running.
Really? Yes, really. Thirty-two years later, I still vividly remember that "dilemma." Whew. I'm glad it worked out.
This might not sound like a useful story, but it is. Understand that the 53-year-old version of me would have slapped the 22-year-old version for even struggling with this. The choice between a career-oriented job and a concert is no dilemma. And maybe I would have risen to the occasion and chosen correctly if that decision had been forced on me. Maybe.
I want to be clear about that first job. It was a professional experience like no other. I grew up in that job over the next five years, and I still miss the place all these years later.
The point of telling this story is that I am hopeful all my young readers won't struggle with ridiculous garbage like this the way I did. Take the time to create your own clear perspective in every possible way while you are updating your resume or shopping for that new interview suit.
We work hard at persuading potential employers to take a chance on us. Don't forget to work on you. That clarity is invaluable when starting or restarting your career, and with it, decision making won't need to rely on luck. Or rock 'n' roll.•
__________
Leppert is an author and governmental affairs consultant in Indianapolis. He writes at MichaelLeppert.com. Send comments to ibjedit@ibj.com.

Click here for more Forefront columns.
Please enable JavaScript to view this content.