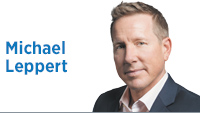 My favorite black-and-white movie of all time is "To Kill A Mockingbird." Since I generally don't like black-and-white movies, that endorsement shouldn't mean much to anyone. But it ranks among my favorite color movies, too. When I hear "Mockingbird," I see Gregory Peck.
Peck played the big screen's version of Atticus Finch. My apologies to Harper Lee. I know she wrote the Pulitzer Prize-winning novel first, but I can't unsee my first exposure to it.
My favorite non-musical theatrical production is the Aaron Sorkin production of the same story, starring Jeff Daniels. He does an excellent job in the role, but Finch will always be Peck's character to me. So, right after I saw the play two years ago, I finally bought the book. I haven't read it yet, and I'm not sure if I should. Like when I saw the movie, "Titanic," I'm pretty sure I know how this one ends.
Great books become great movies all the time. I guess great books can become great plays, too, and vice versa. Movies don't become great books very often. And great musicals do not, ever, become great movies. Duh. I thought everyone knew that.
Three years ago, my wife and I saw "Dear Evan Hansen" on Broadway. We didn't know anything about it, but it had won a bunch of Tony Awards the year before, and all of our more seasoned theater-goer-friends said it was the "it" musical to see that year. So, in the middle of the "Hamilton" craze, we went to the "other" show. It hooked me.
So, when I heard that a movie was being made of the musical, I cringed. "Please don't do this to my favorite," I thought. "They are going to ruin the story trying to convert it," I said to my wife.
She ignored me. She actually likes movie-musicals. An example of her affliction is that she loved Lin-Manuel Miranda's musical movie "In the Heights." We saw it at our neighborhood movie theater earlier this summer, and I was sure she would agree with me that it was awful. Wrong. Our friends loved it, and critics did, too.
I guess it's just me. I just don't like movie musicals.
And this is a big year in the genre. I'm either going to have to get with the program and learn to adjust, or "Dear Evan Hansen" will need to flop. I realize the pandemic has been brutal to live performances, but it has been equally hard on the movie business.
It's been almost 20 years since "Chicago" won the Oscar for best picture, and I was hoping the attempts to hit another home run like that one would have continued to stay dormant. And of course, I didn't see that movie, because, you know.
It is too often a mistake to turn something that makes a great musical into a movie. It doesn't justify the risk. But because I love the songs, which will be in the movie, and the story, which will almost certainly be expanded, I will go see "Dear Evan Hansen" when it comes out on Sept. 21.
If it's as bad as I fear it will be, I'm only a few months away from seeing it in its natural setting at Old National Center next spring. Worst case, I will be able to wash off that cinematic mistake with some renewed stage brilliance.
I just think these kinds of cross-platform moves are a bad idea.
Kind of like "Cats." In all of its forms.•
__________
Leppert is an author, educator and a communication consultant in Indianapolis. He writes about government, politics and culture at MichaelLeppert.com. Send comments to ibjedit@ibj.com.

Click here for more Forefront columns.
Please enable JavaScript to view this content.