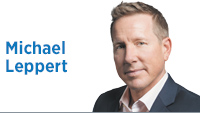 English author Edith Mary Pargeter, using her nom de plume, Ellis Peters, wrote, "Every spring is the only spring, a perpetual astonishment." Never has that been truer than this year.
Spring in Indianapolis is always a glorious time. Except maybe last spring. That awful season of a year ago—and the three awful ones that have passed since—have been part of a journey I never thought I would travel. So, let's celebrate this season with gratitude for a few things with renewed enthusiasm.
For the first time I can remember, people waiting for their shot actually celebrated simply being older. Who does that? I remember the last time I celebrated being older. It was the day I turned 21. Now, I realize how profoundly dumb that was, as if the thrill of that milestone would last longer than a few hours. Now, being old enough to get vaccinated on March 6 instead of midsummer actually changed my life. Hooray for me, I'm 53!
Next up: I have missed the running of the Indianapolis 500 in person twice in the last 32 years. One of those times was all my fault. It was 1992. A few dozen friends and I might have overdone it at the party I hosted at my old west-side house the night before. It was cold and cloudy that day, and a handful of us gambled that the race would get rained out while we lay around regretting the events of the prior evening. We lost that bet, and Al Unser Jr. won the closest race in 500 history, edging Scott Goodyear, who came from the last spot in the field to finish second by 0.043 second.
I vowed not to miss another one. Then COVID-19 arrived. I might not be able to get a seat this year, either, but I did get vaccinated at the Indianapolis Motor Speedway last weekend. The track feels like home now more than ever.
Third, when I last got to see a concert at White River State Park, construction on the permanent stage, pavilion and seating had not yet begun. My wife and I love to ride our bikes on the Cultural Trail to the venue and watch people like Jason Isbell, Bon Iver` or David Byrne for an outside show on a beautiful Indiana night. For me, it's better than a night across the street at Victory Field for an Indians game, but finishing second in that debate is still awfully good.
These things should return to Indianapolis this year, but they will feel new all over again. We can appreciate having them more now that the prospect of losing them is so real. I, like many others, did not have enough gratitude before the pandemic.
Last, just after our big snowstorm a few weeks ago, I was home and able, so I spent much of the morning shoveling the sidewalks on my city block. Before I was done, one of my neighbors stopped what he was doing and came out to join me.
Later that night, a woman got her car stuck in the snow trying to turn on the corner across the street. My snow gear was still out and, though I was headed for bed, I bundled up and went out to help her get moving. Before I knew it, there were four of us rocking and pushing her car until we got her free. I didn't have enough gratitude for the character of my neighborhood before the pandemic, either.
It won't be entirely back to normal around here for a while yet, whatever that is. But this spring is setting up to be one of the best I have ever seen, or ever will see. I'm thankful I won't miss it.•
__________
Leppert is an author and governmental affairs consultant in Indianapolis. He writes at MichaelLeppert.com. Send comments to ibjedit@ibj.com.

Click here for more Forefront columns.
Please enable JavaScript to view this content.