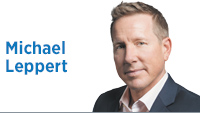 Do not eat cicadas. That is, if you are allergic to seafood.
Yes, that is an actual message from the U.S. Food and Drug Administration tweeted on June 2. The opening to that tweet was, "Yep! We have to say it!"
It turns out the insects that flood our orb every 17 years "share a family relation to shrimp and lobsters." Maybe the ridiculous notion of eating any insect makes more sense if it is smothered in melted butter or St. Elmo's horseradish sauce. Actually, I might consider trying them with the latter.
What's more important to me than the ominous cicada warning, though, is not what it said, but who was saying it. The FDA is a big and complicated institution. That is definitely not news, though the complicated part of the federal agency's relationship with the American public has been intensified this past year.
Here in Indiana, a group of state legislators sent a letter to Gov. Eric Holcomb on May 25 objecting to Indiana University's announced requirement that students, faculty and staff receive the COVID-19 vaccination. In the letter, signed by 19 members of the Indiana House of Representatives, the group claimed that the temporary, emergency approval of the available vaccines was their reason to oppose the university's mandate. They wrote that, "enforcing a mandate that students and faculty accept a vaccine that does not have full FDA approval is unconscionable."
I am curious if all the signers of this letter will be OK with any mandate following "full FDA approval." More likely for many of the signatories, I expect to hear that, even then, a mandate is a mandate is a mandate. And any new governmental mandate is as repulsive and unsupportable as a dinner featuring cicada scampi and a bowl of cicada bisque.
Thirty-five members of the Indiana Senate also sent a letter seeking the "full FDA approval" as a requisite, too. But their May 27 letter was sent to IU President Michael McRobbie instead.
In "The Fifth Risk," author Michael Lewis reports some lesser-known functions of some large government bureaucracies and some of the vital things they do to keep us safe. For example, most Americans don't know the U.S. Department of Energy is the primary agency charged with monitoring nuclear weapon proliferation, or that penicillin was "effectively invented" by the U.S. Department of Agriculture.
The government does plenty of things in plenty of ways that plenty of us do not know much about.
I spent a few years working at a state agency that few in Indiana understood well. As that agency's spokesperson, I always had to explain what we did.
Those conversations were priceless training. They often began with a member of the public ranting at me, followed by my attempt to interrupt to explain what the agency actually does, then concluding with the member of the public demanding that I do something else on his or her behalf. A little secret: We helped an abundance of people through difficult circumstances in ways the law had not specifically empowered us. That's that pesky "service" component of public service that sometimes gets the best of people.
Which leads me back to the cicada warning. I would love to have been on the team that discussed and decided that the dietary warning needed to be issued. I'm sure it was a doozy, with the added benefit of a significant gap in time between the doozy of 2021, and the doozies of 2004 that might have been stored away in some FDA archive.
I am looking forward to the time the vaccines that have received FDA emergency authorization receive "full FDA approval." And if any of them don't, I will begrudgingly eat some humble, cicada pie.•
__________
Leppert is an author and governmental affairs consultant in Indianapolis. He writes at MichaelLeppert.com. Send comments to ibjedit@ibj.com.

Click here for more Forefront columns.
Please enable JavaScript to view this content.