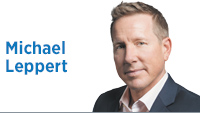 Is there anything more exhausting than the election of 2020? Well, maybe the pandemic is if you believe that pesky thing is more than a political stunt. It seems some people can't accept that the election is over and don't want to have to think about COVID-19. Bickering over wild ideas of how the one with fewer votes can still win is the last straw.
Even I am too tired to worry about that nonsense any longer.
The campaign had grown tiresome a long time ago. The television ads were fatiguing enough. Heaven forbid you made a campaign contribution or two. If so, you probably considered taking your phone or your laptop out to the alley and smashing them both with a hammer to simply make the texts, emails and phone calls stop.
I was slowly easing into post-election life when it started to set in that President Trump was not planning to concede the election to President-elect Joe Biden. Any attempt to prolong this election one second longer than necessary should bring the wrath of Americans unheard of in our history. There is no more blood to squeeze out of 2020, Mr. President. None. Zero. Nada.
While innocently walking by a television tuned to CNN last week, I thought I heard Erin Burnett mention something about a Trump rally being planned. So, I Googled it and confirmed it was true! Eight days after the most tiring, anxiety-ridden election in at least 52 years, the outgoing president is holding a rally? For what exactly?
For those among us who thought our soon-to-be-former commander in chief only held those super spreader events to make himself feel better, it turns out we were right. After the star of the show has lost the election, though, another campaign rally might be more akin to a funeral. "Four more years" chants from the crowd could so easily be misunderstood. "Build the wall," could be revived I guess, though that oldie didn't return as the hit it was way back in 2016. "Lock her up" is the crowd favorite that is certain to bring the airplane hangar down, even two elections later.
But who is the "her," this time? Let's pretend Trump is mad at the millions of women who voted against him on November 3. It might take four years and a bunch of really big walls to build a slammer big enough to lock all of them up.
Or Trump could just concede.
The election is over, and my top pick won the White House. But I was rooting for a long list of individual candidates and plenty of them didn't win. There actually is a bright side for Democrats and Republicans this year. And how about the turnout? We can all be proud of how much we all participated.
I write about politics a lot, but I am really more of an expert in government. At least, according to me I am. As an expert, I can say that resisting or refusing to participate in a peaceful transition of power is definitely a governmental problem with governmental solutions. Why the Republicans, many of whom will still be in office after the Biden presidency begins, want to make a political problem for themselves is baffling.
It's almost like they didn't believe it was possible for Trump to lose. Remember that day every reputable pollster in America all but guaranteed Trump would lose? That was every day for the last nine months.
When the shock of the predictable outcome finally passes, my new advice to all of the MAGA crowd is to rest up and refocus. It turns out the pandemic wasn't a political stunt. It really is killing people. (P.S. Wear a mask.)•
__________
Leppert is an author and governmental affairs consultant in Indianapolis. He writes at MichaelLeppert.com. Send comments to ibjedit@ibj.com.

Click here for more Forefront columns.
Please enable JavaScript to view this content.