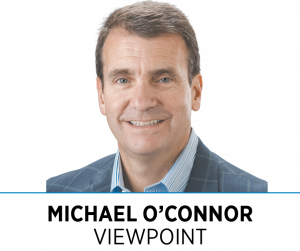 Surveys of CEOs from across the country and here in Indiana indicate that the biggest challenge leaders face is recruiting and retaining talent for the changing business environment—not just for the next year or five years, but for 20 years into the future. Good jobs are going to where the talented, educated and diverse workforce exists.
To address the supply side of that equation, Indianapolis Public Schools Superintendent Aleesia Johnson and her team have developed a bold and innovative plan to make sure IPS is delivering talent to the workforce and greater opportunities for all students in the district. The Rebuilding Stronger plan is an investment in making sure IPS has the best teachers and best facilities to deliver the high-quality education our children deserve and that those CEOs need. That has me so excited about Rebuilding Stronger.
Today, academic excellence exists within various programs and schools, but access to that excellence is not universal. Some students have access to excellent education and athletic facilities, but too many do not. IPS has too many small buildings that lack education enrichment programs like computer science, art, foreign languages and advanced mathematics. Rebuilding Stronger will allow IPS to merge inefficient operations into the schools of the future with broader, more vibrant education opportunities for all students, all while continuing the investment in teachers that IPS has made in the last several years.
Rebuilding Stronger will require community investment. In this case, a little history is helpful. In 2018, IPS, working with Indy Chamber and a variety of civic leaders, pared down a funding request by cutting two-thirds of what IPS leaders believed they needed. They made that decision because community leaders indicated that they wanted to see IPS make investments in improving teacher pay and streamlining administrative and non-classroom operations.
I know a great deal about these negotiations because I was part of them.
Johnson and the IPS team have delivered. IPS teachers have moved from some of the lowest-paid in Indianapolis/Marion County to among the highest-paid in the entire state. IPS has made smart energy investments and changes to its transportation system, all to drive more money to the classroom. In fact, IPS has implemented a remarkable 90% of the recommendations made by the Indy Chamber panel in 2018. The most significant indicator of the importance of those investments: IPS has achieved an 84% teacher retention rate over the past three years!
Today, IPS is asking for support for a new round of investment—to continue to pay our teachers and educators industry-leading salaries and to make capital investments that allow all students in the IPS system the same opportunities to learn in world-class learning environments in which they feel safe and protected.
It is never a small ask to request that businesses invest more in our public school system. But if you agree that the demand for talent is greater than ever, then I think you will agree that the investment is worthwhile. IPS estimates that the requested referendum would equate to an additional $121 per $100,000 of assessed value for residential rental properties annually. For commercial and industrial properties, it would be an additional $54 per $100,000 of assessed value annually.
I have seen up-close the work of Johnson and her team to fulfill the commitments and meet the agreements that were made in 2018. The diligent work they have done with the community to develop the Rebuilding Stronger plan will help guarantee that growth continues. Rebuilding Stronger is a bold plan for students, teachers and the entire Indianapolis community, and I believe it's a bold plan that is good for the business community and worth our support.•
__________
O'Connor served on the IPS board of commissioners from 2015–2020, including as president from 2018–2020.
Please enable JavaScript to view this content.