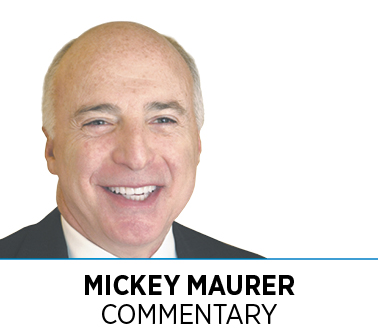 Back home again in Indiana, and Mike Pence has reverted to form.
When running for governor, Pence avowed that he was a Christian, a conservative and a Republican in that order. As a Christian, he attempted to deny not only union but the other benefits of marriage to loving couples just because they did not meet classic gender expectations. Against a rising state and national tide, he advocated a constitutional amendment to deny marriage rights to gay couples. Then, there was the Religious Freedom Restoration Act that defined Hoosiers for all the world as a homophobic uncaring bunch of yahoos. That stunt cost Indiana millions of dollars in economic development and convention business.
A few years later, Pence ran for a second term. It was not going well. Moderate Republicans who had supported him in the first election cycle were tired of his shenanigans. His opponent, John Gregg, citing the polls, declared that he was going to win the race.
Along came Trump who saw him as someone who would tap the coffers of right-wing billionaires. Pence delivered mega-MAGA contributions in return for the conservative Supreme Court that busted up Roe v. Wade.
During the Trump years, Vice President Pence danced to the puppet strings of his master, but on Jan. 6, Pence flirted with statesmanship. In the face of personal danger and outrageous threats and entreaties from Trump and his followers who were bent on insurrection, he, like every vice president throughout the history of this country, certified a legitimate election.
Perhaps Pence matured during the turbulent Trump administration. Perhaps Rip Van Pence woke up and opted to act in the best interest of our democracy rather than the right wing of his political party. For facing down the perils that confronted him, many Hoosiers deemed Pence a hero. Is this a new Mike Pence—deeper thinking and less radical? A Christian in the finest sense of the word? A Hoosier Republican out of the mold of Richard Lugar and Mitch Daniels?
It was not to be. In a defining opportunity for would-be statesman Mike Pence, he stomped on Hoosiers again by headlining a fundraiser for Diego Morales, the Republican nominee for secretary of state. According to James Briggs in a recent column for The Indianapolis Star, Morales is "one of the worst statewide general election candidates in Indiana history." Does Pence know this? Of course. Morales was once employed by Pence.
Morales left the Secretary of State's Office as an employee once by firing after exhibiting a "lack of focus" and "inefficient execution of assigned deliverables" and then again by quitting after declining to agree to a work improvement plan.
The secretary of state race is especially important in light of the threats to legitimate elections that will be perpetuated if candidates such as Morales, an election denier, are elected. Morales' rhetoric is fraught with exaggerations and half-truths. Morales defined himself as an Army veteran who was willing to put his life on the line to protect his country, yet he spent 3 months and 18 days on active-duty training before transferring to the National Guard and then leaving under mysterious circumstances.
Now, he has dragged state Chairman Kyle Hupfer into Morales' denials that Morales sexually assaulted two women about 15 years ago.
The stinging disappointment in this ignoble affair is not the woeful ineptitude of the nominee. It's not his incompetency and suspected lack of moral integrity. It's not the deplorable lack of good sense of the Indiana delegation that put forth this miserable nomination. No, it's the exuberant support for this buffoon from the leader of our Republican Party, Mike Pence.•
__________
Maurer is a shareholder in IBJ Corp.
Please enable JavaScript to view this content.