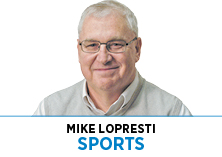 He was the major leaguer who made the world better around him. The teammate who stood by the side of Jackie Robinson on even the most difficult days. The father who would not allow the state to turn its back on the intellectually disabled, which included his own son.
He was the professional athlete who traveled the nation but never forgot that home was Anderson, Indiana. The Brooklyn Dodgers of the 1950s were immortalized as The Boys of Summer, and at 95, he is the last survivor. In a way, the most immortal of them all.
Gee, doesn't the life of Carl Erskine sound like it might make a swell movie?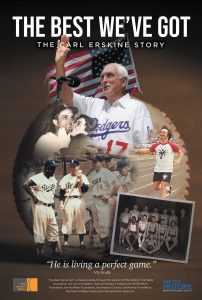 "I try to do films that celebrate the triumph of the human spirit," Ted Green was saying. He's the filmmaker behind it all, and he relayed a day from 2014, when he was beginning work on a documentary about Indiana hoop icon Bobby Leonard, focusing on Slick's impact on his home state.
"I went up there for my first interview with him—and I knew he was skeptical about the whole thing—and he's in his BarcaLounger reading a newspaper," Green said. "I sit down, and he lowers the paper a little bit and looks at me and says, 'Boy, you're doing a film on the wrong guy. The guy you want is up in Anderson.'
"Carl Erskine."
Green finished the Leonard documentary, anyway, but never forgot those words. And now look what will have its world premiere Aug. 11 in Anderson's Paramount Theater: "The Best We've Got: The Carl Erskine Story."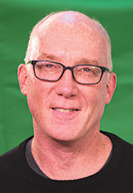 "When I decided to do the story on Carl, Slick was my first call. I told him, 'Slick, it took me eight years, but I finally followed your advice,'" Green said. "What I'm hoping is people will walk out of there just a little bit flabbergasted about what this one self-described skinny kid from Anderson has been able to do with his 95 years."
Well-known voices galore are in this film. Among them: broadcast legends Vin Scully and Bob Costas. Former Gov. Mitch Daniels. Branch Rickey III, whose grandfather brought Jackie Robinson to the majors. Special Olympics Chair Timothy Shriver, a member of the Kennedy family. Leonard, in the last filmed interview of his life.
"Nine people out of 10 are not going to know who Carl Erskine is. Maybe it's 49 out of 50," Green said. "But those who do know him just worship the guy. I heard the same three words when I would call around for interviews: Anything for Carl."
Johnny, Jackie, Jimmy
Stories galore are in there, too. How Erskine went from a modest Anderson upbringing to throwing two no-hitters for the Dodgers and striking out 14 batters in a World Series game, back then a record. But it's not all baseball stats. To Green, more revealing of the person Erskine is are the tales about Johnny and Jackie and Jimmy.
Johnny Wilson, Anderson's Mr. Basketball of 1946. He was black, Erskine white, but that mattered nothing in a close friendship. "The race thing didn't enter into our relationship," Erskine once said. "We grew up together and we stayed together a lifetime." When they went to the Paramount theater to watch cowboy movies, Wilson was allowed only to sit in the upper level, so Erskine sat up there with him. Eight decades later, Erskine will take a seat in the same building and watch his life story. Wilson would likely have been there, too, had he not passed away in 2019.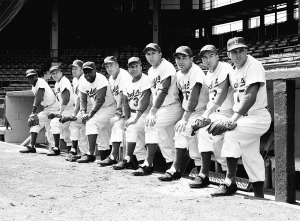 Jackie Robinson. His journey in breaking the color barrier was a relentless and exhausting and earth-shaking trial, and he looked upon Erskine as one of his most valued friends in the game.
Green's research found this quote attributed to Robinson: "No Dodger, none, understood more about what was going on better than Carl."
And Jimmy Erskine. Born with Down syndrome, he was the burning light that drove his father and mother to spend much of their adult lives championing the causes of the intellectually disabled.
"The history of this is fascinating, and chilling," Green said. "Indiana was the worst state in the Union in the treatment and acceptance of people with intellectual disabilities. We passed the nation's first—in 1907—compulsory sterilization law, which is as sick as it sounds. That was actually used by the Nazis at the Nuremberg trials in their defense. I have the documents; they're all in German, except you can read Indiana and 1907.
"We've gone from that to now, where, in many regards, we are the best state in the treatment and acceptance of people with intellectual disabilities. From all the people who would know, and I've gone to all of them, they say the No. 1 reason for this turnaround is Carl Erskine."
'I wanted to celebrate that'
Green began as a history major at Princeton, then moved to journalism. He was helping direct efforts in 2010 for an Indianapolis Star package on John Wooden when his love affair with film was kindled. He was to put together a five-minute video to go with the Wooden story and became so enthused with the research and production, it ended up running 35 minutes. He taped the narration himself in a Star boiler room.
Producing another video on Indiana war veterans convinced him to take the jump to filmmaking full time. He stayed in Indy, and what's resulted is a steady stream of award-winning documentaries on subjects from Roger Brown to the impact of Crispus Attucks High School on Indianapolis to Leonard to Eva Mozes Kor, a Mengele twin who put a magnifying glass on the horrors of the Holocaust.
And now Green has turned the lights on a humble former pitcher whose story has so much to say, even if the man himself doesn't.
"His story doesn't have the built-in drama of an Attucks or an Eva, but I found myself really, really drawn to this guy up in Anderson, Indiana, who has helped effect such profound social change through grace, through humility, through servant leadership," Green said. "I wanted to celebrate that. I also thought it something that could be learned from."
Which is why, in cooperation with Special Olympics, the film has spurred an educational program on inclusion being offered free to every school in the state. More than 70,000 book orders have already been taken.
"I think a Hoosier trait is celebrating your own, and putting your arms around your own," Green said.
That's what will happen Aug. 11. The premiere was sold out a month early. There's an encore at the Paramount on Aug. 13, and the Indianapolis premiere is at Newfields on Aug. 18.
'Just a mundane life'
The 95-year-old on the phone seemed astonished by it all.
"It's pretty amazing to me to think about this skinny kid from the west side of Anderson getting the accolades that are coming my way," Erskine said. "I've always been proud that I was from Indiana. If I go someplace around the country, often somebody says, 'How you doin', Anderson?' My hometown has followed me wherever I've gone.
"Any success I might have had, it wasn't just me alone. I have a pretty long list of people to be grateful to. You've got to realize, it took a lot of other people to make that happen. I've always been aware of that."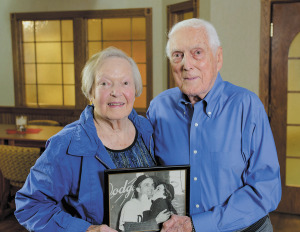 Wife Betty will be with him at the premiere. On Oct. 5, they'll be married 75 years. It is 75, correct? "I think you're right," he said. "My wife would nudge me if she heard me."
His kids will be there, too. Including Jimmy, who wasn't supposed to live much past 30 but is now 62. "I've done several fantasy camps, and high-rollers from all over the country come to these camps," Erskine said. "If I meet one of them on the street or get a phone call, the first question they ask me is, 'How's Jimmy?' He's made a lot of friends."
When Green thinks of his project, he remembers how Erskine described his own story: "Just a mundane life. I've lived in one town, married one girl, played for one team and hit one home run."
Matter of fact, Erskine had a small complaint at the end of their first interview together.
"You didn't ask me the one thing I wanted you to ask me," Erskine said.
"What was that?" Green asked.
"You didn't ask me about my one home run."
It came on June 10, 1955, in the fifth inning against the Cubs at Brooklyn's Ebbets Field. That's part of the Carl Erskine Story, too.•
__________
Lopresti is a lifelong resident of Richmond and a graduate of Ball State University. He was a columnist for USA Today and Gannett newspapers for 31 years; he covered 34 Final Fours, 30 Super Bowls, 32 World Series and 16 Olympics. His column appears weekly. He can be reached at mjl5853@aol.com.
Please enable JavaScript to view this content.