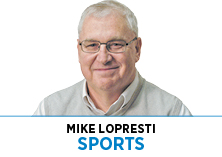 Take me out to the ballgame; take me out with the crowd. Buy me some peanuts and … 29 tubs of popcorn?
Yep, another week, another shot at an all-time eating record for Joey Chestnut and his world-renowned spandex stomach. That's Indiana's own world-renowned spandex stomach, by the way, since he now lives in Westfield.
Maybe you've seen him cut a swath through Nathan's Hot Dog Eating Contest on July 4, his big claim to food fame. But there are other menu items on his trail of culinary carnage. The man who once put down 182 chicken wings in 30 minutes, 55 glazed doughnuts in eight and 121 Twinkies in six has developed an appetite for a new conquest. Popcorn. Fellow Hoosier Orville Redenbacher would be so proud. Chestnut's target is 685 ounces in eight minutes. Or 28-1/2 small tubs. That could just about handle a theater audience at "Top Gun: Maverick."
The big night is next Tuesday at Victory Field before an Indians game. He'll prepare with a gallon of water when he wakes that morning as he always does, then nothing but coffee the rest of the day. Know what Tuesday nights are at Victory Field? Dollar hot dog night! So, for $63, you could buy enough hot dogs to match the total Chestnut inhaled on July 4 to win the Nathan's event for the 15th time.
Anyway, it seemed a good time for a chat with the world's greatest competitive eater, a 38-year-old new Hoosier who can devour a week's worth of calories in the time it takes to boil pasta.
You've set records for everything from burritos to boysenberry pie to Big Macs. First time with popcorn?
I did one before and I lost [April 2021], so I'm trying to break the guy's record who beat me. I have a better technique this time. I'll be standing up, and I didn't have warm water last time.
What's the deal with the warm water?
It helps relax muscles. It helps digest food. For everything to get digested, it eventually has to get up to your body's temperature. So, it helps move things along.
Anything particularly challenging about popcorn compared to, say, the 72-ounce steak you once finished off in under nine minutes?
It's not like a hot dog, where sometimes you do eat a hot dog fast. You would never eat popcorn fast. I've had to retrain myself how to eat popcorn with a sense of urgency. You have to take the right-size scoops. It's really important not to take too big of a scoop. Squeeze them just enough, and then it's chew and the right amount of water.
Do you even like popcorn? And yes or no on salt and butter?
I enjoy it at a baseball game, and I enjoy it at Christmas time. Yes, salt and butter. I like when food is prepared in a way that it's edible. If it's plain and tastes plain at the beginning, it'll be really dull by the end.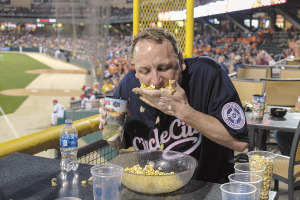 Among your records, any foods particularly hard to get down?
Bratwurst is always tough. There's a lot of fat, a lot of spices in there. It's hard for the body to process everything. Also, things with a lot of sugar. With the Twinkies, that was hard on the body. I wouldn't do that very often. Glazed doughnuts were a little bit easier.
Any foods on your record bucket list? And any in the never-going-to-happen category?
I want to go to Alaska and eat king crab. Real king crab the size of your arm. I would love to hold the record for king crab. It's one of my favorite foods. As far as foods I can't do: oysters. Every year, there's a contest in New Orleans and they invite me out and I just can't bring myself to do it. Just the texture, the salt. I want to do it, because it's New Orleans and it's been going on for a long time. It would be a massive record. But I just know myself. Even thinking about it [looking at his arm for hives] … I just know my body would reject it.
It's not every day that a man's bio includes the fact he once ate 39.5 bowls of red beans and rice in eight minutes. What's all this mean?
It's happiness. It's lighthearted. Any kind of competition should be fun, and it's fun for me. It's awesome [that] I get to make other people happy doing something I love. I never imagined this. I grew up to be an engineer. I got the degree, worked in construction management, and I never made anybody happy. My job was [to] process change orders.
Now I get to make people happy, I get to beat people, and break records, I get to eat and travel—it's the greatest thing. It's almost not fair. Two weeks ago, I was in Canada hitting little doughnuts in Regina. I'd never been to Regina."
And now you're a Hoosier. How'd a California guy end up moving to Westfield last year?
"I travel a lot and I thought, 'I could fit in here.' The people are nice; it's safe, clean. It's easy to travel. People think I'm a weirdo for loving the airport, but I love the airport."
You've said your favorite Indy-area restaurant is St. Elmo, where you once blew through more than 18-1/2 pounds of the shrimp cocktail to set a record, and the cocktail sauce didn't even vaporize your tongue. You also mentioned Pupuseria Casa Maria as one of your go-to spots. Wherever you eat in Indy, do you feel like people are watching how many pork chops you're having?
I think they understand I separate competitive eating from pleasure eating. It's the same thing as if they saw [Olympic medalist] Usain Bolt walking. They're not expecting him to sprint everywhere. But if I'm at a baseball game, people are interested in seeing how many hot dogs I'm eating.
And just how many would that be?
Depends on who I'm with. My fiancé doesn't like me to eat very many. But if I'm with a group of guys and one of them starts eating a lot of hot dogs, I'm not going to get beat. I wouldn't be surprised if I go through nine hot dogs and nine beers.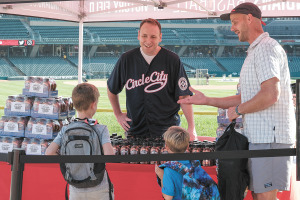 P.S. Joey Chestnut checks in at 6 feet, 1 inch and about 240 pounds at the moment. He likes to be at 225 but picked up a few pounds when he broke his leg in December after falling down an embankment in the dark in California while helping a friend search for a lost dog. The fire department had to come for Chestnut. The repaired leg became infected in March and his temperature hit 104 degrees.
"I felt like garbage," he said. So, he hasn't been able to exercise much.
Then again, he knows how it is to feel lousy. Take those hot-dog-record binges. Those are held just after noon on July 4. "I've been doing it for 18 years, so I know what's going to happen next," he said. He falls asleep on the bus back to the hotel, wakens to go to his room, sleeps some more, gets up again maybe at 11 p.m. just after the fireworks. But he is still lethargic, bloated and uncomfortable.
"I don't mind feeling that bad," he said. "It's not the worst feeling in the world. I've broken bones. It's not that terrible."
When Chestnut hit Victory Field for a promotional appearance Tuesday, the customers were snapping pictures and standing in a long autograph line. He was happy; they were happy. Now bring on the popcorn.
Indiana can always use another champion. The Colts and Pacers might have missed the last playoffs, IU might be picked to finish near the bottom in Big Ten football, and Purdue might have lost to Saint Peter's in the NCAA Tournament. But nobody wants any part of our guy when it comes to fish tacos or funnel cakes.•
__________
Lopresti is a lifelong resident of Richmond and a graduate of Ball State University. He was a columnist for USA Today and Gannett newspapers for 31 years; he covered 34 Final Fours, 30 Super Bowls, 32 World Series and 16 Olympics. His column appears weekly. He can be reached at mjl5853@aol.com.
Please enable JavaScript to view this content.