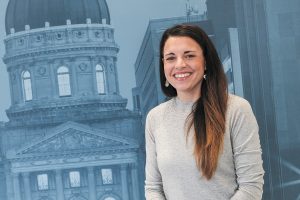 Blair Milo, who in 2017 was named the state's first secretary of career connections and talent, will leave the position on June 7, Indiana Gov. Eric Holcomb announced Friday.
Milo is stepping down to launch the Center for Talent and Opportunity, a partnership with the Sagamore Institute, InnoPower and the Minority Entrepreneurship Institute. The center will be committed to closing the wealth gap for women and minorities through entrepreneurship.
As secretary of career connections and talent, Milo has led the 21st Century Talent Regions initiative, resulting in 80 Indiana counties forming 14 regions to plan and implement strategies for attracting, developing and connecting talent.
The 38-year-old former mayor of LaPorte was "instrumental in creating the Indiana Talent Network, which connects stakeholders statewide in sharing best practices for equitable talent policies and strategies," the governor's office said.
"I had a vision for connecting communities, growing regionalism, and sharing best practices, and she brought it to life," Holcomb said of Milo in his announcement.
Earlier this year, the Office of Career Connections and Talent was integrated into the Indiana Economic Development Corp. to make it easier for employers to cultivate talent pipelines, meet hiring goals and implement training and development programs.
Milo was named to IBJ's annual Forty Under 40 list in 2020.
Please enable JavaScript to view this content.