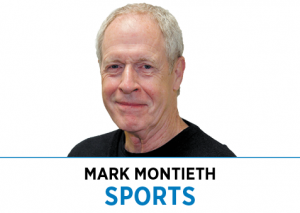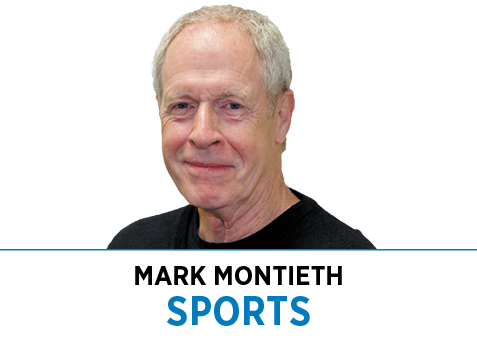 Reggie Miller talked trash, got T'd up frequently and suspended occasionally.
David West talked the coaches out of canceling practice.
Dale Davis threw up in a waste basket, then got back to work.
Mel Daniels never backed down from a fight and holds the franchise record for punches thrown.
Freddie Lewis left his shoe print on an opponent's face.
Bob "Slick" Leonard once threatened to punch an opposing coach.
Alpha males tend to act out on occasion and sometimes go too far, but they are essential elements of basketball teams that contend for championships. Label them whatever you want, just make sure you have some. Define them however you want, you know them when you see them.
The Pacers haven't had one in a while, certainly not among their more prominent players, which makes the addition of Bennedict Mathurin in last week's NBA draft all the more compelling. The 20-year-old by way of Montreal, Mexico, and the University of Arizona has the appearance of someone ready to join the elite club of alpha Pacers, all of whom were vital forces for the better teams in franchise history.
Mathurin has yet to drop a bead of sweat in a Pacer uniform, but he's already established himself as the roster's most macho member. That makes him a perfect fit for a team that has been too soft, too nice and too win-starved for too long.
"He's a very driven, tough-minded player who has overcome a lot in his life," Pacers general manager Chad Buchanan said after the June 23 draft. "He's a very feisty, bulldog, gritty competitor and he's not afraid to challenge his teammates, he's not afraid to challenge the opponent, and he's not going to back down."
Team executives always say nice things about their acquisitions in the afterglow of the draft, of course, but those words are supported by Mathurin's backstory. As with most alphas, he had a difficult upbringing, one that challenged him every day. It was the kind of make-or-break experience that was going to embolden him or send him to jail. And he's never been in jail.
The synopsis:
He never met his father, who died in 2013. He and an older sister and brother were raised by their mother, who worked long hours at a local hospital. They lived in a dangerous and drug-infested area of Montreal from which some never escape. His older brother, Dominique, was hit by a car while riding his bicycle and killed in 2014. (He wore a gaudy necklace with the word "Domixworld" in honor of his brother at the draft.)
At 15, he moved to Mexico City to attend the NBA Academy Latin America. He lived alone, learned a fourth language, and developed into a prized recruit who chose the University of Arizona. There, he matured into a more trusting teammate and coachable star. Arizona's head coach, Tommy Lloyd, in a recent Zoom call used descriptions such as "self-starter," "driven," "in attack mode," and "clutch gene."
Coaches also say nice things about their selected players in the afterglow of the draft, of course. Mathurin, however, received a similar endorsement from Bruce Pascoe, who covered Arizona's basketball team for the Arizona Daily Star last season.
"He really has a fire within him that comes out when [his teams] need it. There's just something about him," Pascoe said.
Mathurin didn't take long to bring some heat to the Pacers. Not satisfied with the way he shot in his morning pre-draft workout, he asked for an opportunity to use their practice gym to get up shots that evening—a first for Pacer draft candidates. His next coach, Rick Carlisle, joined him for a private hour-long session, and now Carlisle is singing his praises as well.
"I could tell that evening … that this is our kind of guy," he said.
Confidence won't be an issue for Mathurin. He told a Washington Post reporter before he had even been drafted that his goals include winning Rookie of the Year, a league MVP award and induction into the Naismith Basketball Hall of Fame. As if that wasn't enough, he dropped this little bravado bomb regarding LeBron James: "A lot of people say he's great. I want to see how great he is. I don't think anybody is better than me. He's going to have to show me he's better than me."
Well, now. Those are karma-inciting words that could come back to haunt a rookie, sort of a long-distance blow in the ear. But that's the thing about alphas. They don't care. They talk out of turn. They act out occasionally. They risk failure. But they inspire teammates and fans alike with their courage. If they step across a boundary on occasion, it's nearly always worth whatever trouble they cause.
Nearly. There is such a thing as going too far, as Ron Artest and some of his Pacer teammates proved one infamous night in 2004 at the Palace of Auburn Hills. Swagger is far preferable to violence, but in previous eras, fighting was an accepted manner of displaying one's manhood.
Take these examples of notable Pacer alphas from seasons past. Consider them the franchise's All-Alpha team.
Mel Daniels (center): The two-time American Basketball Association MVP and Naismith Hall of Fame inductee got into more fights—by far—than any player in franchise history.
Daniels did more than fight, however. He threw temper tantrums in the locker room when the team wasn't playing well and publicly defended teammates who were being booed by fans. He also had a poet's heart. He was the first to encourage or console a struggling teammate in a private conversation.
Every coach dreams of having a locker room controlled by the players, in which they hold one another accountable. Daniels was the catalyst of that culture in the Pacers' early seasons.
Freddie Lewis (guard): He sometimes clashed with coach Bob Leonard over leadership. Not because he wasn't leading but because he was doing it in his own way. Some Pacers have said they sometimes leaned toward Lewis' direction more than Leonard's and that led to some issues between the two. Lewis was even kicked out of practice by Leonard during the playoffs one season.
He didn't back down from conflict on the court, either. He would rank second to Daniels in fists thrown. On Dec. 22, 1971, he responded to a hard foul from Denver guard—and future Pacers coach—Larry Brown by punching Brown. That sparked a "beauty of a donnybrook" according to The Indianapolis Star's account. Brown wound up with three stitches over his eye and an imprint of the bottom of Lewis' shoe on his cheek.
Lewis squared off against teammates, too. Verbally, that is. Daniels told the story of complaining to Lewis during a game about not getting the ball often enough. Lewis cussed him out and told him if he wanted the ball to go get a rebound. But he also was the kind of guy who would take a cup of coffee to a teammate on the morning bus without being asked.
Lewis was a three-time all-star, the captain of all three of the Pacers' ABA championship teams and the MVP of the 1972 finals. And Leonard respected him. Shortly before he died in April of 2021, Leonard heartily endorsed an effort to have Lewis' jersey number retired by the Pacers.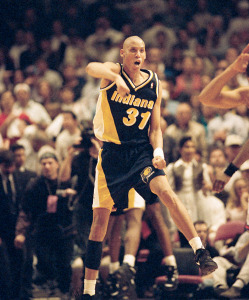 Reggie Miller (guard): Fighting had been all but banished from the NBA by the 1980s, but Miller was a willing participant in the war of words and gestures throughout most of his career.
The gestures he directed toward Knicks superfan Spike Lee while torching New York for 25 points in the fourth quarter in 1994 earned him worldwide fame and remain legendary. But they reflected his approach to the game. His biography, remember, was titled "I Love Being the Enemy" and he usually responded favorably to conflict and challenges.
He declared "I hate the Knicks" at a press conference that included New York writers before the conference finals in 2000 just to create the friction he needed to light a spark, then went out and led the Pacers to their only NBA Finals appearance by scoring 34 points in the Game 6 clincher.
He is the Pacers' all-time leader in many categories, including these two lesser-known areas: technical fouls (175) and ejections (12). His dad was career military, so he had a built-in respect for authority. That didn't apply to referees in the heat of battle, however.
Dale Davis (forward): He was a quiet enforcer, a steady blue-collar presence with the Pacers for nine seasons and part of another toward the end of his career.
The product of a single-parent home, his mother did the work of two. When Dale or his brother misbehaved, she told them to go out back and tear off a tree limb so she could whip them with it.
Davis hinted at his toughness during his pre-draft workout with the Pacers when he had to take a break to vomit into a nearby wastebasket. Without saying a word, he walked back onto the court and went back to work. He maintained that approach throughout his career.
David West (forward): West, like Davis, was mostly a quiet presence, but he carried major influence in the locker room. He didn't say much so when he did—in a slow, raspy baritone that commanded respect—teammates listened.
Quick example: After the Pacers upset Miami in Game 2 of a first-round playoff series in Miami in 2012, several of the Pacers celebrated on the court as if they had won a championship. West, standing off to the side, shouted for them to shut up and get to the locker room. He knew there were more games to play.
Also: West talked the coaches out of taking a day off later in the series, because he knew Miami would be practicing that day.
"You trust him," former Pacers assistant coach Dan Burke once said of West. "He's kind of our soul. There's an essence there. A purity. He's all about respecting the game and how things are supposed to be done. He's salt-of-the-earth."
The coach of a group such as this would have to be Leonard, who set the tone for the teams that won those ABA titles. He kicked a ball into the stands to protest the lack of a foul call in a game in Salt Lake City on Dec. 2, 1972. The following season, on Nov. 9, 1973, he threw a ball rack onto the court to protest another call at the Fairgrounds Coliseum. He chased after Bob Netolicky with a hockey stick at halftime of one game. And there was the time he threatened an opposing coach in the newspaper during a playoff series in 1975.
"If [San Antonio coach Bob] Bass steps across that center line Wednesday night I'll deck him," Leonard said.
That was only part of Leonard's approach to coaching, however. He also knew when to throw an arm around a player and whisper words to boost his confidence.
Players and coaches can't get away with fighting or threatening violence in today's NBA and Mathurin has no history of doing so. He will have plenty of other opportunities to exhibit his alpha-ness, however, and the Pacers can use every one of them.•
__________
Montieth, an Indianapolis native, is a longtime newspaper reporter and freelance writer. He is the author of three books: "Passion Play: Coach Gene Keady and the Purdue Boilermakers," "Reborn: The Pacers and the Return of Pro Basketball to Indianapolis," and "Extra Innings: My Life in Baseball," with former Indianapolis Indians president Max Schumacher.
Please enable JavaScript to view this content.