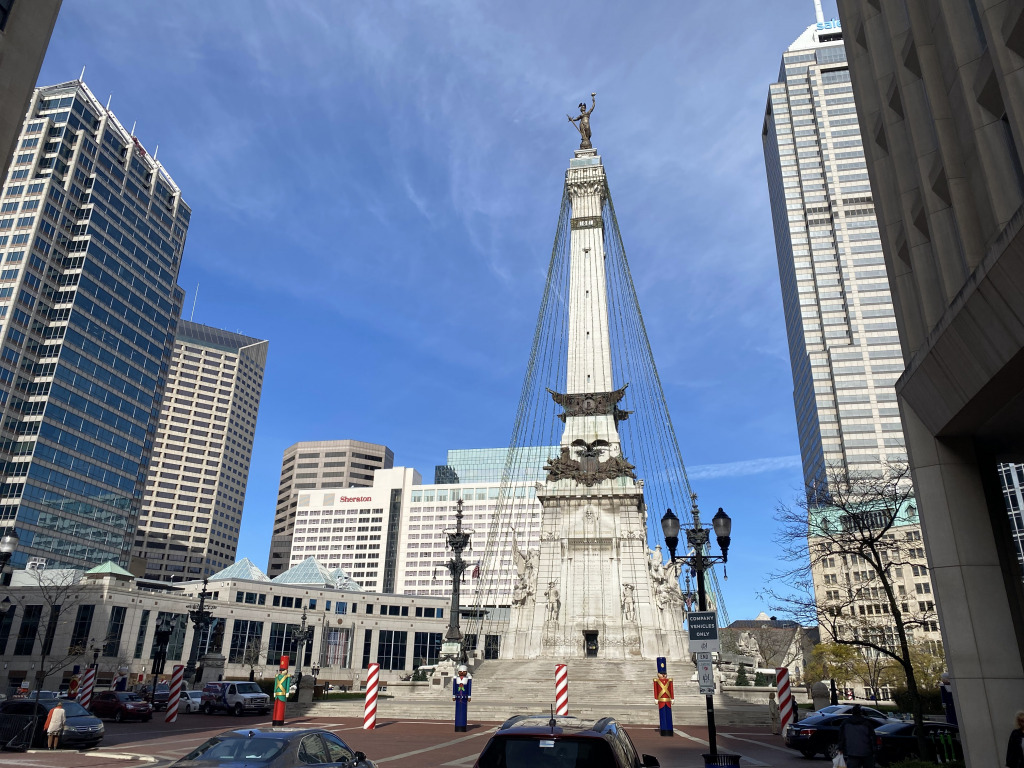 The big game will be played indoors at Lucas Oil Stadium, but concerts to accompany the College Football Playoff National Championship are scheduled Jan. 8-10 in the open-air setting of Monument Circle.
Rapper Doja Cat, rock duo Twenty One Pilots and country vocalist Sam Hunt will headline three days of free concerts. Also scheduled are AJR, Breland and Ava Max.
Bill Hancock, executive director of the College Football Playoff, and Susan Baughman, president of the 2022 Indianapolis Host Committee, announced the free entertainment Thursday at Union Station.
Concerts on Saturday, Jan. 8, and Sunday, Jan. 9, are billed as AT&T Playoff Playlist Live! Performances are scheduled from 5-11 p.m. each day.
The Monument Circle event on Monday, Jan. 10, which is game day at Lucas Oil Stadium, is billed as Allstate Championship Tailgate Plaza. Performances are scheduled from noon-5 p.m.
Doja Cat and AJR will perform on Jan. 8. Twenty One Pilots and Ava Max are set for Jan. 9. And Sam Hunt and Breland will perform Jan. 10.
According to the National Weather Service, the average low and high temperatures in Indianapolis for Jan. 8-10 are 21 and 36 degrees, based on data collected from 1991 to 2020.  
For college football fans seeking a climate-controlled experience during championship weekend, the Indiana Convention Center will host Playoff Fan Central Jan. 8-10. The 200,000-square-foot attraction includes games, pep rallies, band performances, autograph signings and exhibits focused on college football history.
When New Orleans hosted the College Football Playoff National Championship in 2020, the lineup of free concerts included performances by Tim McGraw, H.E.R., Nas and Meghan Trainor.
Miami hosted the championship game in 2021. Because of the pandemic, no large-scale in-person concerts were presented. A virtual concert starring Jason Derulo served as the AT&T Playoff Playlist Live! Event.
The concert history at Monument Circle includes a 2007 NFL Opening Kickoff event. Faith Hill, Kelly Clarkson and Hinder performed Sept. 6 as a pre-game celebration for a Colts-Saints matchup.
In April 2006, John Mellencamp, Carrie Underwood and Chris Brown performed at Monument Circle as part of festivities surrounding the NCAA men's basketball tournament.
Similar to the 2021 College Football Playoff National Championship, this year's NCAA men's basketball tournament in Indianapolis featured no large-scale, in-person concerts. The Swish arts and culture festival, however, blanketed Downtown with visual art and hundreds of performances by musicians, dancers and spoken-word artists.
When Indianapolis hosted the men's Final Four in 2015, the NCAA presented concerts in White River State Park featuring Rihanna, Imagine Dragons, the Zac Brown Band, Weezer and Kacey Musgraves.
The 2010 Final Four lineup of White River State Park performers included Stone Temple Pilots, Goo Goo Dolls, LL Cool J and Darius Rucker.
Please enable JavaScript to view this content.