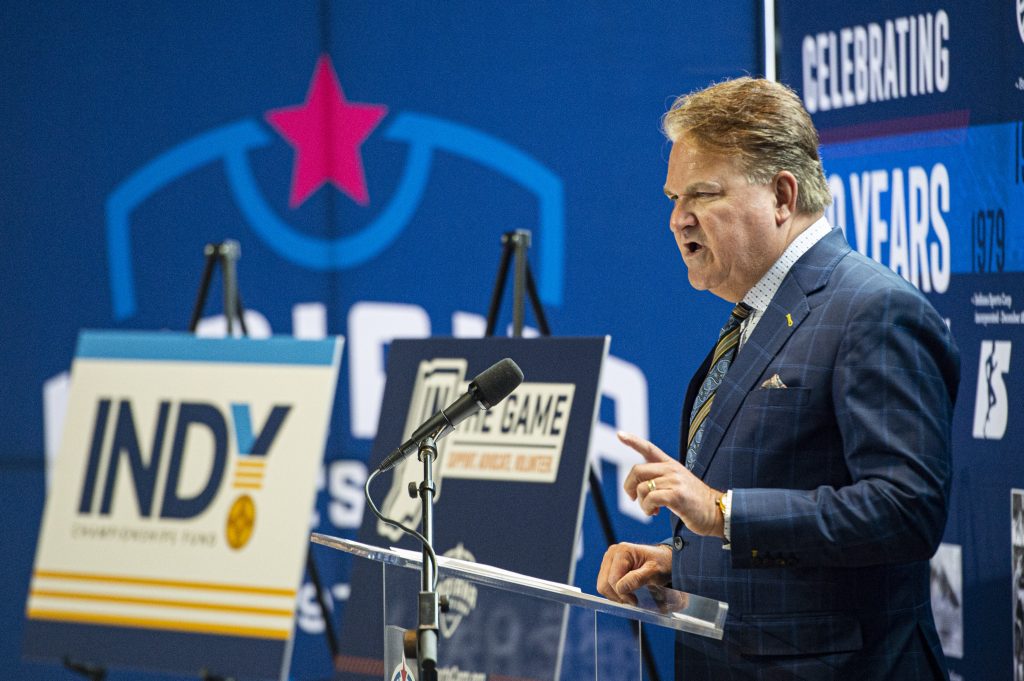 The Indy Championships Fund has raised $20.5 million for major sporting events coming to the city over the next two years, the group announced Tuesday.
The amount is just $4.5 million shy of the fund's overall goal of $25 million. The money is expected to go a long way in funding three events on the city's calendar: the NBA All-Star Weekend and the NCAA Men's Basketball Final Four (both in 2021) and the College Football Playoff National Championship in 2022.
The fund was formed in 2017 and is led by a volunteer group of community leaders.
About $3 million from the fund  ($1 million per event) will be used for legacy programming. The NBA All-Star Game's legacy project focuses on providing 21 grants of up to $50,000 for brick-and-mortar capital improvement projects involving health and wellness or education opportunities.
The remaining $22 million will be split down the middle to cover the operating budgets for All-Star Weekend and the College Football Playoff game. The CFP budget is about $15 million, with roughly $4 million coming from in-kind contributions. The NBA All-Star Game is expected to cost about $10 million to $12 million.
The Final Four is mostly being funded by in-kind contributions and other mechanisms, including through the NCAA itself.
David Lewis, ICF president, said he and board members have met with dozens of businesses and organizations over the past two years to pitch them on contributing to the fund.
The approach is nearly identical to the one taken when Indianapolis hosted the Super Bowl in 2012—with a focus less on perks and more on philanthropy.
"It's just good ol' shoe leather, talking about what we're trying to achieve and why it's important for a particular party to consider providing funding," Lewis, a former Eli Lilly and Co. vice president, told IBJ. "It's very much civic-minded."
Tuesday's funding update was part of a news conference at Lucas Oil Stadium in which the Indiana Sports Corp—which helps orchestrate many of the city's sports events—announced its "IN the Game" initiative.
That initiative will recruit up to 10,000 volunteers for sporting events over the next two years, along with additional financial support and advocacy.
Indianapolis will also play host 16 other major sports events aside from the big three over the next two years, including the Big Ten Conference basketball tournament and football championship game, the FINA Water Polo Championships and NCAA swimming and diving.
"We need more than 10,000 volunteers" to support the upcoming slate, said Ryan Vaughn, president of the Indiana Sports Corp. "It's important that we be successful in filling those volunteer spots, which we historically have done."
The ISC is encouraging donations and general advocacy for the events happening over the next two years, which are collectively expected to have an economic impact of $660 million.
Please enable JavaScript to view this content.