Hosting a massive event for the first time is difficult enough for any city.

If the event is in its infancy—or a toddler—the task gets trickier.

Now, place it in the midst of a 13-month stretch that will bring six other big sports events to town and the job gets down right daunting.

But Indianapolis officials say they're up for the challenge of hosting the eighth annual College Football Playoff National Championship in January 2022.
Never mind that the city will host the NBA All-Star Game for the first time in 36 years just 11 months before. Sandwiched in between will be the Big Ten Women's basketball tournament, NCAA Men's Final Four and Big Ten Football Championship. And on the heels of the college football national championship, the Big Ten men's and women's basketball tournaments come to town again.

"That's a pretty unprecedented lineup, even for a veteran event city like ours," said Susan Baughman, senior vice president of Indiana Sports Corp. and president of Indy College Football Playoff Inc., the group formed to organize hosting the national championship.

Those seven events bring significant exposure and a serious payday for the city.


Combined, they will draw well in excess of 2,000 credentialed media members and will have an economic impact of more than $520 million, according to local officials.

But hosting the events also carries a sizable price tag: For all seven, that's $25 million—which local organizers and city officials aim to raise through corporate contributions and donations.

Faced with organizing so many events in a relatively short span, organizers are taking a holistic approach to fundraising, volunteer recruitment and overall organization.

They took the first step in December by setting up Indy Championship Fund Inc. to raise the necessary money. The move is meant to minimize confusion in the marketplace and keep local companies from getting bombarded by sales pitches from the various organizing groups.

A unified approach also gives local companies an opportunity to strategically choose which event or events they want to be involved in, said Mark Howell, chairman of Indy College Football Playoff Inc.

"There's a lot more optionality in this approach than there otherwise would be," Howell said.

Dave Lewis, an Eli Lilly and Co. vice president, was named president of the Indy Championship Fund. Co-chairs are Carlie Irsay-Gordon, vice chairwoman and a co-owner of the Indianapolis Colts, and former Eli Lilly and Co. CEO John Lechleiter.

While hosting plans are still in the formative stages, Howell has his sales pitch sharpened.

"Putting on [all seven] events has the same cost as hosting a Super Bowl, and it keeps this city on the world stage for over a year," Howell said. "We feel this is money well spent."

He has little doubt the fundraising goal will be reached. "The interest in these events is high," he said. "The corporate and larger community know what these events mean to the city."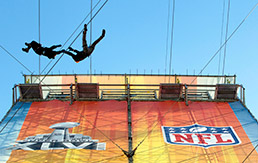 Indianapolis has a history of adding never-before-seen features at events like the Final Four and the Super Bowl, which in 2012 featured a zip line for fans. (AP photo)
Taking shape

Since the Nov. 1 announcement that Indianapolis would host the College Football Playoff National Championship, the local organizing committee has been taking shape, Howell said. Jeffrey Harrison, CEO of Citizens Energy, has been named vice chairman.

Despite the multitude of events on the city's calendar in 2021 and early 2022, Howell is confident enough volunteers will be available to make them all successful. About 1,000 volunteers will be needed for the football championship alone. The volunteer group for that event "will start to take shape in early 2021," Baughman said.

"The depth and breadth of people that want to be involved, the amount of interest we've had, is incredible," Howell said. "Part of that might be that it's a brand-new event for the city, but I think people realize the potential impact this could have on the city."
Vaughn
But Indiana Sports Corp. President Ryan Vaughn, whose organization has a database of 8,000 to 10,000 volunteers, said local organizers will have to be strategic about how volunteers are recruited and put to use because the other six events will require thousands more volunteers.

"We'll be asking a lot of our community in terms of volunteerism. With this many events in this compressed time period, we have to be careful about fatiguing our volunteers," Vaughn said.

The biggest takeaway from previous events that will be applied to organizing and hosting the college football national championship?

"We have to get the community engaged early," Vaughn said. "We have to be thoughtful about the way we can get people involved. That makes a huge difference."

Bob Ryan, a long-time Boston Globe sports columnist and ESPN contributor, said he's rarely seen locals turn out for Super Bowl events the way they did in Indianapolis. "When your community gets behind an event, it takes it to a whole new level," he said. "I think you've seen that at a number of this city's events."

Baby steps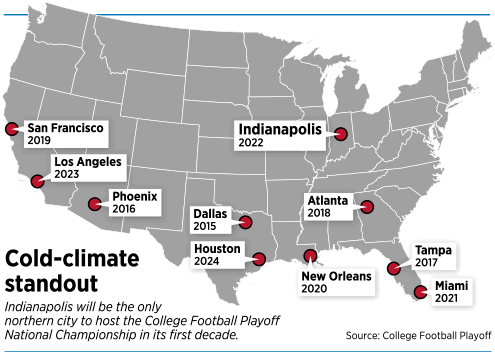 Not only is the College Football Playoff National Championship new to Indianapolis, it's fairly new altogether. The game—the culmination of a four-team playoff—was first played in 2015 in Dallas. Since then, Phoenix, Tampa and Atlanta have hosted it. Next year, it will be played in San Francisco, followed by New Orleans in 2020, and Miami in 2021. After Indianapolis, the event heads to Los Angeles in 2023 and Houston in 2024.

"The fact that Indianapolis is the only true cold-weather host city in the first 10 years of having this event says something," said Rick Horrow, a Miami-based sports-business consultant. "The organizers must think Indianapolis can really make a mark or raise the bar on this event."

Indianapolis has a history of doing just that, adding never-before-seen features at events like the Final Four and the Super Bowl. "It's not easy bringing new elements to a big-time event that's been around for more than 40 years. That's what Indianapolis did with the [2012] Super Bowl," Ryan said. "The city has become known for that sort of thing."

There was no hesitancy in choosing Indianapolis despite the expected cold weather, said Bill Hancock, executive director of Dallas-based College Football Playoff, which runs the College Football Playoff National Championship.

The game will be played at Lucas Oil Stadium, and most, if not all, of the Indiana Convention Center will be used for the fan fest and related events. But plenty of fan and sponsor events will be outside.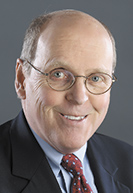 Hancock
"Indianapolis has an excellent infrastructure for events like ours—great stadium, convention center and hotels, all within easy walking distance," Hancock told IBJ. "I lived in Indianapolis for three winters, so I know what a weekend in January can be. But our guests will enjoy being there."

Look and feel?

While local organizers said they will draft a bit off the Super Bowl for ideas, Howell and Vaughn said the event will definitely debut new features.

In 2012, the local host committee pioneered the Super Bowl Village, featuring a first-ever Super Bowl zip line through the center. While a village concept is possible for the college national championship, it won't be identical to the Super Bowl Village, local officials said.

"We're not looking to rehabilitate an old project," Vaughn said. "We're at the beginning of the brainstorming process and we're asking: Is there something extraordinary we can do not just around this one event, but throughout all [seven] of them to really make our mark and elevate things?"

Howell said of the college football playoff: "Because it's so new, it lends itself to innovation."

In fact, Howell and Baughman have started contemplating a theme for the four-day event.

"We're thinking of themes like 'unbelievably inclusive,'" Howell said. "This is a great opportunity to demonstrate the warmth of our community."

And the expectations are high. "We fully expect Indianapolis to add some really nice innovations," Hancock said.

"I'll bet you didn't know that the Final Four tradition of playing 'One Shining Moment' in the stadium after the game originated in Indianapolis," he said. "Mike Fox, the brilliant [RCA Dome and Lucas Oil Stadium] manager, made it happen because he thought it would be cool—and he was right."

Fox now handles facilities operations at the Indianapolis Motor Speedway.

And Hancock is counting on Indianapolis residents to elevate the event as well. "Indianapolis fans have always stepped up, and we know they will for the CFP, too," he said.

The 2022 college football playoff and the 2012 Super Bowl will share some similarities. For instance, the 2022 event will feature an interactive fan zone, a food fest and music fest.

But four days of activities is more akin to a Final Four celebration than to the week-plus devoted to a Super Bowl. Events will kick off on Friday and conclude with the game Monday night.

Fans and money
NBA Commissioner Adam Silver, left, is joined by Indiana Pacers owner Herb Simon, right, and Larry Bird, after he announced on Dec. 13 in Indianapolis that the city will host the 2021 NBA All-Star Game. (AP photo)
The event's budget is still in development, Howell said. Those familiar with the game said it's likely to cost the host city a low-eight-figure amount.

There will also be no shortage of corporate sponsors, with company executives descending on the city, Howell said. But Baughman, who was senior vice president for the 2012 Super Bowl Host Committee, said the crowd for the college football championship is unmistakably different from a Super Bowl crowd.

"Naturally, there will be tons of fans from the schools," she said. "There's a really big showing of school spirit and team pride. In that respect, it's not unlike the Final Four. But it makes it a very enthusiastic, energetic crowd."

Ryan of the Boston Globe said the college playoff has fewer neutral spectators than does the Super Bowl. "The event is a bit less corporate," than the Super Bowl, he said.

But its media day has taken a page straight out of the Super Bowl's playbook, admitting a limited number of fans—4,000. They get to watch from the stands and are given headphones that allow them to listen to any live interview they choose. Indianapolis introduced that Super Bowl feature also.

In some respects, it's difficult to tell just what the College Football Playoff National Championship will look like by 2022 and how big its impact will be. Like a newborn baby, it's growing fast.

Its current estimated economic impact is $150 million. But local officials said that will only rise.

"The event has already gotten bigger," said Baughman, who has attended all four national championship games. "By the time 2022 rolls around, we think there's a very real chance it will be bigger—possibly considerably bigger—than it is now."

"Of course, Howell added, "we're going to do everything we can to make it the biggest and best ever."•