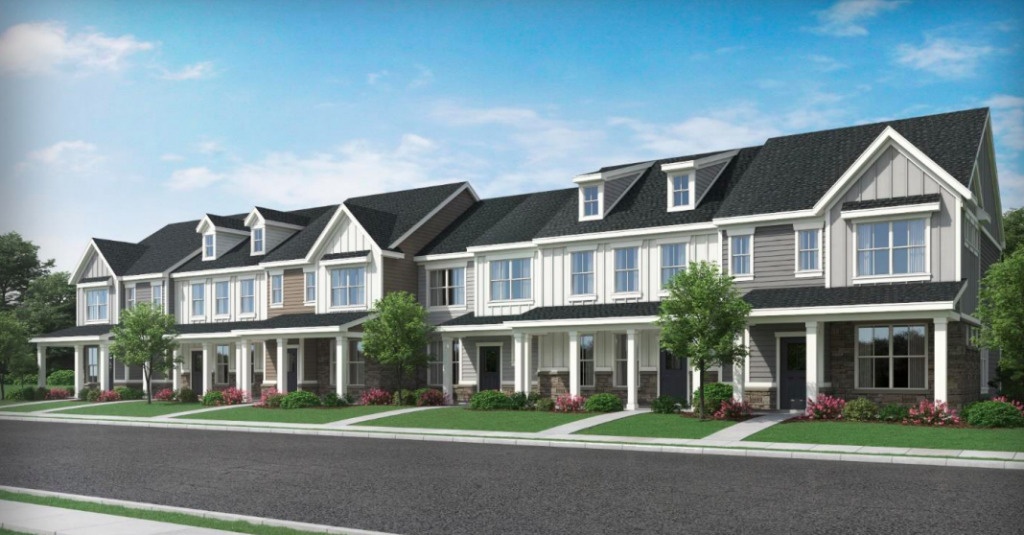 The Noblesville City Council heard proposals this week for three new residential developments that would feature more than 300 single-family, townhouse and duplex homes.
Representatives for Indianapolis-based Onyx+East, Arbor Homes and St. John-based Olthof Homes presented plans to the council Tuesday for a slew of new residential projects featuring a variety of home types. Each one is seeking the rezoning of property from a residential or flex office designation to a planned development, which allows homebuilders to customize standards specific to each of their projects.
If all are ultimately approved by the plan commission and council, they could bring a total 129 single-family, 123 townhouses and 62 two-family dwellings to the city.
Monument
Olthof Homes, a family-owned business that builds homes in Fort Wayne and the Indianapolis area, is looking to build a for-sale townhouse community called Monument in Noblesville on approximately 17 acres, near the southwest corner of Hazel Dell Road and the Midland Trace Trail.
All 123 townhouses in the neighborhood have been designed with back patios, private courtyards and a two-car detached garage. Neighborhood features include a community park and separate dog park.
"We have a similar product we're building in Westfield right now. This is slightly different," Joe Lenehan, director of land development for Olthof, said. "These units are actually just two feet wider, but it's a similar concept where it's a rear-loaded, two-story townhome."
If approved, the attached townhouses are expected to sell for between $240,000 and $270,000 each.
"I can appreciate the town homes and I kind of think it might fit somewhere there," At-large Council Member Mark Boice said. "But I just look at this and I feel like this is kind of one of our prime real estates, right there backing the Midland Trace."
He said the project seems "chintzy," and several other council members agreed the project wasn't visually appealing.
"It just doesn't look like something that would be on prime real estate, something that looks really, really nice," Boice said. "I'm just hesitant with the looks of this for where it is."
Jon Dobosiewicz, an attorney with Carmel-based Nelson and Frankenberger, representing Olthof, said the petitioner will collect additional input from the counci l, as well as plan commission and staff.
"We feel like right now we're in the first inning, if you will, with this introduction," Dobosiewicz said.
Marea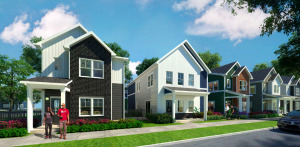 Onyx+East is planning a $40.5 million project with 146 detached single-family and duplex condominiums on roughly 21 acres at the northeast corner of Campus Parkway and Marilyn Road.
That property will need to be rezoned from its current office designation so the for-lease community can be developed with three- and four-bedroom homes. Neighborhood amenities include a pool and pool house, as well as a private park area.
David Leazenby, a co-founder and vice president of acquisitions for Onyx+East, said rents in the Marea neighborhood are expected to range from $2,000 to $2,400 a month.
"It is not an apartment," Leazenby said. "It is that step between someone living in an apartment and buying their first home or their second home.
Red Fox Pointe
Arbor Homes' approximately 19-acre Red Fox Pointe neighborhood at the northwest corner of East 191st Street and Little Chicago Road includes preliminary designs for 45 single-family, ranch-style homes targeting empty-nesters.
If approved, the project would include five different floor plans ranging from 1,500 to 3,200 square feet with ground floor primary suites, lofts, smaller side yards for reduced maintenance, and patio spaces. Arbor also anticipates creating a roughly half-mile trail that would loop around the community.
Christian Rector, vice president of land acquisition and entitlement for Arbor Homes, said the average price point—if those homes were available today—would be an estimated $350,000.
Please enable JavaScript to view this content.