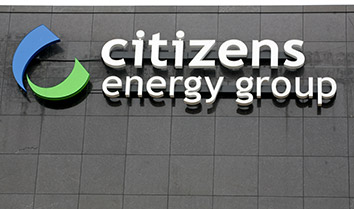 More than half of U.S. households, slammed by years of inflation, have at least one source of relief ahead: winter heating costs.
For the 56% of Americans either located in the western United States or who primarily heat their homes with natural gas, heating costs are seen coming down this season, the U.S. Energy Information Administration said in its annual Winter Fuels Outlook.
Gas prices will be about 24% lower in its base-case scenario due to robust domestic production and flat export demand for liquefied natural gas through the end of the year, according to the report.
Citizens Energy Group, which provides utility services to 900,000 people in the Indianapolis area, said Wednesday that it projects monthly natural gas heating bills will decrease on average about $17 for the five-month winter heating season. Assuming normal temperatures, Citizens estimates that the total average natural gas bill for the November through March heating season will be about $462, compared to $546 last winter.
Households in the western region of the U.S. will spend less on heating costs this winter, regardless of how they heat their homes, amid expectations of a warmer winter even as the eastern half of the country braces for a chill. For the other 44% of households not expecting a reduction in costs, they are likely to spend within about 5% of last winter's bill, the EIA said.
The lower heating cost projection for large swaths of the U.S. will be welcome news for consumers dogged by stubborn price hikes across nearly all sectors. On Wednesday, the U.S.'s producer price index rose for a third straight month in September, threatening months of progress in taming producer inflation. Closely watched consumer prices will be released Thursday.
One exception to the trend is heating oil, a close cousin to diesel, used by about 4% of U.S. households, primarily on the East Coast. The price of heating oil is tied to diesel futures traded in New York, which are exposed to volatility in oil markets that are sensitive to geopolitical risks as well as supply and demand fundamentals. The Northeast region is expected to have 7% more Heating Degree Days than last year.
"Although we forecast heating oil prices will be down 19 cents a gallon compared with last winter, higher consumption means expenditures will be almost $100 higher this winter," said the EIA, which this year changed its methodology to exclude the month of October from its winter heating period, now defined as lasting from November to March.
Please enable JavaScript to view this content.