Justin Groff started mowing neighbors' yards in Fishers when he was 9.
Today, at 19, he runs Just-IN-Time Lawn Care & Landscaping, has 15 full-time employees, and provides lawn and landscaping services primarily in Hamilton County, the northeast quadrant of Marion County and down the east side of Indianapolis to his new headquarters near Cumberland.
Here's what he had to say about his early success.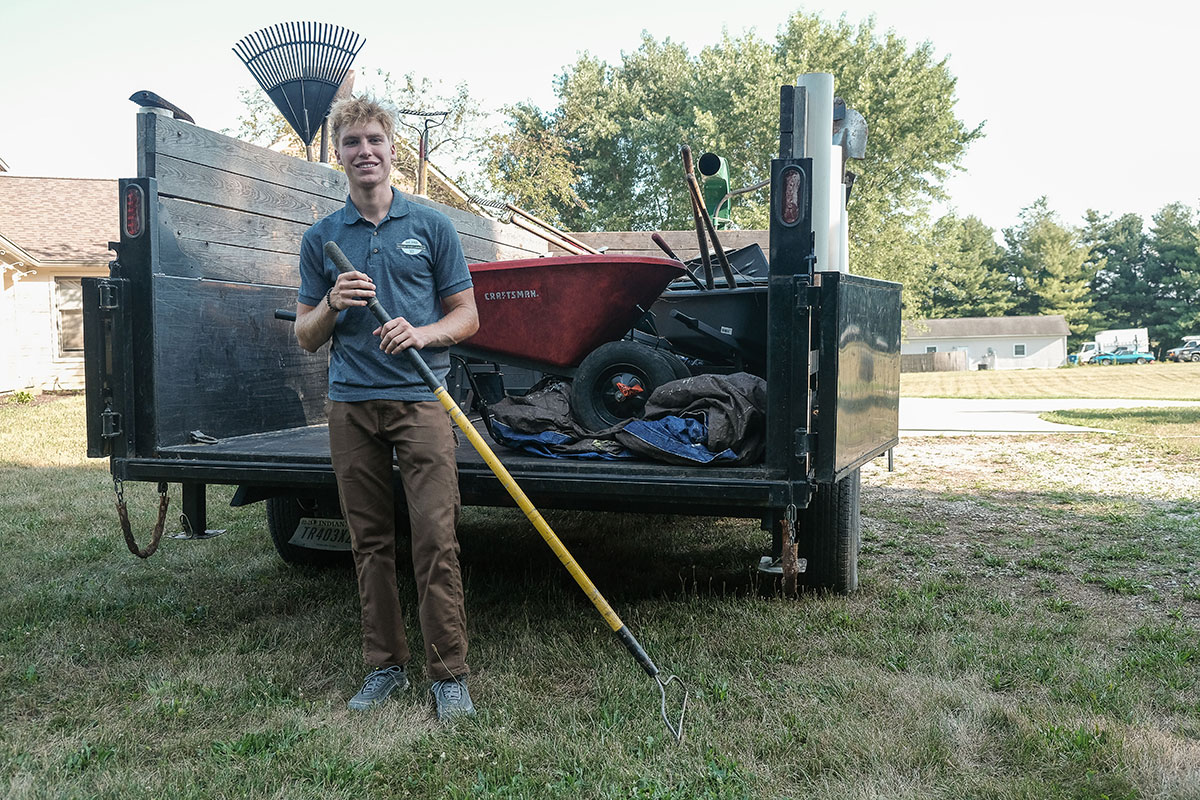 How did you get started mowing yards?
I started when I was 9. … It was just, like, in my neighborhood. I couldn't drive. All I could do was walk the push mower or, you know, my dad would take me to a couple yards here and there. And, I mean, I love being outdoors, like, I'm just an outdoorsman for sure. And I like cutting grass, too. I don't know what it was, but it just gave me time to think about what I want to do and what's going on and, you know, it's really relaxing. So, I started doing it more and more, just loving it, honestly, because I have OCD and I like the lines straight.
So, by the time you turned 16 and could drive, how many yards were you mowing?
I probably had 70 by then. I had one or two, like, helpers on the side. I mean, they weren't like employees on a payroll. They were just like helpers. They could help whenever they had time, I guess. But for the most part, I was doing it, mainly just cutting grass.
How did you manage to do all that work and go to school?
It was hard with school. … It's really hard to balance all that stuff. … I don't know how I did it, but the scheduling was the toughest part. Just trying to get things done. Take care of customers, you know, rain or whatever the weather. You just figure it out like anything else. Just figure it out and keep pushing through.
Three years ago, you formalized your business, created a limited liability corporation and started getting serious about lawn care and landscaping as your career. How did you make that happen?
My dad [Mark Groff], he helped me a lot because he's an entrepreneur as well. He's a real estate investor. He helped me get the accounting set up, teaching me along the way, the numbers and what needs to happen and setting up the LLC and the Excel spreadsheets. It helped with him teaching me early on. So then, like, I'm prepared for here right now and then for the future. So, I think that was really critical. And not everybody has a dad like mine. I'm super thankful for my dad.
So, what advice would you have for other young people who want to start their own business?
For me, I'm very faith-based. … I mean that faith with the Lord has definitely taken me places, and I couldn't have done without Him. But I think the three things that people need to keep in mind is [first], discipline. You got to be disciplined whether that's with your money, your habits from your life, you just got to be disciplined with yourself. … I think being consistent with what you're doing … is very crucial as well. … And then, being persistent is the last one. … There are going to be really tough times. You've just got to be ready and prepared for bad things. So then you can be persistent and never give up.•
Please enable JavaScript to view this content.