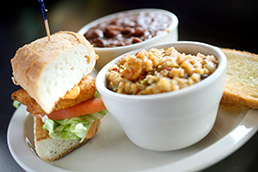 Mudbugs Cajun Cafe, which overcame a shaky start to become one of Carmel's highest-rated restaurants, is calling it quits after almost 13 years in business.
The LeBlanc family, which opened the restaurant in April 2007, said their last day in business would be Thursday.
The Mudbugs space at 20 W. Main St. in Carmel's Arts & Design District will be renovated and replaced about a month from now by a restaurant called Little Cairo that will serve Mediterranean cuisine, the LeBlancs wrote in a letter emailed to patrons on Sunday.
"When we opened in 2007, we had more time to dedicate to the day-to-day operations of a restaurant," said the letter signed by owners Belinda and Roy LeBlanc and other staff members. "Now we have four spirited grandkids and would like more time to spend with them—and to finally have some weekends free for fishing trips!—so we've found another family who is opening a new restaurant in our place."
The roots of Mudbugs can be found in Roy LeBlanc's love of homestyle Cajun cooking from his native Louisiana. Friends pushed him for years to start his own culinary business before he agreed to sell jambalaya, po' boy sandwiches and other Cajun delights from a concessions trailer. The restaurant was opened so the LeBlancs could have an inspected stationary kitchen that would act both as a food-prep area and additional outlet for the cuisine.
The family eventually sacked the concessions business to concentrate on the restaurant, but it took about four years to start turning a profit, the family told IBJ in 2011.
Today, Mudbugs is considered one of the top eateries in the area. It ranks No. 2 out of 213 restaurants in Carmel reviewed on TripAdvisor.
The LeBlancs did not identify the operators of the incoming restaurant but said the "new family owners are a husband who's a chef, a wife who's a cafeteria cook, a son who's an assistant manager at a restaurant, and a daughter who will be helping, too."
Mudbugs was closed Sunday and the LeBlancs could not be reached for further comment.
Please enable JavaScript to view this content.