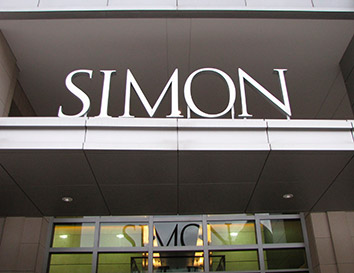 Simon Property Group shares rocketed more than 9% higher in premarket trading Tuesday after the company late Monday vowed to pay a quarterly cash dividend and said it plans to have about half of its 200 U.S. retail properties open within the next week.
After the market closed Monday, the Indianapolis-based mall giant reported quarterly revenue of $1.35 billion, beating the consensus estimate of analysts of $1.33 billion, and funds from operations per share, excluding one-time events, of $2.54, shy of the consensus estimate of $2.89.
The company closed its U.S. properties on March 18 amid growing concern about the COVID-19 pandemic and calls for social distancing. As of Monday, 77 Simon properties had reopened with reduced capacities, limited hours and stringent health and safety protocols.

"Business was off to a good start in January and February, with shopper traffic, tenant demand, reported retailer sales and other underlying portfolio fundamentals trending at or above our expectations," CEO David Simon in written remarks. "In March, we quickly pivoted to address the rapid spread of COVID-19, temporarily closing U.S. properties, reducing operating costs and increasing financial resources. We are beginning to reopen properties and are encouraged by the consumer response thus far."
First quarter revenue was down 1.4% from the $1.45 billion the company reported in the first quarter of 2019. 
Simon said funds from operations totaled $980.6 million, or $2.78 per share, including a gain on the sale of a property. That represented an 8.7% decline in FFO per share from the same period a year earlier.
The company reported a profit of $437.6 million, or $1.43 per share, down 20% from $548.5 million, or $1.78 per share, a year ago.

During an earnings call Monday, the company said it has eliminated or suspended more than $1 billion in development expenses to rein in costs during the pandemic.
Even so, David Simon vowed that the company would pay a cash dividend, though he didn't say how large it would be.
"The board will declare a second quarter dividend before the end of June and that dividend will be paid in cash. We expect to pay out at least 100% of our taxable income in 2020 in cash," David Simon said on the call.
"As a point of reference, there have been over 175 public companies who have either suspended or reduced their common stock dividend by 50% or more. We will not be one of those companies."
Analysts have widely speculated that the company would cut its rich dividend of $2.10 per share, which consumes $644 million each quarter.
On the conference call, Simon said the company is continuing to work closely with its tenants, but declined to discuss specifics of how it is assisting those that have faced financial strains from limited or diminished operations.
He also declined to disclose the percentage of tenants that have met rent obligations in recent months amid the virus.
"The bottom line is we do have a contract and we do expect to get paid," he said. "We're a little more complicated, a little better (than other companies) … I think we're navigating it appropriately."
Simon expects some tenants may look to capitalize on online marketplace success gained during the shutdown, but said he doesn't know whether that will pay off for them in the long-term.
"I'm sure there will be some retailers that will get the sense that the store network is not as important as it was three months ago," he said. "We'll see how that shakes out and what role we can play in that. I think they'd be making the wrong decision—but that's not for me to say."
The company said it was on track to see its retailer sales per square foot jump by 6.5% for the first quarter, to $703, but the the figure was closer to $673—an increase of just 2.1%. The firm attributed the drop directly to the temporary closure of its properties.
Occupancy at Simon malls was 94% through March 31, with base minimum rent per square foot at $55.76.
David Simon repeatedly declined to discuss the firm's planned $3.6 billion acquisition of Taubman Centers Inc., which was announced in February. He said the firm will "provide information as and when appropriate."
Since the coronavirus outbreak began, the firm has reduced staffing, frozen hiring, and cut operating expenses and corporate spending, while drawing about $3.75 billion from its line of credit, giving it liquidity of about $8.7 billion.
In premarket trading Tuesday, Simon shares were fetching $60.30, up 9.4% from Monday's close. The rally leaves Simon shares down 59% for the year.
Please enable JavaScript to view this content.