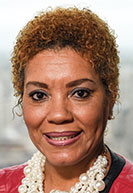 Marion County Clerk Myla Eldridge has been elected chair of the Marion County Democratic Party.
Eldridge beat out three other candidates in a landslide victory at the Tuesday evening caucus to replace former Chair Kate Sweeney Bell. Of the 287 precinct committee people and vice precinct committee people present, 275 cast their votes for Eldridge. The group made up about half of the eligible Democratic caucus voters.
During her acceptance speech, Eldridge said the Democrats are a party of unity.
"We are one big, happy party," Eldridge said. "We fight, we kiss, and we make up." 
Eldridge also serves as vice chair of the Indiana Democratic Party and is running for Marion County auditor. She resides in Warren Township and has a long political history, including roles in the administrations of Indianapolis Mayor Bart Peterson and Indiana Gov. Frank O' Bannon. 
Eldridge is the first Black chair of the Marion County Democratic Party, but she told IBJ the milestone didn't matter to her. Instead, she said it's important that she promotes unity, healing and transparency.
Because all four candidates were Black women, the breakthrough would have happened had she not been elected. The other candidates were Ashley Greene-Hogue, Karla Nowlin and Rosemary Turentine. The candidates did not speak ahead of voting.
Nowlin told IBJ after Eldridge's win that she is supportive of Eldridge and that she ran partially to improve her name recognition among Marion County Democrats.
Mayor Joe Hogsett released a statement approving of Eldridge's election.
"Myla is a dedicated public servant who has exemplified the kind of principled leadership that Marion County residents have come to expect from Democratic Party candidates and elected officials," Hogsett said. "I am confident that her personal brand of tireless advocacy will lead to even more success in this critical election cycle, and beyond."
Eldridge told IBJ her first priority as chair is voter participation and turnout in the general election, which is in 55 days.
Her election comes after Bell's decision to step down from the position. Bell was highly criticized towards the end of her five-year tenure, with allegations of unfair or racist slating practices and some critics taking issue with her roles as a county officeholder, candidate  and chair of the county party.
At the caucus, Bell told IBJ she was "floating" with relief to pass on the position after five years.
Hogsett was supportive of Bell, telling IBJ a few weeks ago that she fulfilled her duties in both of her roles and did not do anything out of the ordinary. The caucus also appeared supportive of the former chair, with Vice President David Bride applauding her tenure before the votes were counted and Eldridge recognizing Bell in her acceptance speech.
"Thank you and we appreciate you so, so very much," Eldridge told Bell at the podium.

Eldridge's role as chair was effective immediately. 
She also will have dueling roles as a party official, county officeholder and candidate.
Three faith groups critical of Bell for such potential conflicts have similar concerns with Eldridge.
The groups—Concerned Clergy of Indianapolis, the Baptist Minister's Alliance and the National Action Network of Indiana—released a statement Wednesday congratulating Eldridge on being the county party's first Black chair but reiterating conflict of interest concerns.
"We continue to see conflict of interests with the chairperson of the party also being an elected official," Pastor David Greene, head of Concerned Clergy of Indianapolis, said in the statement. "Obviously, she will have a full plate, but we certainly wish her the best."
Hogue, one of the defeated candidates for county chair, is Greene's daughter. Eldridge previously served on Concerned Clergy's board.
Please enable JavaScript to view this content.