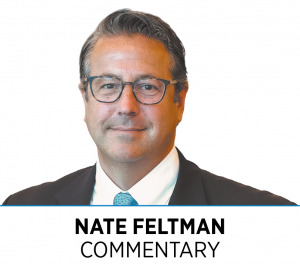 The health of our city and downtown core has been a hot topic of conversation over the last couple of years among business and community leaders. As the suburbs continue to boom with business investment, new entertainment amenities and population growth, there is a growing concern that downtown's appeal and vibrancy is waning and that something must be done.
Part of what is driving the concern is the new remote working realities impacting some of downtown's largest employers. Many of the same leaders who are expressing concern about the future of downtown are facing the reality that their companies will have fewer employees working downtown (or in Indiana for that matter) and, as a result, their downtown footprint will shrink.
Other concerns include crime, homelessness, aging infrastructure and tired buildings. Yet Indy continues to attract and successfully host the largest sporting events in the world: NCAA Final Fours and the entire March Madness basketball tournament in 2021, the College Football National Championship game last year, and the NBA All-Star Game next year.
Visitors traveling to attend events in Indianapolis give our city high marks. My hunch is that most visitors have a different take on the state of our city compared with those of us who live or work here every day. Is that because we put on a great show when visitors are in town, something similar to the way we clean up house right before the in-laws arrive for a visit? And if that's the case, why don't we clean up our house year-round?
Employers as well as city and state economic development officials are deeply concerned about attracting the talent needed for the industries and jobs of the future. The fast-growing cities of Nashville, Tennessee; Denver; Austin, Texas; and Raleigh, North Carolina, are often cited as talent-attraction magnets. Could Indy soon join their ranks given the billions of dollars in investments slated for downtown?
An argument could be made that the city and downtown are on the brink of an economic renaissance:
◗ Global animal health firm Elanco is building its global headquarters at the former GM Stamping Plant site.
◗ Indiana University Health is investing $4.3 billion in a new hospital and health care campus where the IU Medical School will be co-located.
◗ Entrepreneur Ersal Ozdemir will invest more than $1 billion in Eleven Park, a mixed-use development and stadium that will be home to the Indy Eleven professional soccer team.
◗ Kite Realty Group is developing a new hotel and expanded convention center to be located at Pan Am Plaza.
◗ Redevelopment planning is underway for Circle Centre Mall.
◗ The Pacers are building a new events center and outdoor public plaza that will include ice skating in the winter and concerts in the summer.
◗ Indiana University and Purdue University will strengthen their presence in Indianapolis as a result of the reorganization of IUPUI, providing the region with more talent.
It is against this backdrop that IBJ this year will enhance our coverage of the issues affecting the city's central core, beginning with a special downtown focused issue on Feb. 17. We plan to write about living, working and visiting downtown, in addition to looking at where development is happening. Throughout the year we'll dig deeper into homelessness, crime, restaurants and retail, the convention industry, sports and more. And we'll be creating opportunities for readers to tell us what they think.
Watch for more soon.•
__________
Feltman is publisher of IBJ and CEO of IBJ Media. Email nfeltman@ibj.com.
Please enable JavaScript to view this content.