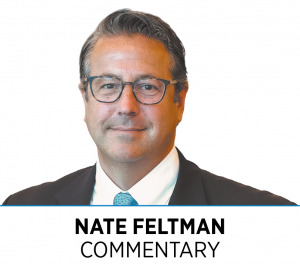 One of Indiana's most thoughtful and experienced economic development leaders is winding down his tenure atop one of central Indiana's most important and influential civic organizations. David Johnson, president and CEO of Central Indiana Corporate Partnership, will step down after dedicating almost two decades to growing central Indiana's economy. Cummins Inc. executive Melina Kennedy will assume the CICP top spot early next year.
Founded in 1999 as a collaboration among industry, foundations and universities, CICP is focused on the region's growth and prosperity. The organization's early work identified industry clusters that could help drive the region's economy well into the future, including life sciences, advanced manufacturing and technology. Before serving as CICP chief executive, Johnson served as CEO of BioCrossroads, the first industry initiative launched by CICP, which focuses on growing the life sciences sector in Indiana.
Johnson oversaw the launch of two promising statewide industry initiatives—AgriNovus and Ascend. AgriNovus focuses on the advancement of Indiana's ag biosciences sector. Ascend's mission is to connect Hoosiers to careers across industries and improve the talent gap in Indiana.
Johnson also played a leading role in the $130 million 16 Tech Innovation District, a promising mixed-use, 50-acre area near IUPUI that is luring early-stage companies that can take advantage of nearby talent and resources.
Johnson has worked relentlessly over much of the last two decades to grow the most productive and promising sectors of our region's economy. His leadership helped secure nearly $400 million in life sciences investments alone from private, public and philanthropic sources. Today, Indiana ranks third in the nation for export of life sciences products.
Yet Johnson is far from satisfied with Indiana's current economic condition. At last week's Economic Club of Indiana luncheon, Johnson highlighted the progress that has been made since CICP's founding but also discussed the challenges that keep him up at night.
First, he noted that Indiana must improve at all levels of education, as we lag in educational attainment from pre-kindergarten through graduate school. As the most manufacturing-intensive state in the country, Indiana's economy is more susceptible to disruption brought by technology advancements, including artificial intelligence. Therefore, Indiana must continually produce and retain more highly educated talent that the advanced manufacturing jobs of the future will require.
Second, Indiana is not producing or attracting enough entrepreneurs. Johnson noted that the majority of jobs created today come from companies that are less than 5 years old. Indiana is producing fewer startups than most states. Indiana ranks 49th out of 50 on this important metric. More must be done to encourage entrepreneurship.
Last, and maybe most noteworthy, Johnson lamented that maybe we have become too complacent and not anxious enough about our state's future. He warned that Indiana must move faster and focus on economic opportunities where we have a competitive advantage, noting the intense global competition for talent and high-wage jobs. Johnson encouraged Hoosiers to attack today's challenges with the same vigor, passion and ambition that we brought to bear when working to bring major-league sports to Indianapolis.
Johnson's hard work, collaborative style, smarts and passion have undoubtedly played a significant role in our region's continued economic growth. Let's pay him a tribute by upping our game in education, entrepreneurship and ambition for our state.•
__________
Feltman is publisher of IBJ and CEO of IBJ Media. Email nfeltman@ibj.com.
Please enable JavaScript to view this content.