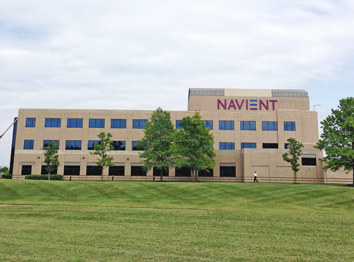 Navient, one of the nation's largest student loan companies, said Tuesday it has struck an agreement to transfer the 5.6 million accounts it manages on behalf of the Education Department to Maximus, another loan servicer.
The deal, which is pending approval from the department, means the exit of one of the most widely recognized servicing companies from the federal student loan apparatus. It arrives as the federal agency overhauls the management of its $1.6 trillion student loan portfolio.
Navient is headquartered in Wilmington, Delaware, but has major operations in Fishers. About 1,400 people work in the company's 450,000-square-foot loan servicing and data center east of Interstate 69 and north of 106th Street. The center services federal education loans and consumer loans.
Lawmakers and consumer groups say the federal repayment and collection system is poorly run, placing most of the blame at the feet of servicing companies such as Navient. The company, like other student loan servicers, has been accused of mishandling accounts and faced related lawsuits from state and federal authorities.
Navient has been adamant in defending its business practices and has been a vocal critic of a federal repayment system that has grown more complex and expensive to manage. The company signaled its intentions to exit the space when it declined a piece of the new servicing contract from the department in July 2020.
On an earnings call at the time, Navient chief executive Jack Remondi said the Education Department sought to transfer "too much risk to the servicer, and at rates and terms that . . . are effectively below cost for everybody."
Remondi said Tuesday that the company has since been exploring options in the best interest of borrowers and its employees. In a blog post on Medium, he said the company will focus on its other lines of business, including private lending and refinancing. Although Navient is best known for its work with the Education Department, the company says the contract constitutes only 6% of its revenue.
"We are confident that borrowers will continue to be well served, and we are committed to working together with Maximus and the Department of Education to ensure a successful transition," Remondi said.
Maximus, a student loan company that manages debt collection for the Education Department, is one of the companies awarded a contract under the department's Next Generation Financial Services Environment, or NextGen. It will absorb several hundred Navient employees in the transfer deal.
"This contract enables Maximus to apply our deep understanding of the needs of student borrowers and our industry-leading customer service to assist [the office of Federal Student Aid] in successfully serving millions of student loan borrowers," Teresa Weipert, general manager for the Maximus U.S. federal services segment, said in a statement.
Richard Cordray, who heads the department's Federal Student Aid office, said the agency is reviewing the proposed transfer to ensure it meets all legal requirements and protects borrowers and taxpayers.
"We remain committed to making sure that our federal student loan servicing agreements provide more accountability, meaningful performance measures, and better service for borrowers," Cordray said in a statement.
The federal government suspended education debt payments in the wake of the coronavirus pandemic in March 2020. Republican lawmakers have raised concerns that the Education Department is ill-prepared for millions of Americans to resume repayment of student loans once the moratorium ends in January. Virginia Foxx of North Carolina, the top Republican on the House Education Committee, is pressing Education Secretary Miguel Cardona for a plan and points to Navient's impending exit as evidence of what she called the department's incompetence.
"The Department needs to work with its partners instead of blaming them for the Department's own incompetence so that borrowers are not forced to dangle in uncertainty while President Biden plays games with their and taxpayers' futures," Foxx wrote.
News of the transfer agreement rattled advocacy groups, who raised questions about the setup and whether borrowers would be better off in the hands of Maximus.
"We find it troubling that Navient can appoint its own substitute without being subject to the same rigorous and public solicitation process," said Persis Yu, director of the National Consumer Law Center's Student Loan Borrower Assistance Project. "This backroom deal is further evidence that the federal student loan system is too big to fail."
The Consumer Law Center and Justice Catalyst Law sued Maximus last year, accusing it of failing to cease collections on a past-due borrower despite the department's moratorium.
Navient is the latest company to announce its departure from federal student loan servicing. Pennsylvania Higher Education Assistance, a state financial aid agency that manages 8.5 million student loan accounts for the Education Department, said in July it will no longer handle federal loans after this year. Granite State Management and Resources, which has a portfolio of 1 million accounts, bowed out the same month.
Federal servicing agreements expired in 2019, but many were extended through December as the department works to restructure its platform. Advocates and lawmakers worry that the departures could be disruptive to borrowers as they migrate back into repayment. Although Navient has reached an agreement to transfer its accounts, it's unclear which companies will take on the loans handled by the other two servicers.
Please enable JavaScript to view this content.