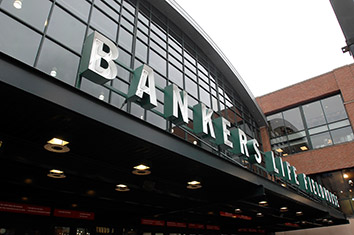 Indianapolis will host NBA All-Star Game in 2024 instead of 2021, after plans for February's festivities in the city were canceled by the COVID-19 pandemic.
The NBA announced Wednesday that the All-Star Weekend events will take place Feb. 16-18, 2024, at Bankers Life Fieldhouse, which by that time is expected to have completed a $360 million renovation that is now underway.
The league has not announced what will come of the 2021 All-Star festivities—now scheduled for March 5-10—but in August called off the events in Indianapolis because of continued rises in COVID-19 cases across the country.
It's not immediately clear what will happen with the community initiatives the Pacers took on ahead of the 2021 events, including a hat-knitting effort and community development grants.
"We are excited about the opportunity to bring Indiana the very best All-Star experience in 2024," Pacers owner Herb Simon said in written remarks. "The efforts of so many Hoosiers to prepare for NBA All-Star 2021 put us ahead of the game for the hard work to come, and we are so grateful to the NBA for once again recognizing Indianapolis as a city that delivers world-class events."
The next scheduled All-Star Weekend is in Cleveland in 2022, followed by Salt Lake City in 2023. Indianapolis first hosted the NBA All-Star Weekend in 1985.
Please enable JavaScript to view this content.