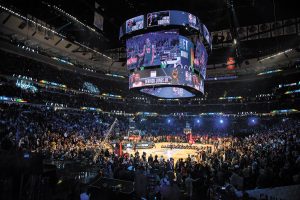 The host committee for the 2021 NBA All-Star Game announced Thursday the 21 youth-focused organizations across the state that will each receive up to $50,000 for health and wellness or educational initiatives.
The $1 million initiative was announced in October as a legacy project tied to next year's All-Star festivities. The organizations, representing 18 counties, serve 90,000 youths each year. They recipients were selected from 182 applications.
"We had an overwhelmingly positive response statewide to the grant applications," said Rick Fuson, chair of the host committee and president and CEO of Pacers Sports & Entertainment, in written remarks. "Narrowing the list to 21 grant recipients involved considerable review and discussion by our Legacy Committee. They had to make tough choices."
The host committee has ramped up preparation for next year's All-Star events in recent weeks, including with a Valentine's Day weekend trip to Chicago to observe how the city organized this year's event. Officials with the host committee have said they expect next year's event will have a heavy dose of local flavor.
IBJ Podcast: Indy readies for 2021 All-Star Game—to be love letter to basketball
The committee is also still collecting knitted hats as part of promotional efforts for the event.
Eight groups in central Indiana were among those chosen for grants by the Legacy Committee, which is chaired by Indiana Fever General Manager Tamika Catchings and Rafael Sanchez, president of private banking at Old National Bank. Many of the organizations selected had a strong basketball bent to their applications.
The 21 groups were selected based on a variety of factors, including objectives, number of people served, demonstrated need, partners, and budget information.  Many of the grantees have secured matching funds, according to the host committee.
The recipients:
— The Indiana chapter of A Kid Again plans to collaborate with Greenwood's Independence park for an accessible playground for those with disabilities.
— Agape Therapeutic Riding Resources Inc. plans to replace the footing of the indoor arena at Bradford Woods Equine Center that was built in 2009.
— Boys & Girls Clubs of Greater Northwest Indiana plans to renovate its Hammond gymnasium, including equipment, fixtures and furniture.
— Boys & Girls Club of Lawrence County plans to renovate part of its facility to become a Launching Center, featuring STEM activities for elementary children and other programming for high school students.
— Boys & Girls Clubs of Marshall County plans to update its 23-year-old gymnasium with new backboards, bleachers, volleyball nets, soccer nets and soccer balls, plus a refinished gym floor.
— Boys & Girls Club of Noblesville plans to create an outdoor area with a basketball court, which can also be used for pickleball, fitness classes and other recreation activities.
— Terre Haute-based Chances and Services plans to renovate the gym at Booker T. Washington Community Center, refurbishing its floor and adding foam wall pads and a roll-up curtain.
— Concord Neighborhood Center in Indianapolis plans to replace 25-year-old carpeting in its multi-purpose gymnasium with hardwood flooring.
— Dream Center Evansville plans to renovate its circa 2007 basketball court with a retractable curtain, two new basketball hoops, an adjustable hoop system and replacement pads for its backboards and walls.
— Duneland Family YMCA in Chesterton plans to use its funding to establish the Preschools Sports Academy, adding two outdoor basketball courts with adjustable hoops and soccer fields.
— Friends of Historic Vernon plans to repair its 1941 gym, by re-sanding, staining and resealing the floor, and replacing the backboard and hoops.
— Hawthorne Community Center in Indianapolis is partnering with Crossroads Education to form a learning lab combining technology, room design and STEM programming to create a new area focused on improving students' academic performance.
— Indy Public Safety Foundation Inc. plans to create two new outdoor basketballs courts at Indy Parks JTV Hill facility—home to the Police Athletic League.
— Jameson Camp in Indianapolis will build a new, regulation size outdoor basketball court and STEM lab with a renewable resources station, along with areas for coding, creation and robotics.
— Jay County Boys Club plans to convert old restrooms into functional space for dance and fitness classes, as well as areas for reading clubs, crafts, Legos and other summer camp programming opportunities.
— Knightstown Kids Inc. plans to give youth a safe play area at its facility, featuring an exact replica of the Hoosier Gym basketball court from the film "Hoosiers."
— L & A Parks Foundation plans to build a memorial park in Delphi in honor of Abby Williams and Libby German, who were murdered in 2017. The funds will be used for a walking trail and seven fitness training stations.
— Project H.O.P.E., through Operation Full Court Press, plans to modernize the gym and basketball court at Anderson's Salvation Army building.
— Turnstone Center for Children and Adults with Disabilities in Fort Wayne is partnering with the city's parks and recreation department to renovate and paint four basketball courts in McMillen Park for wheelchair basketball.
— Washington County Family YMCA expects to build outside pickleball and basketball courts.
— White's Residential & Family Services Center in Wabash wants to create a STEM lab for children in the juvenile justice system, focusing on tower farming and environmental conservation aeroponics.
Each of the projects are expected to be completed prior to 2021 All-Star weekend, which commences Feb. 12, 2021.
Each organization will also nominate three high school-age "Rising Stars"  graduating in 2021 who are involved in their respective projects.
The Legacy Committee will select one individual for each project to serve as an honorary chair. The individuals will be recognized throughout All-Star weekend, including through a scholarship program.
Please enable JavaScript to view this content.