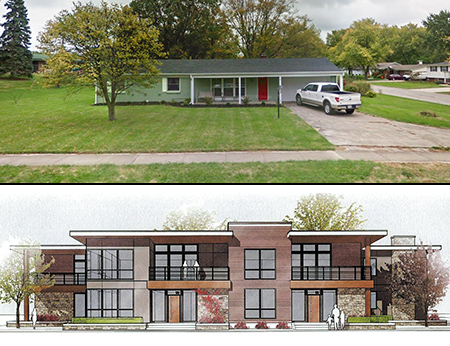 Residents of one of Carmel's oldest neighborhoods are fighting to protect it from being redeveloped into more expensive residential options.
Homeowners in Johnson Addition, which was built in the late 1950s and early 1960s, say their neighborhood is charming and one of the few affordable neighborhoods left near Carmel's downtown—and they want it to stay that way.
They fear a proposal to build a four-unit town house at the neighborhood's main entry will only lead to more redevelopment that will over time replace the 104 mostly single-story homes that make up Johnson Addition.
AZR Haver LLC purchased the house at 7 Sherman Drive—at the southeast corner of Main Street and Sherman Drive, just a few blocks west of the Arts & Design District—in June 2018 with plans to redevelop it.
But the project has met significant opposition from neighbors and is still being vetted by a Carmel Plan Commission committee, after several committee members expressed concerns. Among their worries: a need for more affordable housing in the city and a desire to see a project that better fits the surrounding neighborhood.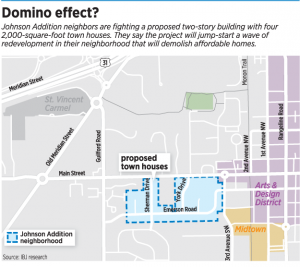 Indianapolis-based AZR Haver had asked the city to rezone the property from R-2, which allows for only single-family residential development, to urban residential district, which allows town houses. The City Council will have the final say on the rezone request, but councilors will consider the recommendation from the Plan Commission.
Members of the Plan Commission on Sept. 3 told attorneys and land use specialists representing AZR Haver they wouldn't recommend the project as is.
The proposal brings to a head a so-far-unsuccessful effort launched five years ago by Johnson Addition residents to conserve their neighborhood, which is south of Main Street, west of 4th Avenue Southwest and east of Guilford Road.
The debate also plays into a larger, ongoing conversation about the availability of affordable housing in Carmel, where the median price of homes currently listed on Zillow is $434,700.
Houses in Johnson Addition have assessed values of $130,000 to $170,000, an IBJ analysis of property records found.
For years, private developers have been purchasing older, often more affordable, houses near Carmel's downtown and redeveloping them into higher-end properties, including on lots along Main Street near the Sherman Drive house in question.
The redevelopment is good for the city's residential tax base but can price out potential homebuyers with limited and lower incomes. Opponents of the Sherman Drive project say Johnson Addition is ideal for young families as well as empty-nesters who could update the homes as needed while maintaining their affordability.
Longtime fight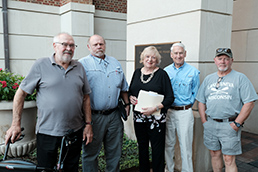 Charlie Demler runs Facebook pages for Johnson Addition and for the neighborhood just south of it, Wilson Village, and acts as an informal neighborhood leader. He and a few others in 2014 recognized their neighborhood—which does not have a homeowners' association—was in danger of being redeveloped.
They had watched as small, single-family homes near City Center and the Arts & Design District were purchased and demolished to be replaced by larger, more expensive housing that complements the newer development in Carmel's core.
They didn't want their neighborhood to meet a similar fate. So they began fighting for Johnson Addition to be designated a conservation district, which would have prevented property owners from moving, demolishing or significantly renovating a house there without gaining permission from Carmel's Historic Preservation Commission.
That proposal narrowly passed the City Council in the fall of 2014 but was later vetoed by Mayor Jim Brainard, who at the time said he was doing so because the Historic Preservation Commission—which is subject to the state's Open Door law—had met privately to discuss the matter.
The City Council never voted to overturn Brainard's veto, and the protections neighbors sought never went into effect.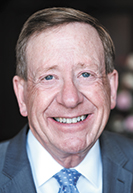 Some neighbors in 2015 worked with staff at the city's Department of Community Services to create an overlay zone, which would have offered protection similar to the conservation district. But that effort was also unsuccessful, Demler said.
Brainard said the city has relaunched discussions with neighborhood leaders about the overlay zone rules that failed to pass. The city has not identified Johnson Addition or Wilson Village as redevelopment areas, he said. In fact, both have been identified in previous planning efforts as neighborhoods that should be conserved, he said.
"While there is no city support for a wave of redevelopment inside the neighborhood, we are cognizant of the rights of private property owners, several of whom spoke out against the overlay when it was first proposed," the mayor said in an email.
As currently proposed, AZR Haver plans to demolish the roughly 1,300-square-foot house and replace it with a structure containing four, two-story town houses on less than a half-acre of land.
Each town house would be about 2,000 square feet. Three would have frontage on Main Street; one would have frontage on Sherman Drive.
"They're going to have four townhomes in the place of one home, and it just does not go with the character of Johnson Addition," Demler told IBJ.
'A domino effect'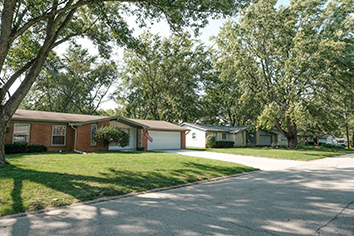 Demler said residents in both Johnson Addition and Wilson Village fear approval of the rezone request for 7 Sherman Drive will have a "domino effect" that will lead to more spot-zoning requests by developers seeking to purchase cheaper houses to redevelop at a profit.
"It's going to run people out of our neighborhood," he said.
Dozens of Johnson Addition and Wilson Village residents have packed city meetings to weigh in on the proposal, echoing what Demler told IBJ. They've also written to their city representatives asking them to deny the rezone request.
In addition to fears the creeping redevelopment will destroy their affordable and quaint neighborhood, they're also concerned about increased traffic, parking and drainage problems they say already plague the area.
AZR Haver, whose attorney did not respond to messages from IBJ seeking comment, bought the property for $300,000, property records show.
Representatives have yet to publicly disclose how much the town houses would sell for, but during public meetings, they have said a project offering affordable housing wouldn't be economically feasible.
Attorney Chris Engel said the project introduces more "missing middle" housing products into the market.
Jill Meisenheimer, who runs an organization called Carmel Citizens for Responsible Zoning, told the Plan Commission last month she's worried about the proposal because Carmel needs ranch-style homes that are affordable for young families and empty-nesters.
"I've heard continually over the last many years that people are looking for ranch houses, and yet, Carmel keeps seeming to remove affordable ranch houses in different places," she said. "To replace that with multifamily housing does not make sense to me."
Brainard said the area has a substantial amount of reasonably priced housing, including ranch-style homes and duplexes valued at less than $250,000. There are also a number of $120,000 town houses nearby, he said.
But some Plan Commission members seem concerned about the need for housing near downtown that is less expensive.
After the project was introduced to the Plan Commission last month, Commissioner Carrie Holle, also a local real estate agent, said Carmel has no shortage of town houses but it's difficult to find a home for under $600,000 in downtown Carmel.
"So we're not in need of a town home product in downtown Carmel," she said. "What we're more in need of in downtown Carmel is something that's affordable."
Commissioner Nick Kestner called Johnson Addition one of the nicest, most affordable neighborhoods in Carmel. Amid ongoing conversations about a lack of affordable housing, "we keep wanting to encroach on it," he said. "Where do you draw the line?"
Plan Commission members plan to forward their concerns about the proposal—which they said does not fit in with surrounding properties—to the developer's attorneys so they can be addressed in future committee meetings.
Demler said neighbors would consider it a win if the project were reworked into something that better matches the neighborhood, but they would still have lingering concerns about rampant redevelopment there.
"It's the second-oldest neighborhood in Carmel," Demler said. "It's nice; it's affordable. We'd like to keep it that way."•
Please enable JavaScript to view this content.