Some companies pause every now and then to do a gut check. At BiomEdit LLC, checking the gut is a full-time job.
The Fishers-based company is developing products to improve the health of an animal's gut, or digestive tract, by studying the microscopic bacteria living inside.
The company was set up last year by Greenfield-based Elanco Animal Health and Boston-based Ginkgo Bioworks, a Bill Gates-backed company that programs cells to make everything from food to therapeutics. And it's already raised $36.5 million in venture capital for its work.
What BiomEdit hopes to do is leverage the science of micro-organisms into medical products or food additives that improve animal health, animal protein production and disease monitoring for livestock. It wants to do that, in part, by engineering microbes into therapeutic molecules that can use the tiny organisms as delivery vehicles into a medicine or a vaccine.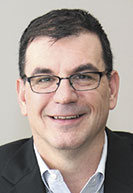 "These products are designed to stabilize the gut so the animal has more time converting what they consume into protein and less time fighting things like inflammation," said CEO Aaron Schacht.
It's an exploding area of science known as the microbiome, the collection of all microscopic organisms, such as bacteria, fungi and viruses that naturally live in an animal's gut.
High levels of harmful bacteria in an animal's gut can trigger disease, such as obesity or arthritis, while low levels of "good bacteria" can keep an animal from gaining weight and staying healthy.
Around the world, farmers, pet owners and veterinarians are buying larger amounts of medicines and health products with microbiome technology. The global market for animal microbiome products was worth $5.75 billion in 2021 and is projected to reach $12.4 billion by 2030, according to research firm InsightAce Analytic.
The market's growth has been fueled by technological advancements, such as DNA sequencing and bioinformatics analysis, that have helped turn this once-sleepy area of animal science into one of the fastest growing.
"The microbiome has become a valuable target for products that aim to improve animal production sustainability," said the InsightAce report, published this month.
Crowded market
It's a crowded market, dominated by large players such as AnimalBiome, Cargill, Chr. Hansen Holding and Pando Nutrition.
The challenge for BiomEdit is to carve out its own niche, raise funds and form alliances with big partners to help bring its products to market.
Another challenge is to increase awareness about the importance of healthy guts to animal owners and about what they can do about it. Only about 60% of pet owners identify diet as a key driver of gut health, according to Oakland, California-based AnimalBiome's "State of the Gut 2022" report.
"Many pet parents are surprised to find that the symptoms their pets are experiencing are often caused by an imbalance in the gut microbiome," the report said. "Health issues like diarrhea, vomiting, constipation, itchy skin and even bad breath can be a sign of imbalance in your pet's gut microbiome."
Even before hitting its first birthday, BiomEdit raised the $36.5 million in venture capital from three large investors. It expects to launch its first product by early next year, a food additive for livestock, in partnership with Nutreco, a Dutch producer of animal nutrition. Other products in the pipeline include medicines or additives for poultry, swine and cattle.
Major investors include Viking Global, a hedge fund based in Greenwich, Connecticut; Anterra Capital, a venture capital fund based in the Netherlands; and Nutreco, the animal nutrition company based in the Netherlands.
Schacht said the company has enough capital through its Series A venture efforts to last "well into 2024" and will probably start planning a Series B venture raise later this year.
Overall, it's a lot of activity for a company that is still counting its anniversaries by months, not years.

The beginning
How the company got started is its own interesting story. Elanco, itself a spinoff in 2018 from Indianapolis-based drugmaker Eli Lilly and Co., decided it needed to thin out its operations so dozens of projects wouldn't be competing for research and development funding.
It explored selling the microbiome platform assets to a financial investor, such as a private equity company, Schacht said. It also considered selling the assets to a strategic investor, such as another animal health or nutrition company. And it looked at carving out the assets and establishing a venture-funded enterprise.
In the end, Elanco decided on the third option. In October 2021, the company announced its intention to spin out its microbiome platform and pipeline into an independent, privately funded company so Elanco could focus more resources on its late-stage, pet-health pipeline.
Elanco gave the job of leading the new company to Schacht, who had held a variety of high-level positions at Elanco, including vice president for research and development.
"I'd like to thank Aaron for his work at Elanco during these past six years, bringing us to the inflection point where we stand today," Elanco CEO Jeff Simmons said in written remarks at the time.
For its part, Elanco contributed intellectual property and a pipeline of ongoing projects, along with scientists and other members of the former Elanco microbiome R&D team. In exchange, Elanco and Ginkgo will retain approximately 40% combined ownership of BiomEdit.
The carve-out was complete by April 2022.
Gingko Bioworks, a publicly traded biotech company founded in 2008 by five scientists from Massachusetts Institute of Technology, specializes in using genetic engineering to produce compounds for applications in areas such as food ingredients, fragrances, cosmetics and medications.
BiomEdit said it planned to leverage Ginkgo's cell-programming platform to improve the design and development of probiotics, bioactives, engineered microbial medicines and microbial monitoring services.
"By leveraging foundational programs from Elanco, intellectual property from both Elanco and Ginkgo, and an experienced team, BiomEdit should be well positioned as a stand-alone company to develop and launch innovative products to address unmet needs in animal health," the companies said in a roll-out announcement.
"We are always on the lookout for opportunities to accelerate our partners' abilities to address massive challenges, such as antibiotic resistance in livestock," Jason Kelly, CEO of Ginkgo, said at the time.
Ginkgo went public in May 2021 through a merger with a special purpose acquisition company (better known as a SPAC) called Soaring Eagle. Its stock ticker is DNA, which had been used by biotech company Genentech until its acquisition by Roche, the Swiss pharmaceutical giant that has its U.S. diagnostics headquarters on the northeast side of Indianapolis.
By teaming up with Ginkgo, BiomEdit was able to strike up a relationship with Viking, a big investor in the Soaring Eagle SPAC.
"Then Viking participated in a strategy to try to create new companies that would leverage the Ginkgo platform," Schacht said. Today, Viking is BiomEdit's largest investor.
In June of 2022, BiomEdit said it would locate its small headquarters on Lantern Road in Fishers and lease laboratory space at Elanco's Greenfield campus. Fishers Mayor Scott Fadness said BiomEdit is at the leading edge of the microbiome sector.
"When you combine that level of talent and R&D with the support and innovation-driven mindset of the Fishers community, I see a long line of continued success ahead for the company," Fadness said last summer.
In 2022, the Indiana Economic Development Corp. offered BiomEdit up to $3 million in conditional tax credits and an additional $200,000 in innovation vouchers based on its plans to invest $1.65 million in its operations and hire 95 workers by the end of 2026. The incentives are performance-based, meaning the company is eligible to claim them as it hires workers and makes eligible investments.
Lab work
Schacht has said he wants to combine his headquarters with a laboratory at one site. He is considering moving to downtown Indianapolis, where Elanco is building a new $150 million headquarters on the site of the former General Motors stamping plant.
For now, in two large laboratories on the Greenfield campus, about a dozen BiomEdit scientists examine bacteria through fecal samples of live animals and intestinal contents of dead animals. One of the goals is to develop probiotics, or "good bacteria" to help with overall gut health.
In one laboratory, senior research scientist Luke Bown was setting up a chemical reaction to try to amplify a gene and confirm the species of a bacteria. If successful, the scientists can develop an enzyme that can be added to animal food to improve weight gain and health.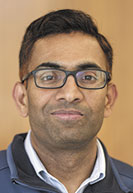 "If an animal is sick, one of the reasons is the balance of microbes in the GI system is out of whack," said Dharanesh Gangaiah, senior director and lead scientist. "The number of good bacteria has gone down and the number of bad bacteria has gone up. So the overall idea of using probiotics is trying to reintroduce that balance so you get the number of good bacteria back up to where you want it to be."
In another laboratory, strain engineer Krishna Vasudevan was looking at a polymerase chain reaction machine, which amplifies DNA to see if a bacteria sample is producing certain genes.
"If you want to produce a particular product, you figure out what the genes are for those, and then you can put them into any organism of interest," he said.
The BiomEdit team includes 20 scientists and executives with doctoral degrees who have published more than 200 peer-reviewed papers and garnered nearly 50 patents.
Most of the products developed in the laboratories will need to go through rigorous clinical trials to get approval from federal regulators. The company said it handles clinical trials though outside contract research organizations.
Researchers have the ability to sample animal microorganisms when they're in a healthy state, a disease state and then treated with experimental products and moved back to a healthy state.
"Those microbes make molecules that are helpful to the gut of the animal, or the animal's health in general," Schacht said. "And so we could actually find them all and figure out which molecule it is [that is beneficial]. And that molecule could become a feed additive, like an enzyme that has an important job of breaking down something that causes inflammation in the gut."
BiomEdit also recently secured laboratory space in North Carolina to help it do scale-up work for product development. It recruited a person to work in the lab who lives in North Carolina.
"So it's a bit of a happy accident," Schacht said. "We recruited him before we made the decision. We're a three-site operation right now."
And all before the company even marks its first birthday.•
Please enable JavaScript to view this content.