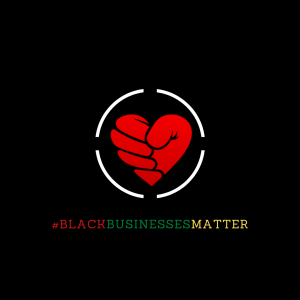 A new two-pronged public awareness and corporate social responsibility campaign aims to promote Black-owned businesses in Indianapolis while helping others support Black businesses, organizations and employees.
The campaign, which kicks off Wednesday, was organized by Indianapolis-based consulting company Black Onyx Management and designed by local marketing and communications professional Tamara Cypress. Black Onyx provides management consultancy services that focus on diversity, equity and inclusion.
Phase 1 of the campaign, called #BlackBusinessesMatter, will promote and raise awareness of local black businesses. Phase 2, called #IndyAccompliceship, will provide ways for other companies to support black businesses and employees.
In the #BlackBusinessesMatter phase, the initial goal is to attract 250 Black-owned businesses and help promote them—particularly small businesses that might not have the resources to develop their own websites or social media campaigns. The campaign will provide free digital logos and window clings to Black-owned businesses as a way to help them identify themselves to the public.
"Today, if you gave a pop quiz to people, they can't name 10 Black-owned businesses," said Cypress, director of marketing and communications at law firm Ice Miller.
Participants also will have a chance to be featured on the Black Businesses Matter Facebook page and on the Indianapolis Urban League's new podcast, The 317 Experience.
The logo for the first phase, which Cypress describes as a "love fist," shows a red hand clenched in a heart-shaped fist.
A second phase of the campaign involves businesses that want to support the broader Black community. Between now and August, organizers hope to enlist 100 companies in that phase.
Those businesses, which the campaign calls "accomplices," will sign pledges that cover four broad areas: creating opportunities for existing Black employees; building a diverse talent pipeline for future hiring; supporting Black vendors, suppliers, professional service providers, clients and customers; and offering corporate support for Black organizations.
The campaign also will offer specific actions that accomplices can take to improve their performance in those areas.
"We want to make it tangible," Cypress said. "we want to make it clear that you're not just signing a pledge.
Accomplices will pay an annual membership fee based on the size of their organization, ranging from $500 for businesses of fewer than 25 employees to as much as $5,000 for businesses with more than 1,000 employees.
The fees, paid to Black Onyx Management, will allow accomplices to participate in a campaign kickoff session, an employment engagement survey and quarterly check-ins, and support. Black Onyx also will offer accomplices additional counseling at a discounted price.
The overall goal, Cypress said, is to help companies uncover their weak spots and provide a concrete framework for improving them.
"The way that people do better is, we have to first be aware," she said.
Marshawn Wolley, president and CEO of Black Onyx Management, said current events provided the inspiration for the Black Businesses Matter campaign.
According to a disparities study conducted for the city last year by BBC Research & Consulting, Black-owned businesses on average bring in less revenue than do white-owned businesses, and Black-owned businesses have a higher closure rate than do white-owned businesses.
And, according to research from the University of California at Santa Cruz, the COVID-19 pandemic had caused 41% of Black-owned businesses nationwide to close permanently, by mid-April, as compared with 17% of other businesses.
The racial justice protests that have popped up around the country recently make the topic timelier than ever, Wolley said.
"We think the business community here is outstanding when they are engaged—so this is an opportunity to engage them," he said.
Wolley said the campaign has enlisted several partners, including the Indy Black Chamber, the Indianapolis Recorder, Downtown Indy Inc., the Indianapolis Urban League and Indianapolis City-County Council President Vop Osili.
More information will be available on the Indy Black Businesses Matter Facebook site.
Please enable JavaScript to view this content.