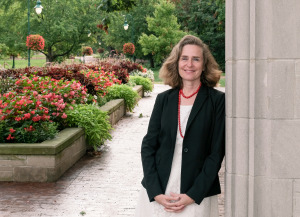 It turns out not even COVID-19 can slow down Pamela Whitten.
Only a few weeks after she started her term as Indiana University's 19th president (and the first woman to hold the position) in July, she was felled by the virus. Though "felled" is probably too strong a word.
"It was certainly a surprise, because I was fully vaccinated and take precautions," she said.
"But I would be the first to say, you've nothing to worry about if you're vaccinated," she added. "I had a stuffy nose for a while. The worst part, at least for someone like me, was to have to isolate for 10 days."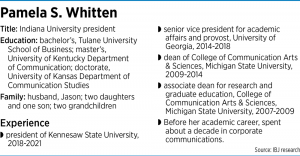 Being stuck at home for more than a week sounds like a predicament for someone who, during her last two decades in academia, had developed a reputation for being a high-energy person who favors face-to-face meetings with everyone from students to faculty to potential donors.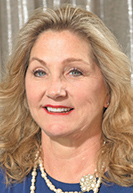 Fortunately, keeping in touch via electronic media is no stranger to her. She's a national authority in the field of telemedicine—a specialty that, during the pandemic, has become as pertinent and practical as Zoom calls.
"She hit the ground running on her first day, and in fact began meeting with students and campus leaders even before she started," said IU trustee MaryEllen Bishop. "She told me she runs on the treadmill every morning just to wear off a little bit of energy. This is a testament to what she brings to the role."
"I expect her to be able to have easy and effective two-way conversations with all levels of stakeholders, from students up to state legislators," said Rick Van Kooten, executive dean of the College of Arts and Sciences at IU Bloomington, who advised on the presidential search. "She is a bundle of energy, and this exuberance is part of her being a dynamic leader."
Born in Tallahassee, Florida, Whitten moved around the country often as a child for her father's work as a higher education advocate, living everywhere from the Midwest to Tennessee to New England. She received a bachelor's from Tulane University's business school, followed by a master's in organizational communication from the University of Kentucky. After spending not quite a decade doing corporate communications for various companies, she decided to earn a doctorate from the University of Kansas Department of Communications Studies.
"We had two of my three kids during that time period, and then loaded up my family and moved to Kansas so I could get a Ph.D.," Whitten said. "That's when I transitioned to academia."
Academic research
This was around 1993, and she plunged into a research field that was as low-profile at the time as it is ubiquitous today—telemedicine.
"I was always very intrigued by how we could use emerging technologies to change people's access to care, so I was drawn to that," she said. "Those of us that have done telemedicine research for many, many years joke that it just took a pandemic for it to become fully adopted across the country."
"I described her in those days as kind of a force of nature," said former colleague James Spaniolo, retired dean of the College of Communications at Michigan State University. "She would actually jog from one meeting to another."
"She understands the academic enterprise," Spaniolo said. "She's very analytical, very quick in assessing situations and developing plans of action and strategic initiatives."
Though none of the academic positions previously held by Whitten ever landed her in Indiana, she's still quite familiar with IU's Bloomington campus. From 2007 to 2009, she served as associate dean for research and graduate education at Michigan State University's College of Communication Arts & Sciences. During that time, she and her husband, Jason, vacationed several times in Brown County.
"We'd rent a house or cabin and we'd come just to hike, and then we would come into Bloomington for dinner," she said.
They also explored the IU campus.
"Obviously, we never envisioned that this is where we would land, but it's always been a place that kind of struck us," she said. "People would ask, 'What's the most beautiful campus you've ever been to?' And my husband would always say IU. It's the most beautiful campus we've ever been on."
Moving up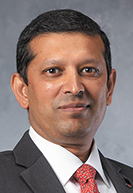 Over the years, Whitten moved from strictly research to administrative duties. And she turned out to be very, very good at them.
"The grass doesn't grow under her feet," said Rahul Shrivastav, vice president of instruction at the University of Georgia, and a former colleague of Whitten's. "She was always very student-focused. From the academic side, but she was also in the basketball arena or the football stadium with the students, talking to them."
"You could be in a meeting with her and have an open conversation," Shrivastav said. "She could listen to 10 people talking, and very quickly zero in on the common theme, and then rally everybody around that particular issue. That was really a talent."
At her last pre-IU position, as president of Georgia's Kennesaw State University, she bolstered enrollment, with the number of undergraduate and graduate students increasing from 35,500 in the fall of 2018 to more than 41,000 in fall of 2020, with the number of self-identified minority students growing from 43.1% in 2017 to 48.7% in 2020.
Of at least equal interest to the selection committee that brought her to IU was her skill at attracting financial support. During the final year-and-a-half of her KSU tenure, she brought in three of the largest gifts ever bestowed on the school, totaling $27.7 million.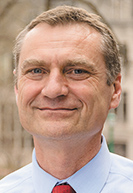 "As president of Kennesaw State, she took over the reins of an institution that was somewhat of a train wreck, and turned it around in just two years," said Van Kooten. "It required close interaction with the state legislature and skills in fundraising."
Whitten said she's ready and willing to set new goals when it comes to raising cash.
"Part of working in higher education now is recognizing the role that you need to play in generating the resources to do things," she said. "I'm going to have no problem asking for money, for example, to support students. Because I just believe so deeply that we need to do all we can to help them. Let's just say it's a labor of love."
Getting more cash for the school isn't the only thing on her list. Or even the first.
"First and foremost, we have to enhance the success of our students," she said. "You've got to give me a little time to figure out exactly what that means, but certainly in terms of outcomes to ensure their success, but also their experience at Indiana University. And what will set their degree here apart from a degree anyplace else. That will be job one."
Other priorities
The other top items on her to-do list include making sure discoveries by IU researchers make their way into the "real" world, either as research or as companies based on it. A related goal is to help bring industry to the state and develop Indiana's entrepreneurial and innovative culture.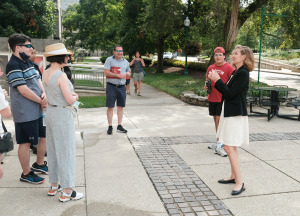 "It will be very important to me that we up our game in terms of the role that we play as a partner and a leader in economic development for the state," Whitten said. "I think it's really critical that, as the state's flagship university, we recognize that role and work on multiple ways to do that."
In addition, Bishop hopes she'll be of help addressing the looming "enrollment cliff" faced by universities nationwide. Put simply, beginning after 2025, college student populations are expected to drop as much as 15% because of declining birth rates following the 2008 recession.

"Both of these will require continued careful planning, and her experience at large research universities handling numerous issues has prepared her well," Bishop said.
The search committee narrowed an original applicant pool of more than 300 to about 20. These were then screened through Zoom interviews, and winnowed down to five finalists.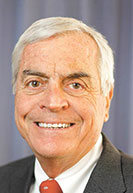 "After the in-person interviews, it was immediately apparent that President Whitten was the standout of this highly qualified cohort," said Michael Mirro, chair of IU's board of trustees. "She checked all the boxes. She is a highly qualified academic with broad academic administrative experience as well as corporate administrative experience."
When it comes to hobbies and things to do in her free time, Whitten said she's always been a huge devotee of college sports—something she can indulge fully at IU.
"I guess I feel fortunate that I get to combine my hobby, which is following college sports, with actually attending games and watching our student athletes," Whitten said. "That will be a big part of what I do for fun."
Whitten said she regularly hits the treadmill when she gets up, then is at her desk before 8 a.m. Though in these days of teleconferencing, it's hard to determine just when her workday begins and ends.
"These days with technology, you're at work when you walk across campus, texting," Whitten said. "It's early in the morning and into the evening, because there are so many important events you need to attend. And there's such wonderful stuff happening on the weekends, too.
"It's truly the best job in the world. I don't know what all the rest of you guys do, because this is so fantastic."•
Please enable JavaScript to view this content.