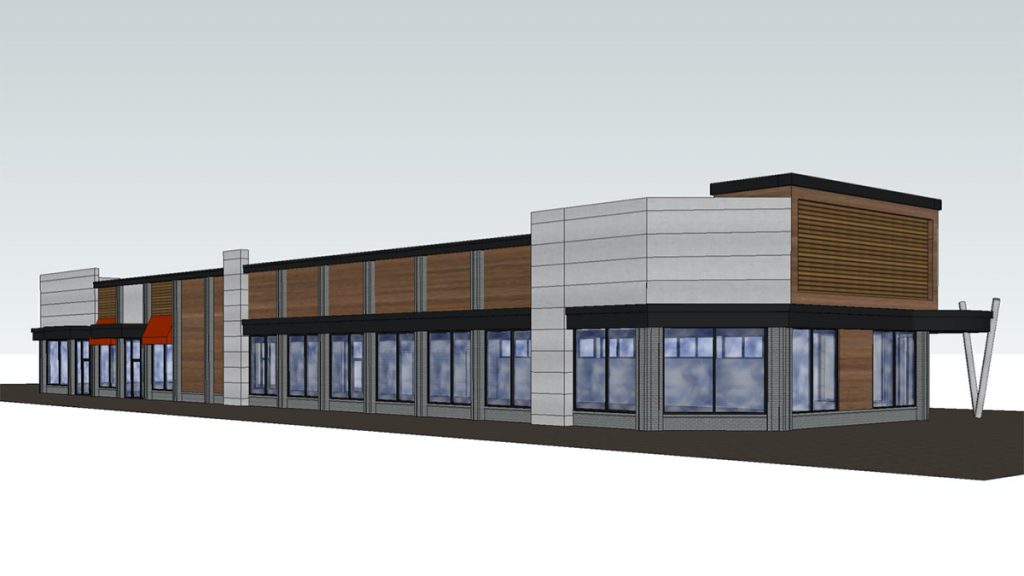 A vacant downtown lot that had been the site of a controversial plan to build a gas station instead could house a new shopping center, according to new filings with the city of Indianapolis.
On Wednesday, Columbus, Indiana-based KAL Enterprises LLC will share preliminary plans for a 1-1/2 story, multi-tenant commercial development and parking lot at 426 E. 16th St. with the Indianapolis Historic Preservation Commission. The commission is not expected to vote on the project—only offer feedback on early-stage designs.
Designs filed with the city refer to the project as Bozell Shopping Center. It would be about 11,000 square feet and have room for three tenants, with a parking lot able to accommodate about 19 vehicles. The parcel, at the northwest corner of 16th Street and Central Avenue, is in the Herron-Morton Place Historic District.
KAL Enterprises purchased the property in December 2019 for $490,000 from Indianapolis-based Golden Key Holdings LLC, which had owned the property since 2014.
The property was previously owned by Superstars Inc., which in 2011 won city approval to demolish a nearly century-old filling station at the site. The firm had planned to build a new gas station in its place, but that project never came to fruition after the parcel was cleared.
The gas station proposal met with heavy resistance from many nearby residents, but the land was already zoned in a way that permitted such a use. Many neighbors were fearful a new, larger gas station would create pollution, heavy traffic and loitering problems, as well as foil plans to revitalize 16th Street with more neighborhood-centric retail and residential projects.
In the years since, 16th Street has seen a surge in new development activity, including TWG Development's redevelopment of the former Indianapolis Public Schools maintenance properties into a mixed-use project with office and residential spaces.
KAL Enterprises principal Anthony Bozell did not immediately return calls on Tuesday requesting comment.
Columbus-based Driftwood Builders Inc. is the designer on the project. Carmel-based Keeler-Webb Associates Inc., an engineering firm, is also involved.
Please enable JavaScript to view this content.