A large aerial map of the 16th Street stretch just north of downtown shows locations where residents hope redevelopment will transform the gritty street into a pedestrian-friendly corridor.
At 16th Street and Park Avenue, single-family residences would replace an abandoned gas station. A coffee shop would adorn the northwest corner of Alabama and 16th streets, where a run-down building now stands. And a mixed-use building including both retail and residential would rise at 16th and College Avenue, where a vacant structure was recently demolished.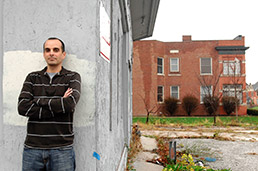 Kevin Greek, who lives just north of the intersection of 16th Street and Central Avenue, is among the neighbors concerned that a gas station at the corner will harm revitalization efforts. (IBJ Photo/ Perry Reichanadter)
But in the heart of the map—at the northwest corner of Central Avenue and 16th Street—lies a spot that has become the battlefield in a fight over the section's future.
On one side of the fight are the property's owners, who recently won approval to build a gas station and convenience store at the corner. On the other is a large contingent of neighborhood residents who fiercely oppose those plans.
Many residents of Herron-Morton Place, Old Northside and Kennedy King neighborhoods say they fear the inconveniences that accompany urban gas stations, such as pollution, heavy traffic, loitering and big trucks delivering fuel.
But there's a more sweeping concern: A gas station at the site, neighbors say, could foil plans for transforming 16th Street and detract from neighborhood-centric retail and residential developments that have begun to crop up along the stretch.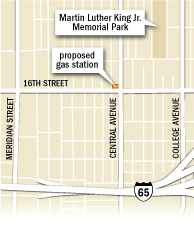 "This high-traffic gas station goes against everything that has been put in place over the last few years," said Kevin Greek, who has been active in planning the redevelopment of 16th Street and lives in a home he's rehabbing a couple of houses north of the intersection. "I think this is a very pivotal moment for 16th Street."
The Indianapolis Historic Preservation Commission, which voted 6-2 Nov. 2 to approve the development, has little authority to rule out a gas station at the spot, said David Baker, who runs the commission for the city's Department of Metropolitan Development.
The commission is charged with reviewing the design for the gas station, not its use. And the site's zoning, which allows for suburban-type commercial development, permits a gas station.
The site is in the Herron-Morton Place Historic District. Preservation plan guidelines for the parcel say it should be a neighborhood commercial use, Baker said. While that could mean a variety of developments, according to the plan, it includes uses that are geared toward the needs of area dwellers and generally not heavy traffic generators.
"I don't think the commission has much to say about the use when it's an allowed use," said Baker, whose staff recommended the preservation commission approve the project. "This is not a typical gas station, and this was not a decision the commission came to easily."
Residents have hired a lawyer and plan to fight the decision through an appeal.
They believe the future of their neighborhood—and a key downtown corridor—will be riding on its outcome.
'Still a gas station'
The 16th and Central lot once housed a residence and multifamily housing, but by 1915 a filling station was built on the site. In the 1980s, it was converted into a car wash and other commercial uses. The dilapidated structure on the site has sat vacant since 2004.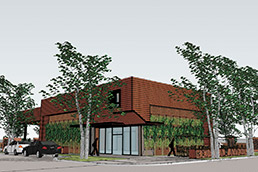 Property owners tout the modern design for the proposed gas station, shown here from the intersection of 16th Street and Central Avenue, as a benefit to the neighborhood. (Photo Courtesy Indianapolis Historic Preservation Commission)
The parcel's owners, Darshan Darar and Manny Singh, own gas stations and self-service laundries in Indianapolis, Fort Wayne and Richmond. They first appealed to the historic preservation commission last year to get the gas station approved. The commission rejected it because of concerns about the design and site plans.
Since then, the duo hired a new architect, Indianapolis-based Axis Architecture, and presented a revised design that met commissioners' approval. The plan calls for a one-story brick-and-wood gas station with a modern design and green roof. In their report, preservation commission staffers described it as "custom designed" and "unique."
The owners also agreed to rezone the property to a category that still allows for gas-station use but prohibits more intensive commercial uses.
Those efforts have done little to appease residents nearby.
"I don't care if it looks like the Taj Mahal; it's still a gas station," said Tiffany Benedict Berkson, a Herron-Morton Place resident who railed against the project in a post on Historic Indianapolis, her website about the city's history. "Some of us had high hopes for the kind of neighborhood-serving development that might eventually occupy that location."
The location, in fact, was among the key areas targeted by several neighborhood residents in a group named after 16th Street's historic moniker, the New Tinker Street Committee. Last year, the committee began holding public meetings with residents and gathering feedback to formulate a plan for improving 16th Street.
The committee's 50-page plan, released in May, draws from earlier redevelopment strategies for the stretch from just west of Pennsylvania Street to the road's eastern end near Interstate 70. It targets about 30 parcels important to improving the corridor and describes a goal of transforming 16th Street into a "prominent and active mixed-use destination" through multi-modal transportation and enhanced commercial, residential and recreational development.
The corner of 16th and Central was identified as an "integral part" of a retail district envisioned for the area. Neighborhood planners hoped to see a mixed-use building there with first-floor retail and living space upstairs.
That kind of use would add to recent momentum for redeveloping 16th Street.
Developer Reverie Estates renovated the Penn Arts building at 16th and Pennsylvania into apartments and retail this spring. In addition, work began this year on an affordable-housing development at 16th and Park Avenue.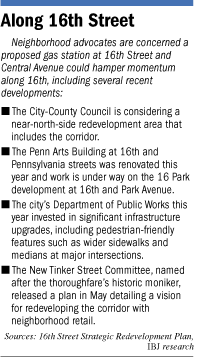 The city also is rehabbing the corridor with enhancements such as medians, wider sidewalks and trees. And the stretch is part of a larger area being considered by the City-County Council as a redevelopment district. If that district is approved, tax-increment-financing dollars could be used to spur projects there.
Having a gas station at a prominent corner, neighbors say, detracts from that progress.
"It's a very important corner. We consider it to be the second-most-important entrance to downtown from the north," said Lynn Molzan, an architect and resident of the Old Northside who leads the Tinker Street group. "We don't want something that's better than what's there. We want something that's the best."
Following the law
Darar and other backers of the project say the gas station's unique design and amenities such as outdoor seating will make it neighborhood-friendly. He said he plans to open it next May, pending permits and approval of the rezoning.
"From a design standpoint, it's a great benefit in the neighborhood," said David Kingen, an urban planning consultant representing Darar on the project. "We're hopeful people will come and use the facility and walk down the street and get a cup of coffee or a doughnut."
In explaining their reasoning for recommending approval, the historic preservation commission staff wrote in a report that 16th Street is more commercial than residential and the gas station's design adds a "unique architectural element" to the corridor. They also point out that the gas station and convenience store are both permitted uses on the site.
Greek and other opponents hope they can stop the project through the appeal process. Meanwhile, the city is beginning to work to change zoning for other parcels so they avoid similar battles in the future.
Maury Plambeck, the city's director of metropolitan development, said 16th Street is one of three areas where planners are working with property owners to rezone parcels for uses that better complement their plans.
But that work will not be complete soon enough to affect this project.
"Zoning is the law and planning is the desire," Plambeck said. "We have to follow the law, and in instances like this, there are people who disagree with what the law will allow."•
Please enable JavaScript to view this content.