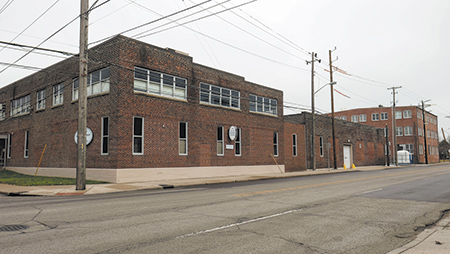 Peter George and Thomas Main took a big gamble three years ago upon opening their upscale Tinker Street restaurant along a mostly barren stretch of East 16th Street.
But among the vacant lots and buildings, the two saw opportunity.
"We looked up and down the street and realized there were a lot of green spaces—a lot of spaces for other businesses to grow, and that was huge," George recalled.
He and Main couldn't have been more prophetic. Since Tinker Street's arrival, a roughly 20-block section of East 16th Street stretching from Pennsylvania Street east past the Monon Trail has exploded.
Activity runs the gamut, from apartment and condominium developments to office and retail projects, either completed or in the works. And there's no signs of slowing.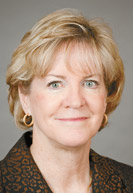 Hohmann
The latest opportunity comes courtesy of Indianapolis Public Schools. It's accepting bids until Jan. 11 on a 4.5-acre parcel with three buildings just east of the Monon. The site is between the new Tinker House Events venue and Festiva, another culinary creation George and Main opened in December 2016.
IPS has operated at the property since the 1920s, according to the bid package, and now houses its facilities management department there. IPS plans to move those operations, which include IPS electricians and plumbers, to the district's schools.
Abbe Hohmann, president of Site Strategies Advisory LLC, is coordinating the bidding for IPS. She did the same when the school system sold the 11-acre former Coca-Cola bottling plant site at College and Massachusetts avenues to Wisconsin-based Hendricks Commercial Properties in May 2016.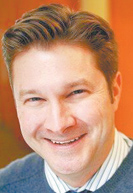 Bennett
Hendricks now is in the process of redeveloping the property into its $260 million mixed-use Bottleworks project. While IPS' parcel on East 16th Street won't rival Bottleworks in size, it's still getting attention, Hohmann said.
"There's been good interest," she said, "and that's because of everything that's going on, on East 16th Street."
The IPS site on East 16th connects to the Coca-Cola bottling plant property via a six-block jaunt south on the Monon, making the land more attractive, said Jeff Bennett, the city's deputy mayor of community development.
Even though the Interstate 65/70 northeast loop separates the two projects, the 16th Street parcel is practically "a stone's throw from Coca-Cola," he said. "It is a really quick walk or bike ride from 16th Street down to 10th."
Across from the IPS site, on the north side of East 16th, locally based TWG Development LLC redeveloped a former Gleaners Food Bank property into Monon Lofts, which has 142 one- and two-bedroom apartments.
Just north of that project, King Park Development Corp. is teaming with two homebuilders, Houston-based David Weekley Homes and the local Re-Development Group Inc., to build 60 houses on vacant lots along the Monon. The project is called Monon 16 and will straddle the Monon Trail and extend from East 17th Street north to East 21st Street.
The Monon 16 area will receive $4.5 million over the next three years as part of a community development program launched by Mayor Joe Hogsett in October called Lift Indy. The city plans to select a new neighborhood each year to receive federal community development funds.
"It's the exact type of neighborhood where the city would say, 'What can we do to help the market?' because you have such strength south of 16th and west of College," Bennett said.
Among the builders aiming to capitalize on renewed interest in the area is CalAtlantic Homes of Indiana (formerly Ryland Homes), which has received city approval to build 34 town homes on a 1.7-acre lot on the southeast quadrant of East 16th and Bellefontaine streets.
A building on the site that housed the Omar Baking Co. from 1927 to 1966 will be demolished.
Continuing west, past College Avenue, Onyx+East last year built seven row houses and one single-family home on the southwest corner of East 16th and Central Avenue.
A block west of that, across from the Tinker Street restaurant, Bloomington-based Rubicon Construction LLC is developing 319 on 16th, a 26-unit project at East 16th and North New Jersey streets with condos starting at $300,000.
The brisk pace of residential development along the stretch of East 16th Street has surprised Mark Nottingham, a real estate agent who operates Nottingham Realty Group at 230 E. 16th St., near North Alabama Street.
He bought the building in November 2011 and moved his firm there the following November, giving him a front-row seat to the progress occurring around him.
"The development of 16th Street has been a fantastic bonus," he said. "I wish I could say I knew exactly what was coming—I didn't."
Nottingham bought the building, constructed around 1920 as a steam-car factory, mostly because it was close to his home and he liked the neighborhood.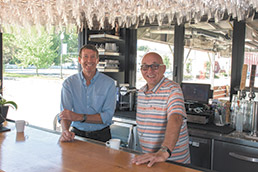 Restaurateurs Thomas Main, left, and Peter George have snapped up nine parcels along East 16th Street in the three years since they opened Tinker Street, seen here. (IBJ file photo)
He and his brother, Josh, own the Foundry Provisions coffee shop at 236 E. 16th St. which is adjacent to Nottingham Realty. They opened it in March 2013, nearly a year before George and Main launched Tinker Street.
The restaurateurs followed up with Festiva, a casual Mexican restaurant, and plan to open BBQ Barn at 1215 E. 16th St., next to Festiva. George is hopeful BBQ Barn will open in the spring after encountering permit delays from the city, but the two are entertaining lease options on the building. George and Main recently sold a majority stake in Festiva to local restaurateur George Munoz.
Other retail activity in the area includes Cannon Ball Brewing (1702 Bellefontaine) and West Fork Whiskey (1660 Bellefontaine). At the southwest corner of College and East 16th, Mainstay Property Group LLC plans to build a three-story office building on a vacant lot, with retail planned for the ground level, potentially bringing even more traffic to the area.
The activity bodes well for George and Main, who have snapped up nine parcels on the corridor since opening Tinker Street. The properties can accommodate residential, retail or restaurant uses, George said. The street sits along the borders of "two of the most beautiful, historic neighborhoods in the state—the Old Northside and Herron-Morton," he said.•
Please enable JavaScript to view this content.