The owners of Barbecue and Bourbon restaurant in downtown Speedway are teaming up with friends to open Founders Grounds Coffee Co., a coffee shop that pays homage to the town's racing heritage.
Founders Grounds is set to open in early May above Barbecue and Bourbon, 1414 N. Main St., in a 1,400-square-foot space that until now has served as a private event space for the restaurant. The coffee shop, which will have a rooftop deck for outdoor seating, can be accessed both from within the restaurant and via a separate exterior entrance.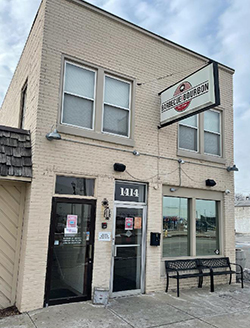 David and Marcia Huff, who opened Barbecue and Bourbon in 2013, are teaming up with longtime friends Jeff and Jen Matthews on the project.
The couples decided to open a coffeeshop because they saw a lack of good java options in Speedway, Marcia Huff said.
Then they discovered Rex Coffee, a coffee brand founded by Herman Hulman in the late 1800s.
Rex Coffee is part of Terre Haute-based Clabber Girl Corp., which was founded by Herman Hulman and his brother, Francis Hulman.
"We thought, 'What a great tie-in,'" Marcia Huff said of the coffee brand's history.
Herman Hulman (1831-1913) was the grandfather of Tony Hulman Jr., who purchased the Indianapolis Motor Speedway in 1945 and saved the dilapidated track from likely demolition. The Hulman family owned the speedway until 2019, when they sold it to Penske Corp. Also in 2019, the Hulmans sold Clabber Girl Corp. to Parsippany, New Jersey-based B&G Foods Inc.
Rex Coffee was roasted in Terre Haute until 1968. It was sold under a variety of brand names including Rex, Farmers Pride, Dauntless, Crystal and Delicious Sips. Clabber Girl decided to revive the Rex brand in 2009, after workers found an old suitcase filled with coffee samples during a renovation of the original Hulman & Co. building.
The company used those old coffee samples, plus historic catalogs and other documents, as references for recreating the coffee. Roasting takes place in that renovated building, which also houses the Clabber Girl Bake Shop café and retail shop and the Clabber Girl museum.
Founders Grounds will serve Rex Coffee, tea, and baked goods such as cakes, muffins and brownies made by an in-house pastry chef. The establishment will also sell a variety of cacti and other succulent plants.
The establishment's name pays homage to the Hulmans for their role in reviving the speedway, Marcia Huff said, and the word "Grounds" refers both to coffee and to the soil in which plants grow.
Hours of operation will be 7 a.m. to 3 p.m. Monday through Saturday. The shop will be closed on Sundays.
Please enable JavaScript to view this content.