The doors won't open for another couple of months at the new $20 million Rahal Letterman Lanigan Racing team headquarters in Zionsville, and auto racing legend Bobby Rahal can't help but look ahead.
Rahal's Brownsburg-based NTT IndyCar Series team and his Columbus, Ohio-based International Motor Sports Association WeatherTech SportsCar Championship operation will soon work under the same roof at the 115,000-square-foot facility at the corner of East 106th Street and Creek Way.
Rahal won the 1986 Indianapolis 500, and his drivers Buddy Rice and Takuma Sato took checkered flags in 2004 and 2020, respectively. He believes the new building will lead to more success.
"This really is the culmination—for me—of my dreams," Rahal told IBJ during a tour of the new headquarters. "A building in and of itself isn't going to win races for you, but it's going to help you win races."
Rahal announced plans for the team headquarters in October 2020 and broke ground last May alongside co-owners David Letterman and Mike Lanigan. The facility is being constructed on 13 acres of land at Creekside Corporate Park and will house approximately 100 employees when it opens this summer.
Rahal said he the RLL headquarters will be one of the finest facilities of its kind anywhere in the racing world. The team currently works out of two 25,000-square-foot buildings in Ohio and a 30,000-square-foot shop in Brownsburg.
"If anybody ever questioned Mr. Lanigan and my commitment to IndyCar racing, I think this building is an answer to that," Rahal said.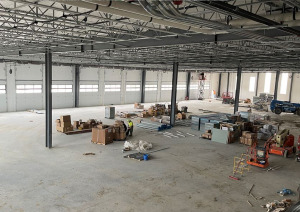 The entryway to the headquarters currently houses building materials and hard-hatted construction workers, but team members and visitors will one day find race cars on display along with large screens and stadium seating where employees and visiting groups can gather.
Rahal's IndyCar team and BMW-affiliated IMSA operation will occupy their own areas of the building where mechanics, manufacturers and engineers will go about their work. A spacious garage will include 12 bays for work on race cars and a 13th for pit stop practice.
A mission control area will provide space and screens for team members to monitor races remotely. The building will also house offices for team owners, public relations, marketing, communications and public relations, along with space for events, weight training and a full-service kitchen.
Rahal eventually hopes to construct a family racing museum near the garage.
"We're really becoming more than just a race team with this building," Rahal said. "I think this will be generational for Mike Lanigan and our families. We didn't just build this for 10 years."
Please enable JavaScript to view this content.