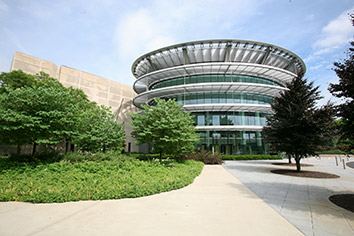 A month after the resignation of its president over charges of racial bias and indifference, leaders of the arts and nature campus Newfields announced Friday the steps the institution would take to embrace "diversity, equity, inclusion, and access."
They include creating a $20 million endowment for the acquisition of works by marginalized and underrepresented artists, the Newfields board of trustees announced Friday. The steps also included diversifying the board of trustees so it could be more representative of the city.
"We know the work ahead will not be easy," board members said in a letter to Newfields staff on Friday. "As we take these and other steps, we fully recognize that they are only the start to rebuilding trust and establishing a deeper and more meaningful relationship with you, our community."
The board also plans to establish Newfields' first Community Advisory Committee; open a search process for a diversity executive reporting directly to the president and CEO; and mandate ongoing training for all members of our organization in the realms of diversity, equity, inclusion and access.
Newfields includes the Indianapolis Museum of Art, Fairbanks Park, The Garden, Lilly House and the Elder Greenhouse.
On Feb. 17, Newfields President Charles Venable resigned from his position amid mounting staff and community criticism over a controversial job listing for a new director of the museum. The listing described a need to attract a more diverse set of patrons while "maintaining the museum's traditional, core, white art audience."
After a social media firestorm erupted over the apparent racial distinction in the museum's mission, Newfields officials issued an open letter statement on Feb. 13 expressing "deep regret" for the language and said the original job description came out of an effort to be "truly inclusive."
At least 85 Newfields staffers and stakeholders claimed in an open letter on Feb. 16 that some employees had pushed back on the job listing's wording during an all-staff meeting in January, but that Venable and another senior staffer defended the language.
The staffers and stakeholders made several demands, including that Venable step down; the restructuring of human resources to make it an independent unit within Newfields; and a reevaluation and expansion of the boards of trustees and governors to make them more representative of the community and include representatives from Indianapolis Public Schools, nearby neighborhoods and other arts organizations.
Since establishing an admission fee several years ago, Newfields has been criticized for creating a barrier to entry for low-income residents, including those that live nearby on the city's near-northwest side.
As part of its release on Friday, the board noted its plans for providing broader access, including creating a neighborhood pass for area residents and families, expanding its complimentary membership policy for students, and expanding its free admission policy for members or stakeholder of some local not-for-profits.
Leaders in the city's arts community said they were encouraged by the board's announcement but acknowledged that meaningful change would take time and action.
"We look forward to delving into the words of the institution and the actions to come in the following months and years," said Mali Jeffers and Alan Bacon, co-founders of GANGGANG, in a statement Friday afternoon.
Jeffers and Bacon earlier had agreed to be guest curators for an IMA exhibit focusing on a local mural celebrating the Black Lives Matter movement. But they pulled their participation and support in February after learning about the job listing, which they called "offensive and counter to the very point of the" planned exhibition.
"Change requires time, collaboration and intentionality," Jeffers and Bacon said Friday. "We are encouraged by the commitment and look forward to seeing how it unfolds for 46208, for creatives, for broader Indianapolis and for the Black community, specifically."
Julie Goodman, CEO of the Arts Council of Indianapolis, said that while the group was encouraged by Newfields' plan and the board's willingness to engage with and listen to the community, "the hurt runs deep and healing will take time.
"We share the community's interest in ensuring Newfields' accountability and follow-through on these promises," Goodman said. "Ultimately, their actions will determine their success. But that is true for the entire Indy arts and culture sector as we continue the deep work of undoing systemic racism and advancing diversity, equity, inclusion, and access."
Please enable JavaScript to view this content.